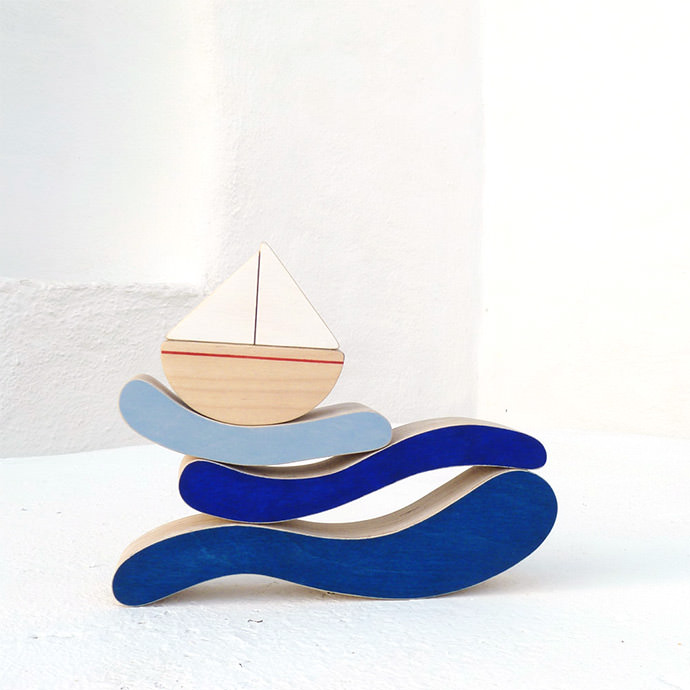 Hurray for Summer! I know many of you will already be on vacation, so I hope you and your families are enjoying some well-earned quality time together at home or on holiday. Schools don't break up for another couple of weeks in France but the mood is relaxed as the academic year draws to an end. Quite frankly, it's too hot to work now!
As many of you will be traveling with children at some point over the next few months, I thought I would share a few modern, graphic playthings to occupy your little and big ones on the move. Of course, if it's fun, well-designed and looks good, mom & dad will be happy too!
Bon Voyage!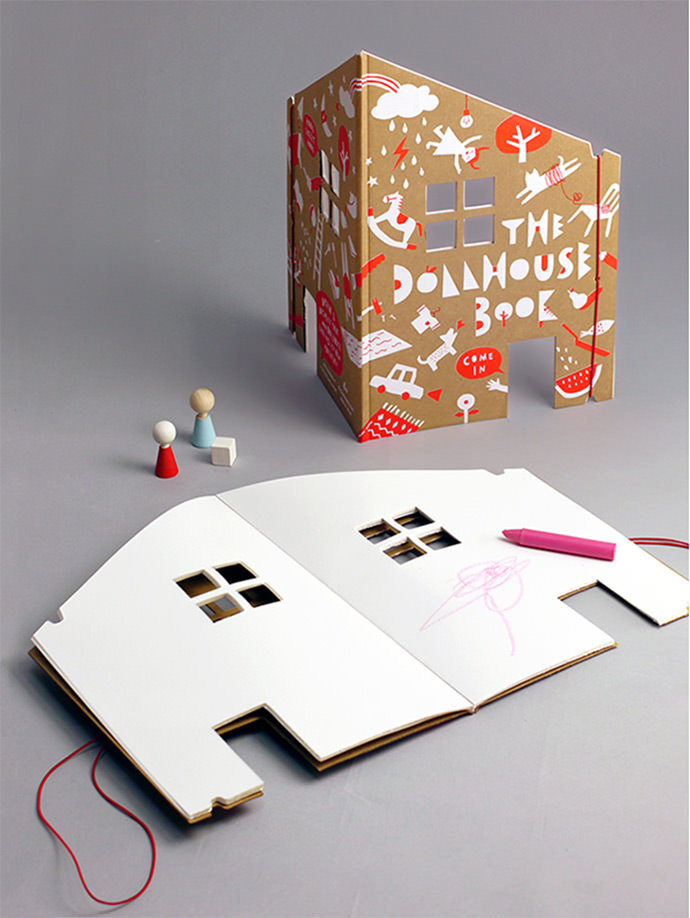 Dollhouse Book
Available for $34 from Rock & Pebble.
Even if you're travelling far I doubt your budding interior designers will be able to fill 30 blank pages and 15 rooms in one go. This dolls' house drawing book is simple, smart and easy to carry around (I wouldn't mind one myself!). The book can also be used as a prop for inventing stories and joined together with a second copy will form a bigger playhouse. Hours of fun there!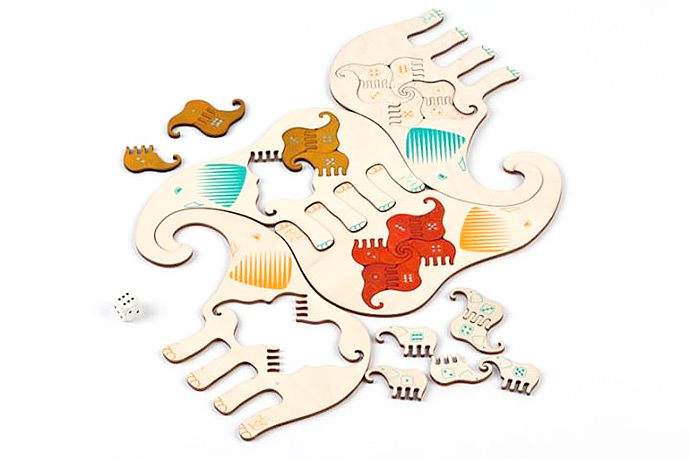 Pipik Puzzle Game
Available for $46 from Estonian Design House.
I found this colorful jigsaw puzzle in Estonia. Made from plywood and composed of small and large interlocking elephants, it was designed by Riho Luuse. It appears to be a dice game for two to four players (3yrs+) so it would keep those little fingers busy for a while and also make an interesting wall decoration at home.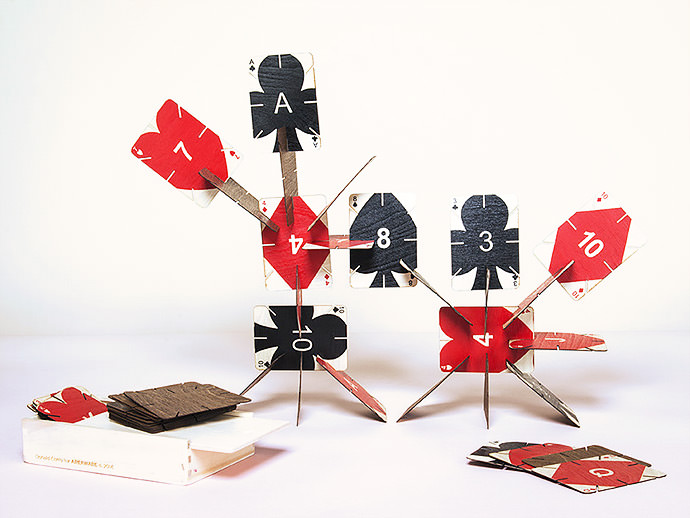 Plywood Playing Cards
Available from Areaware.
Areaware have done it again! These birch plywood playing cards have a strong mid-century look, inspired by the work of Ray and Charles Eames. They were designed by David Corey, and can be used as an ordinary deck of cards or a construction game thanks to interlocking slots. For young and old alike!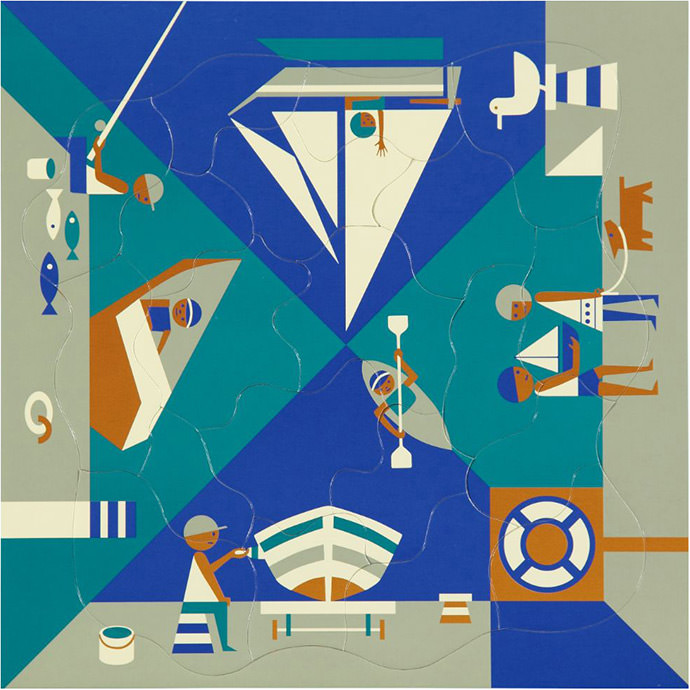 Seaside – a Multiview Puzzle by Fredun Shapur
Available for $27 from Piqpoq.
I want all four of these newly released multiview puzzles originally designed by Fredun Shapur in the early 1960's. For up to four players, the idea was to build the puzzle together from any side. The originals are now in the Victoria & Albert Museum collections in London, but today these striking cardboard versions can be yours via Piqpoq. Again, for play and display, at home or away!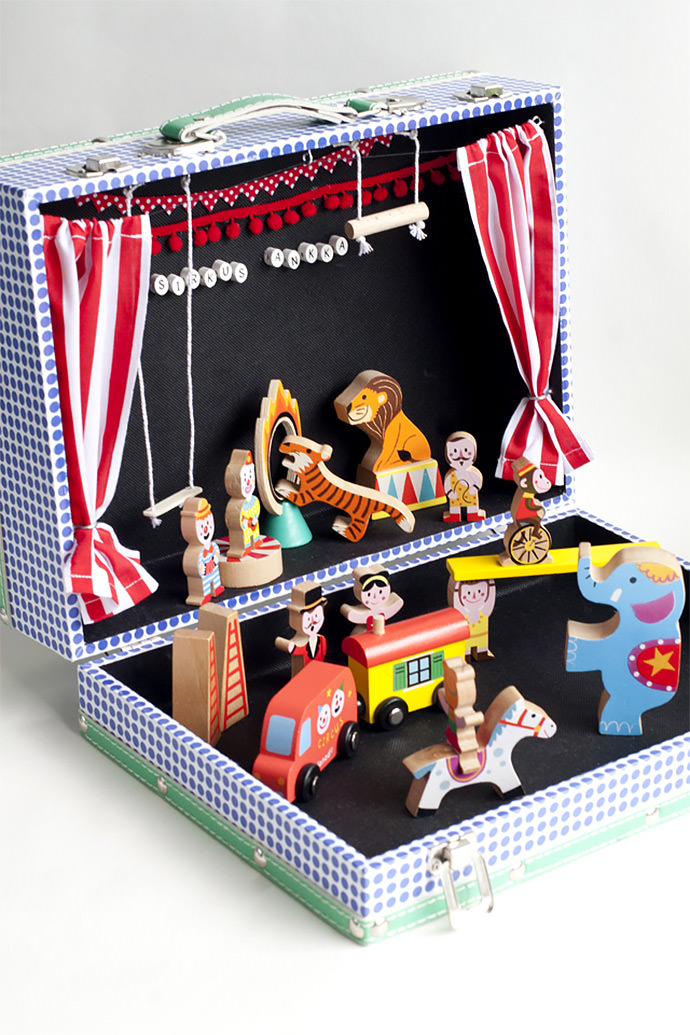 DIY Circus Playcase
Available from Ukkonooa.
Last but not least, I'm sure you'll agree that Maija's DIY circus suitcase set is adorable and a fun, compact toy to take on holiday. If you have time before going away, check out pinterest for similar play suitcases and involve your children in the creative process. They'll be proud as punch to carry it on board!
Pictured at the top of this post: I love every single wooden toy that comes out of The Wandering Workshop. Perhaps it's because they're based on a beautiful Greek island in the sun? Their latest Little Travelling Boat stacking toy design is simple, eco-friendly and perfect for play & display.