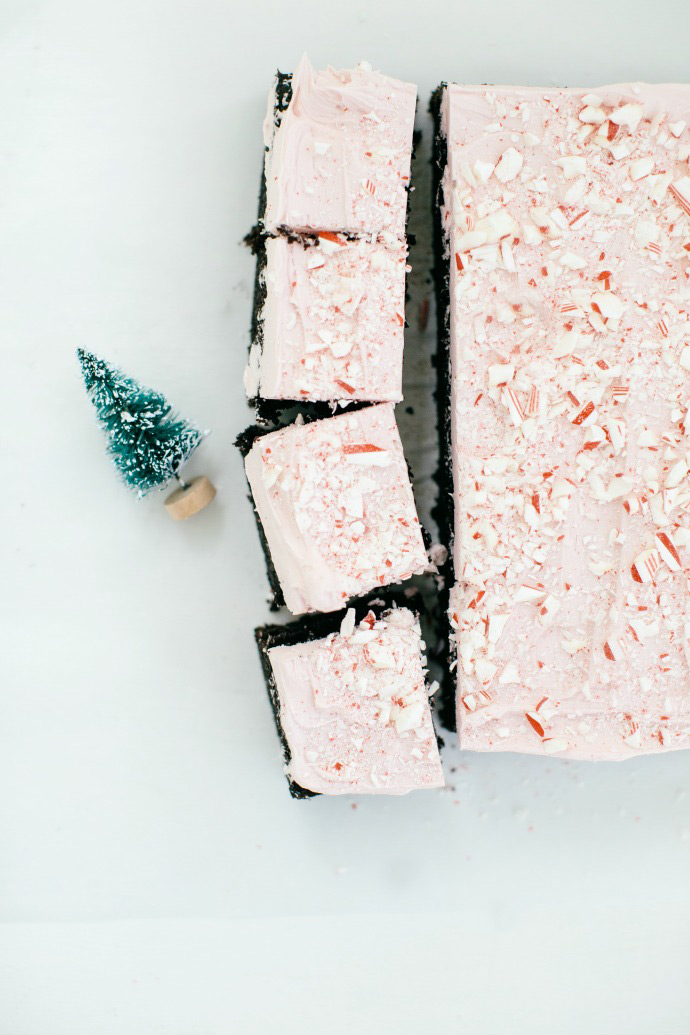 There are piles of candy canes at our house right now. They have fallen off the pine needles into our tree skirt, they are jammed in stockings and scattered on dressers and countertops and dining room tables; too many to count. There is no way we can eat our way through them anytime soon, so I decided it was time to get creative. We had friends joining us for the afternoon, and whipping up a chocolate snack cake was easy work. Some peppermint buttercream and a few crushed candy canes later, and we had a post-Christmas dessert worth raving about.
Ingredients: Chocolate Cake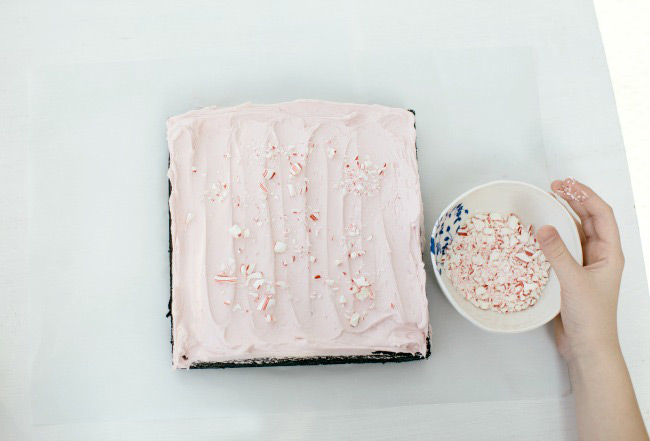 1 cup (198g) granulated sugar
3/4 cup (107g) all-purpose flour
1/4 cup + 2 tablespoons (30g) unsweetened cocoa powder (Dutch-processed or natural)
3/4 teaspoon baking powder
3/4 teaspoon baking soda
1/2 teaspoon salt
1/2 cup sour cream, room temperature
1/4 cup canola oil
1 large egg, room temperature
1 tablespoon pure vanilla extract
1/2 cup hot coffee or boiling water
Ingredients: Candy Cane Buttercream
1 cup (227g) unsalted butter, room temperature
¾ teaspoon peppermint extract
1 tablespoon crème de menthe (optional)
Pinch salt
1 teaspoon pure vanilla extract
2 cups (226g) powdered sugar
A few drops red food coloring
2-3 candy canes, crushed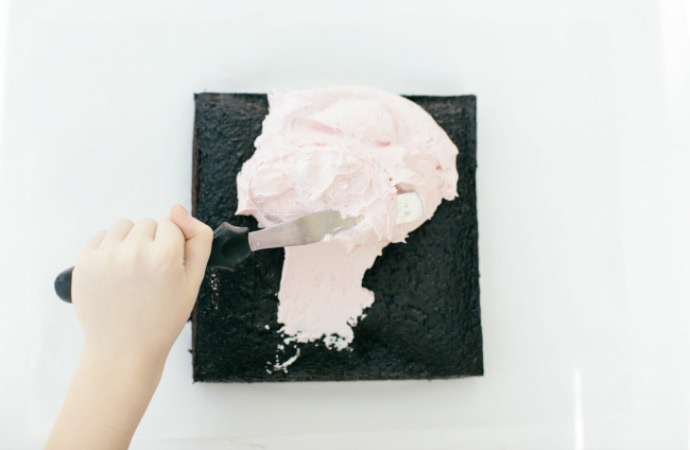 In the bowl of a stand mixer fitted with a paddle, beat the butter on medium speed until smooth and creamy, 2-3 minutes. Add the peppermint extract, crème de menthe, salt and vanilla, and beat again until combined. Turn the mixer to low, and slowly add the powdered sugar, mixing until combined. Scrape down the sides and increase the mixer speed to medium; beat until the buttercream is light and smooth, 4-6 minutes. Add a few drops of red or pink food coloring (if desired) and mix until combined.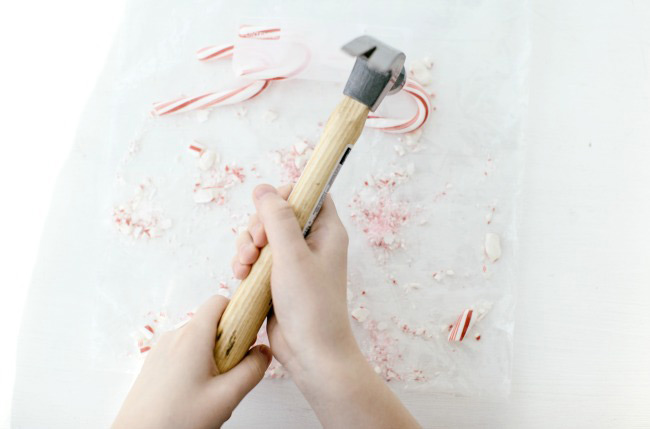 Move the cake to a serving platter. Frost the top (and sides, if desired) with the buttercream. Sprinkle with the crushed candy canes. Cut into squares and serve.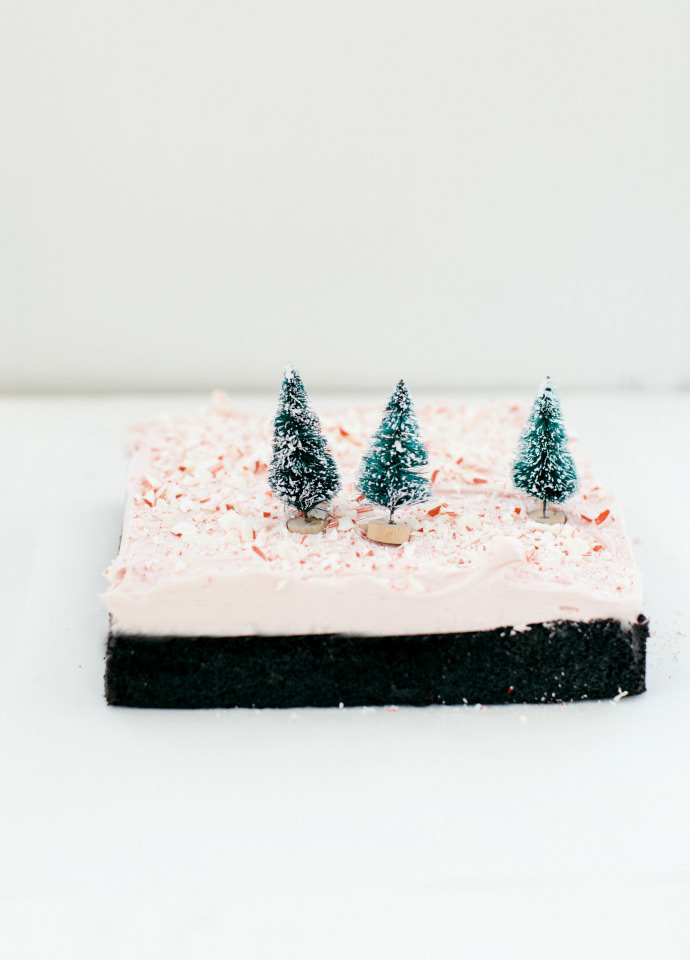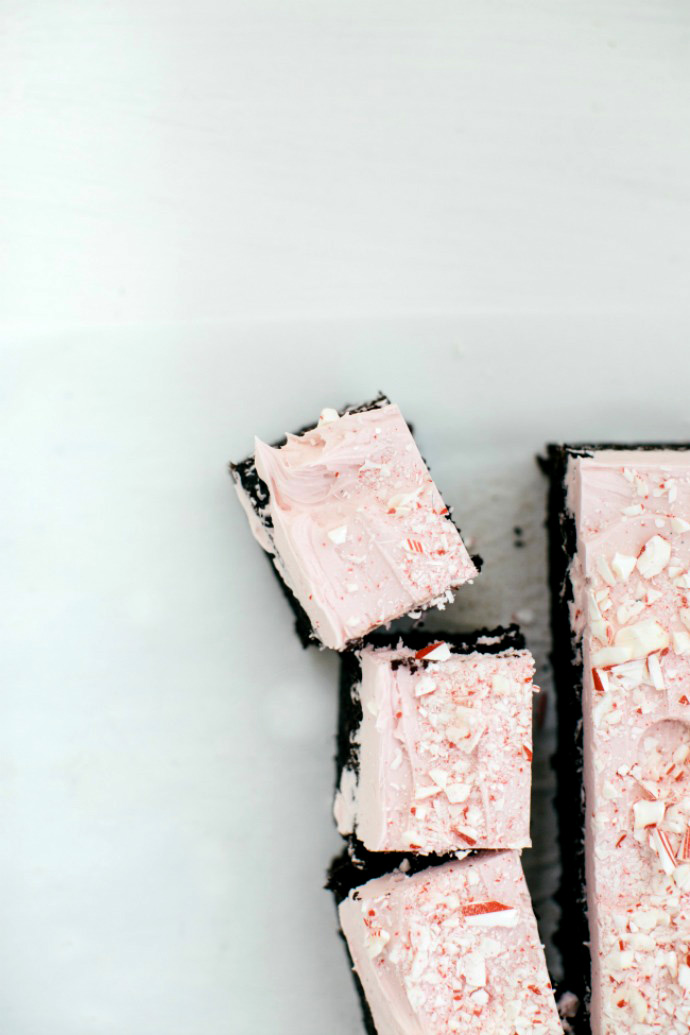 The chocolate cake base recipe is from Kamran Siddiqi's wonderful book, Handmade Baking.