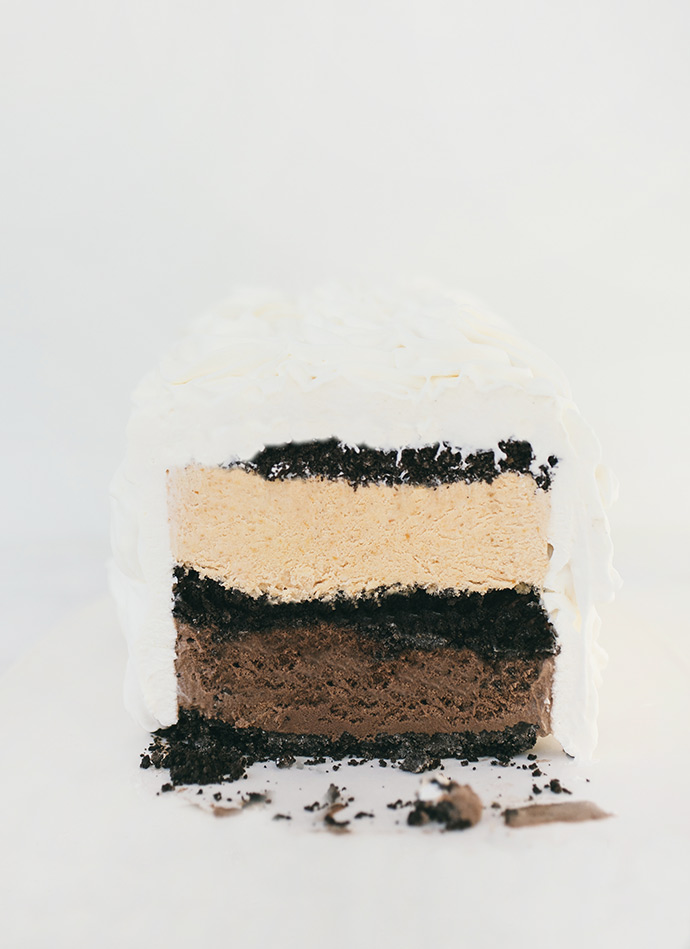 I find ice cream cake to be a great holiday treat – even though it is cold outside, everyone still enjoys eating it. Ice cream cake can be very easy to put together, and often store-bought ice cream works just fine. This recipe is a little more time consuming, as the pumpkin ice cream is a no-churn, homemade recipe. However, if you find pumpkin ice cream at your local supermarket, you could substitute it here. If pumpkin isn't your thing, we also have a recipe for Mint Chocolate Ice Cream Cake that is just as delicious.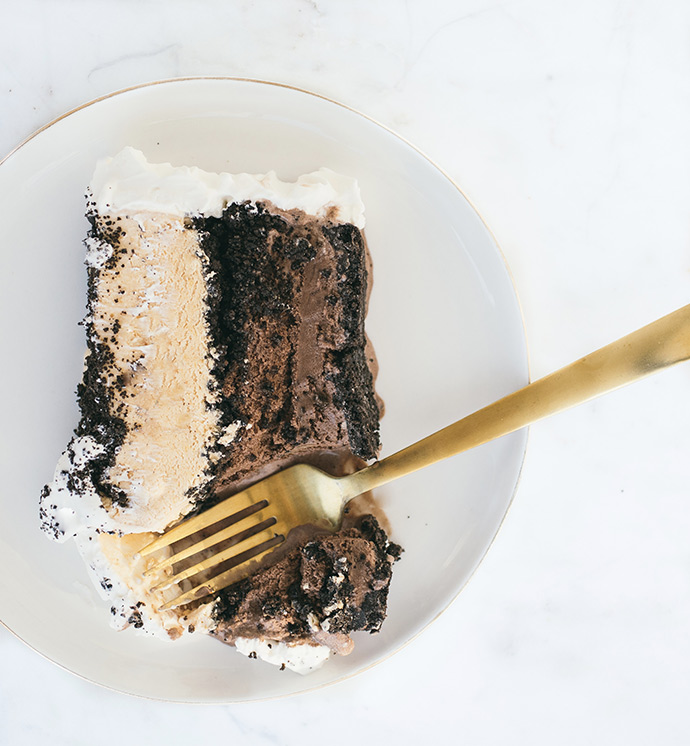 Pumpkin Chocolate Ice Cream Cake
You will have some ice cream left over – you won't use all the chocolate and pumpkin ice cream. You will pour the pumpkin ice cream soft into the pan, then let it freeze. You can pour the remainder into a freezer safe container and freeze it as well.
1 package Oreo sandwich cookies (36 cookies), not double stuffed
4 tablespoons unsalted butter, melted and cooled
2 ounces cream cheese, room temperature
1/4 cup sugar
1 1/2 cups heavy whipping cream
One 1.5 quart chocolate ice cream
Pumpkin Ice Cream (recipe follows)
Line a 9x4x4-inch Pullman pan with a parchment sling.
Line a 9x4x4-inch Pullman pan with a parchment sling.
Place the Oreos in a food processor, and process until they are broken down into crumbs.
In a medium bowl stir together the cookie crumbs and melted butter until evenly coated.
Press one third of the cookie crumbs evenly on bottom of the prepared pan, pressing them down gently. Place the pan in the freezer for 15-20 minutes.
Top with the chocolate ice cream, filling about one third of the pan, pressing it into an even layer.
Sprinkle another 1/3 crumbs evenly over the ice cream, and place the pan again in the freezer for 15-20 minutes.
Top with the pumpkin ice cream, leaving a little room at the top of the pan (you will have some pumpkin ice cream left over; see note for freezing). Freeze the cake for at least 8 hours or overnight before slicing.
Before serving: Cover with the whipped cream. (For easier slicing, just cover the top with whipped cream)
To make the whipped cream: In the bowl of a stand mixer fitted with a paddle attachment, beat the cream cheese on medium until smooth. Add the sugar and beat on medium until smooth and light. Scrape down the sides of the bowl and fit the mixer with a whisk. With the mixer running on low, slowly add the heavy cream, whisking until fully combined. Increase the speed to medium-high and beat until stiff peaks form, stopping to scrape down the sides of the bowl as necessary, 2-3 minutes. Place the whipped cream in the refrigerator until ready to use.
Pumpkin Ice Cream
ingredients:
1 can (14-ounces) sweetened condensed milk
3/4 cup pumpkin puree
2 teaspoons pure vanilla extract
2 cups cold heavy cream
1/2 teaspoon cinnamon
1/4 teaspoon ground ginger
1/8 teaspoon nutmeg
1/8 teaspoon cloves
In a medium bowl, stir together the sweetened condensed milk, pumpkin, vanilla, and spices. In a large bowl of a standing mixer fitted with a whisk attachment, beat the heavy cream on high until stiff peaks form, about 3 minutes. Whisk one third of whipped cream into pumpkin mixture. Fold remaining whipped cream into pumpkin mixture until completely incorporated.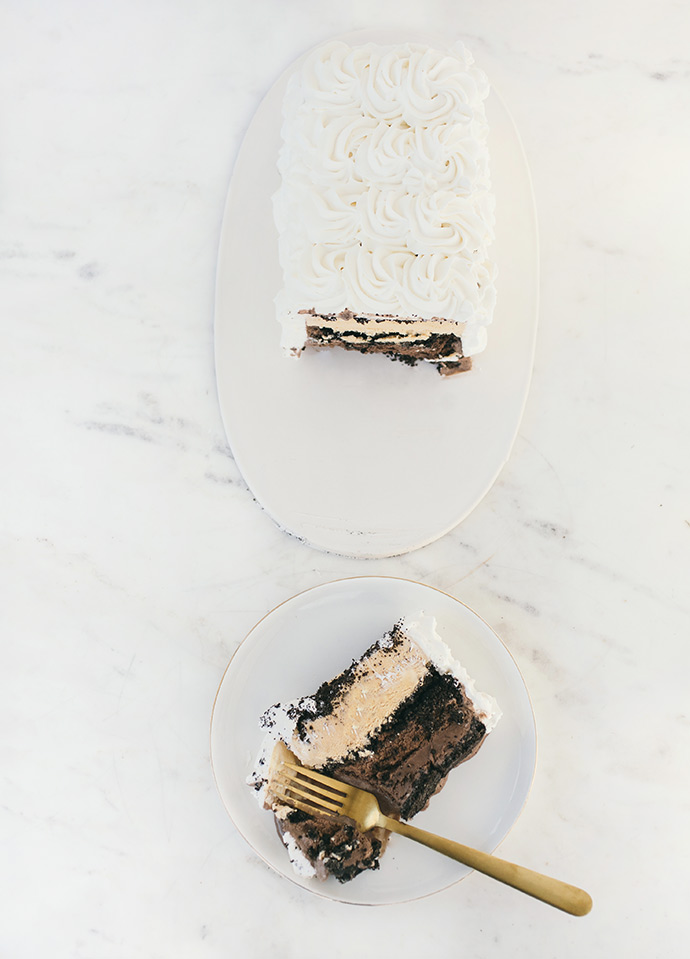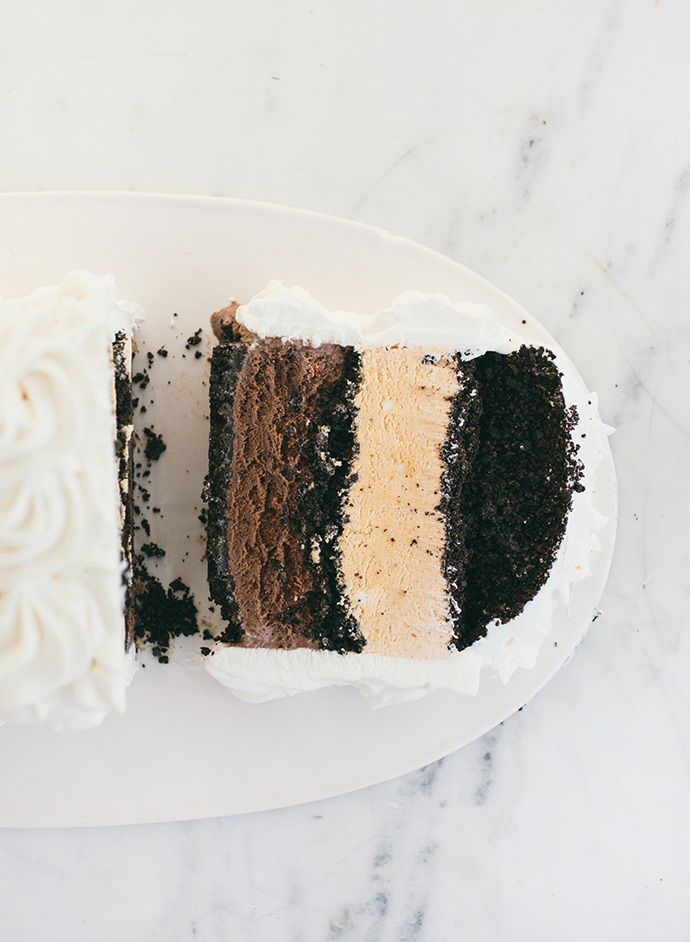 Enjoy!