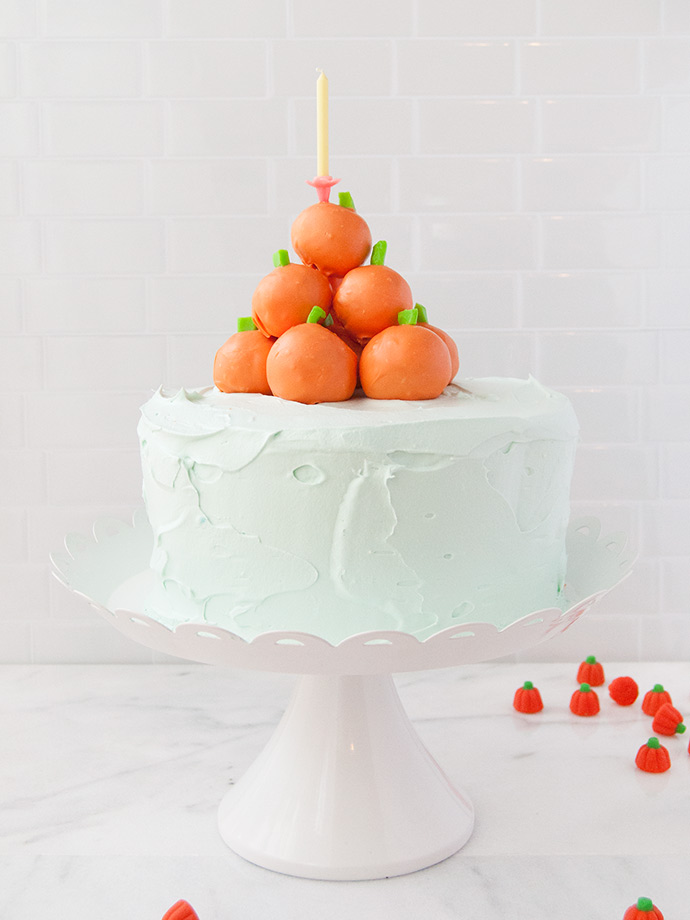 Donut holes are one of our favorite sweet treats to work with! These plain ones are definitely unappreciated but they can be used in so many fun ways – and their plain exterior is perfect for decorating with chocolate! Today we had a blast making this pumpkin patch cake to celebrate the upcoming fall season.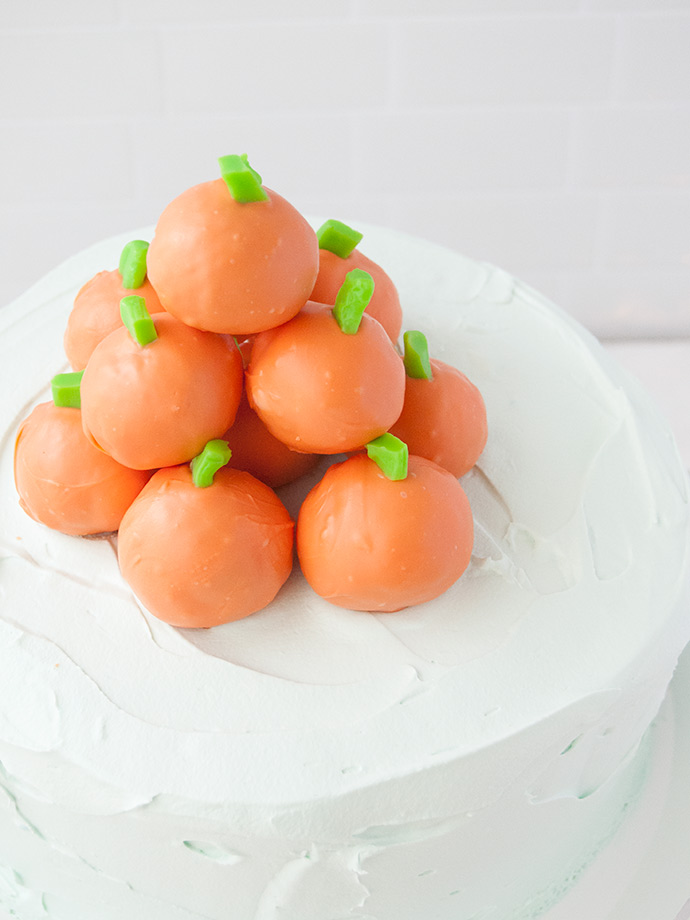 If you're in a hurry but still want an adorable cake for a fall birthday, we've got you covered! Pick up a plain cake from the grocery store and a dozen plain donut holes from the coffee shop. Dip them in orange chocolate, top with a green candy, and voila! We love cake pops and you could definitely do this same idea with those, but donut holes are just SO foolproof. Keep reading for all our tips and tricks below!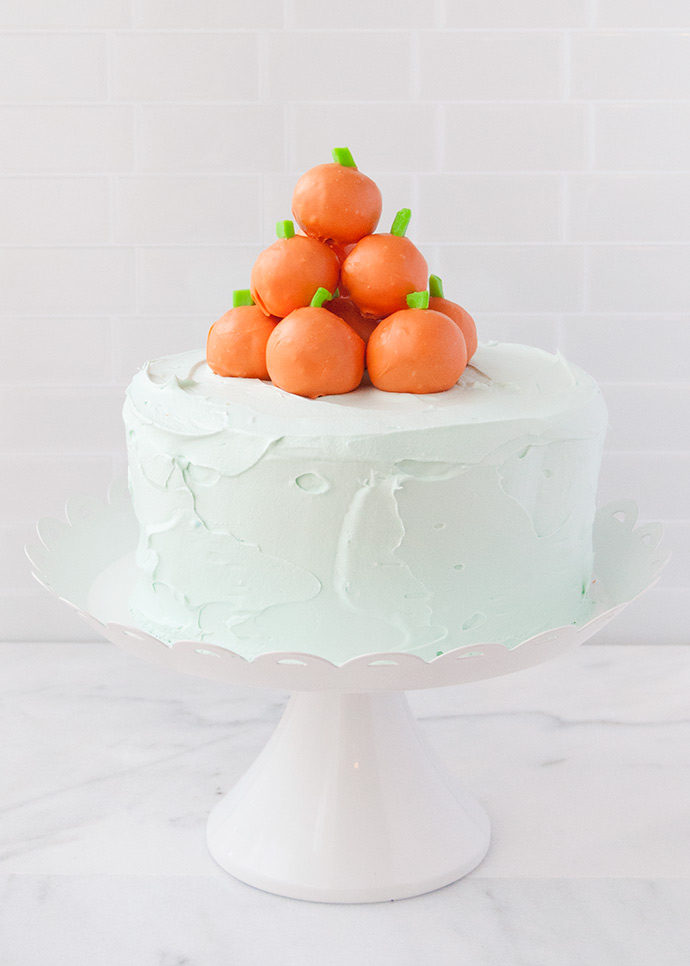 Orange candy melts
Green gummy candies
Plain donut holes (about 10-12)
Lollypop sticks
Frosted cake
If your cake isn't already baked and frosted, do that now. Or if you're in a hurry, a plain store-bought cake works perfectly here.
Melt your orange candy melts the microwave – the package should include directions to help you prevent scorching them – we like to keep the microwave on low to medium power and stir every 30 seconds until the melts are smooth and runny.
Pierce a plain donut hole onto a lollypop stick and hold it horizontally over your bowl. With a medium spoon, pour the candy melts over the donut hole so that it's covered completely. Tap the lollypop stick on the edge of the bowl to remove any excess and use the spoon to smooth any drips.
Place a green gummy on the top of the pumpkin. The gummies we used were actually in the shape of Halloween broomsticks, so we used a pair of scissors to trim off the handle to look just like a pumpkin stem. Use whatever candy you can find that you think looks like a green stem.
If you have a scrap block of foam (or a cake pop stand!) set the pumpkins there to dry. If you don't, you can do what we did and set up a wire cooling rack on two bowls so that it's elevated off the table. Set the pumpkins in the cooling rack so that they stand upright and can dry without resting on the wire.
Once you have ten to twelve pumpkins, let them all dry completely. Then arrange about seven pumpkins in an almost flower shape in the center of the cake. Next stack three more on top, followed by one more at the very top!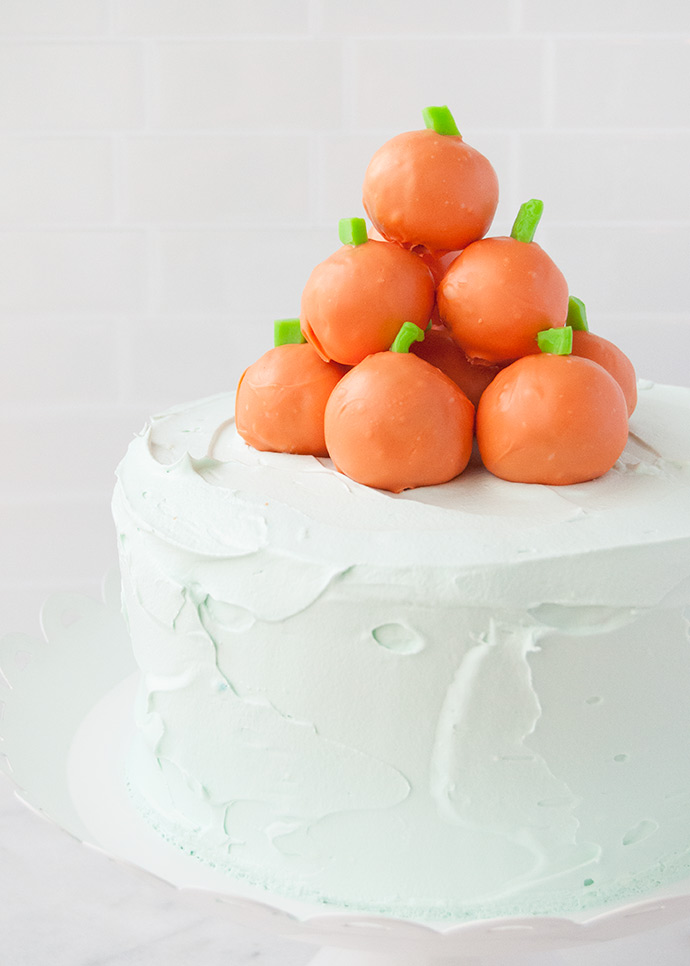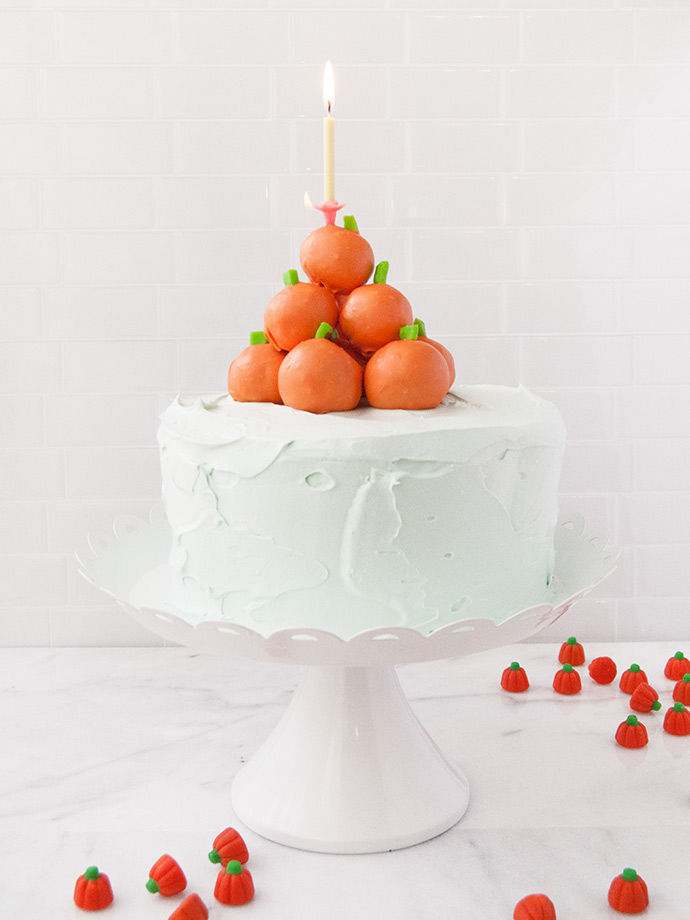 If it's someone's birthday, you can even stick a candle in the top!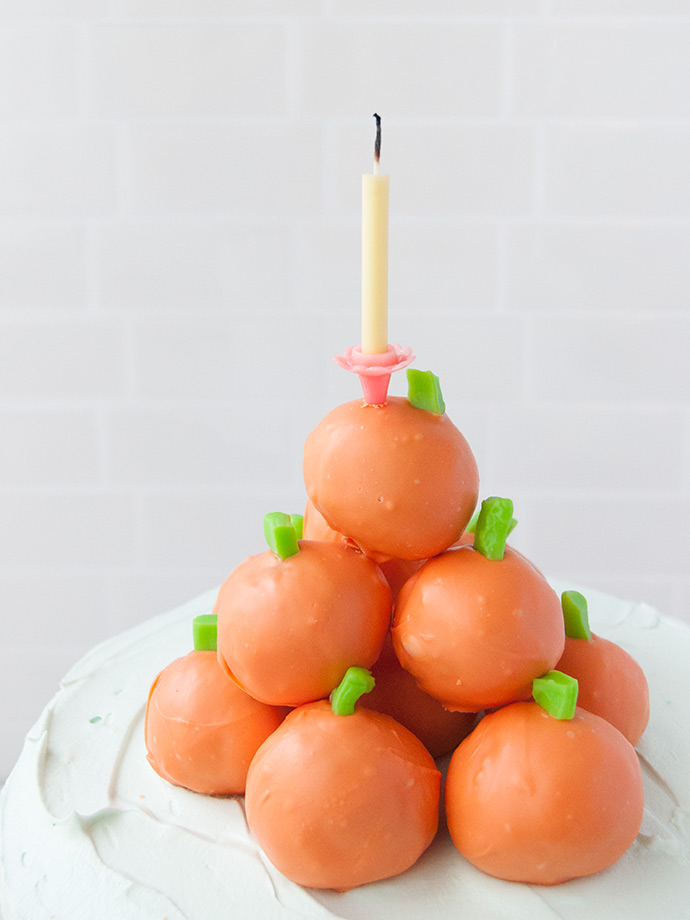 Enjoy!