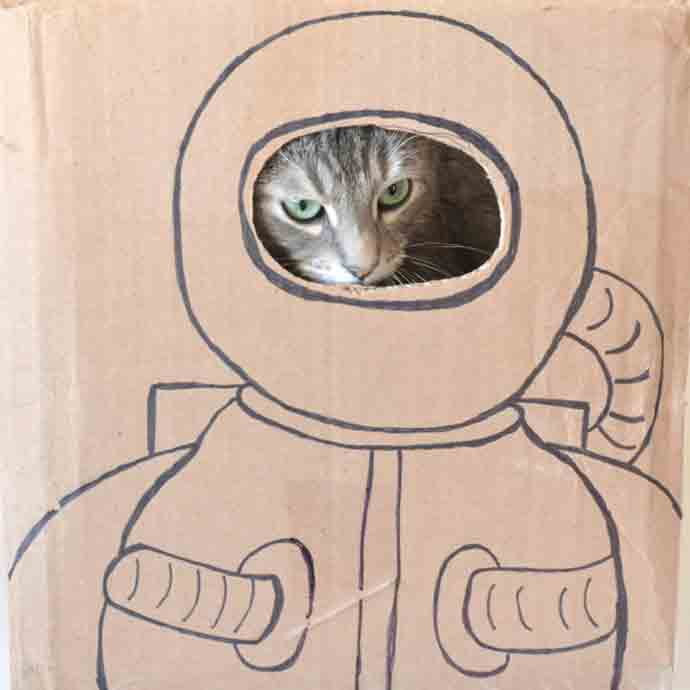 If you've ever had the pleasure of owning a cat, you'll know they are far more than finicky furballs with a tail. Make no mistake, they are the kings and queens of wherever they reside. But despite ruling the roost, they're always down for a snuggle and they're never failing to make us laugh with their continuous antics (one word: YouTube). They are friends, they are family, and they are the inspiration behind this collection of kitty-approved crafts. In honor of our resident royals, I'm sharing with you some of my favorite DIYs for you and your cat(s).
Enjoy and I hope you have the time of your… nine lives :)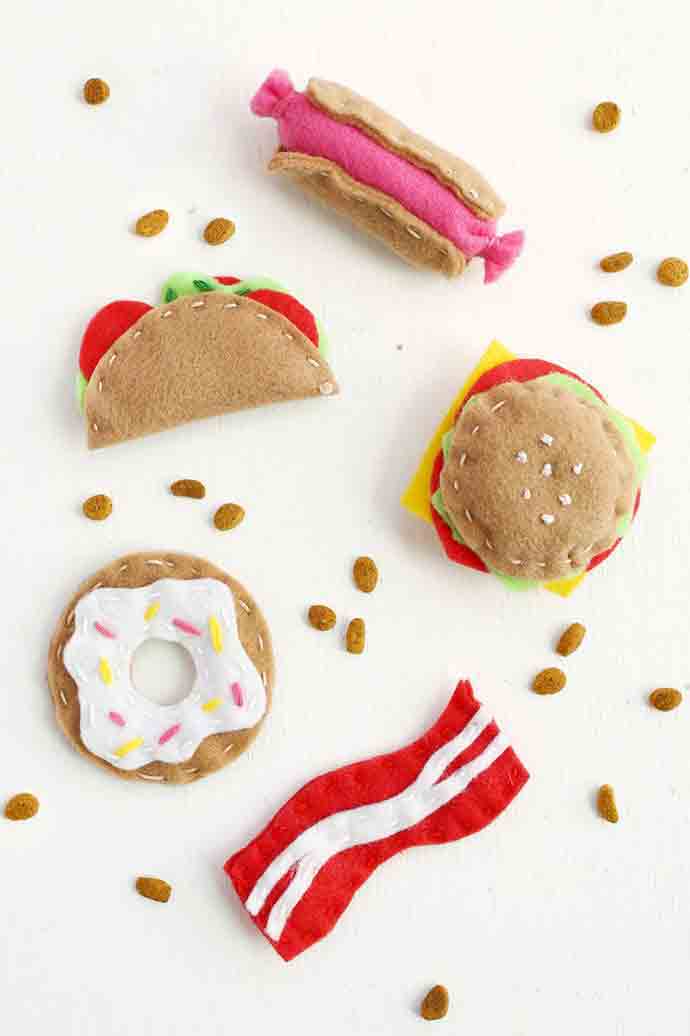 DIY Junk Food Cat Toys
via A Beautiful Mess
We all deserve to treat ourselves every once in a while. Even those of us with four legs. Donuts, bacon, hamburgers – these DIY junk food toys are the perfect rewards for when your cat finally chooses the litter box over your dress shoe. (Note: if the hot dog starts chasing your cat around the house, something has gone terribly wrong.)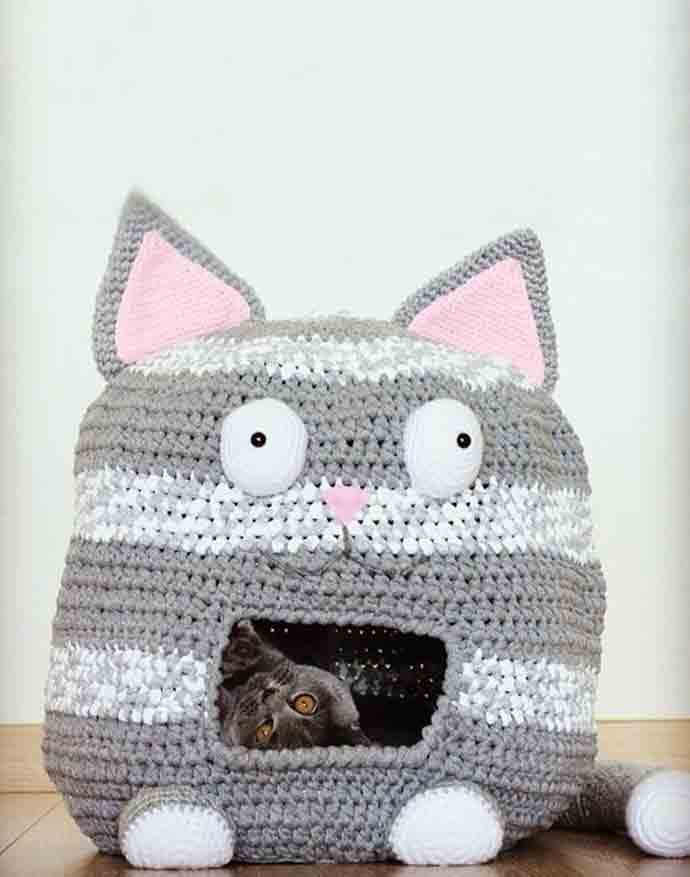 DIY Crochet Cat House Pattern
via Buddy Rumi
A cat in a cat? We all know that cats are a little vain. That's why they'll love hanging out in a house that looks exactly like them! This crochet kitty cave makes the perfect cozy spot for all those cat naps. Plus, there will be no question about whose space it is.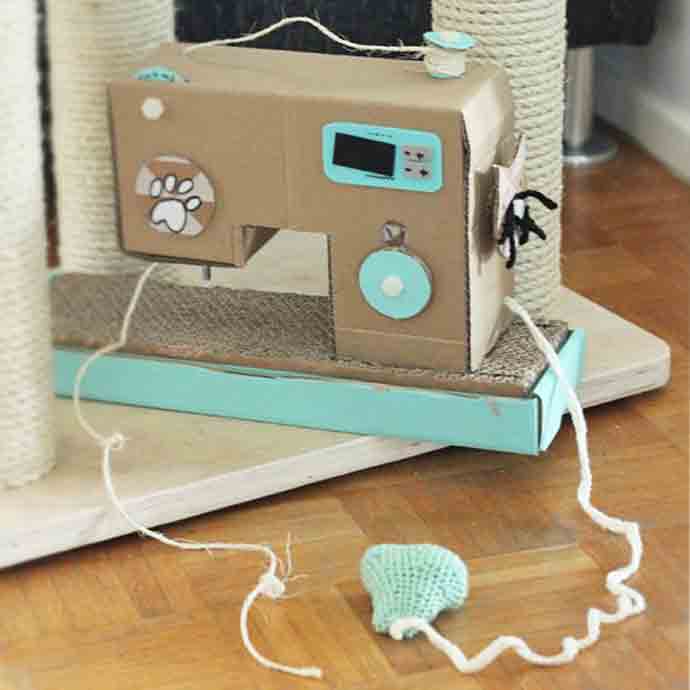 DIY Cat Scratch Sewing Machine
via The Stories of Elke
This DIY Cardboard Scratching Machine is a double hitter. First, it's the next generation yarn ball, letting cats become seamstresses of their own creations. Second, it's a scratching post in disguise! Oh, and it gives you a super clever craft to sit around the house and spark conversation with guests. Did we just hit a home run? I think we did!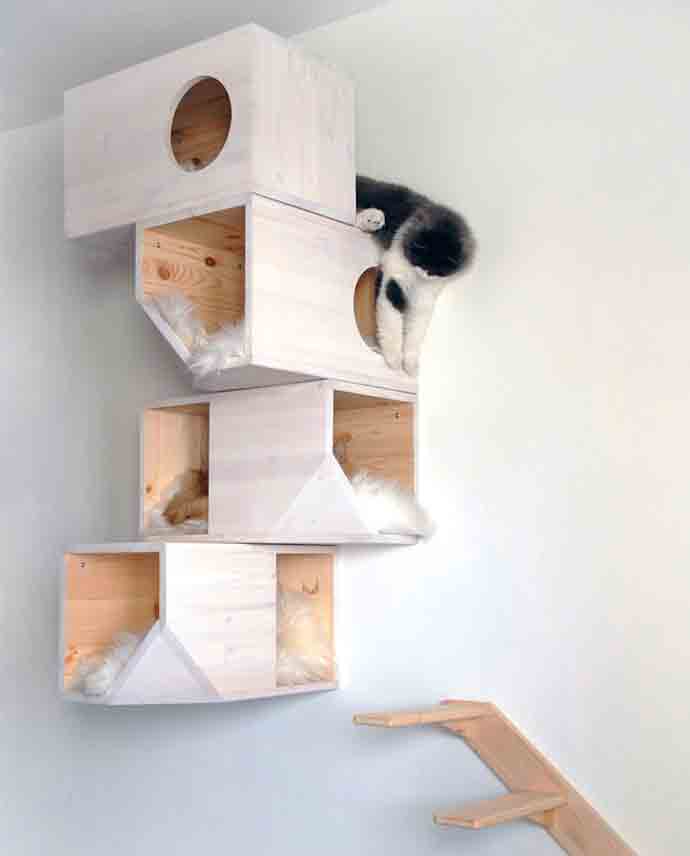 DIY Wood Cat Tower
via Home Tree Atlas
If your cat likes to climb (and they all do) and you like to make things (I'm guessing that's why you're here), this is gold. Build them their very own stackable tower, where they can dream of mice, play with their shadow, and assume their rightful place in life, above us all.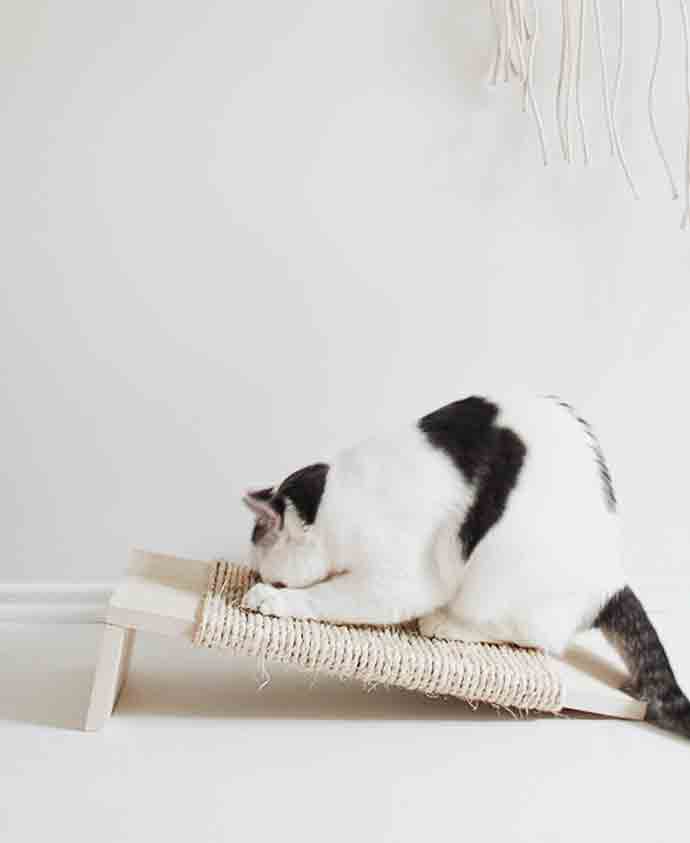 DIY Cat Scratcher
via Almost Makes Perfect
Curtains, couches, your pants – cats will basically go to town on anything they can get their little destructive claws on. Make them a DIY wood and rope scratching board so they can sharpen their claws as much as they'd like, without putting you out (another) pair of pants.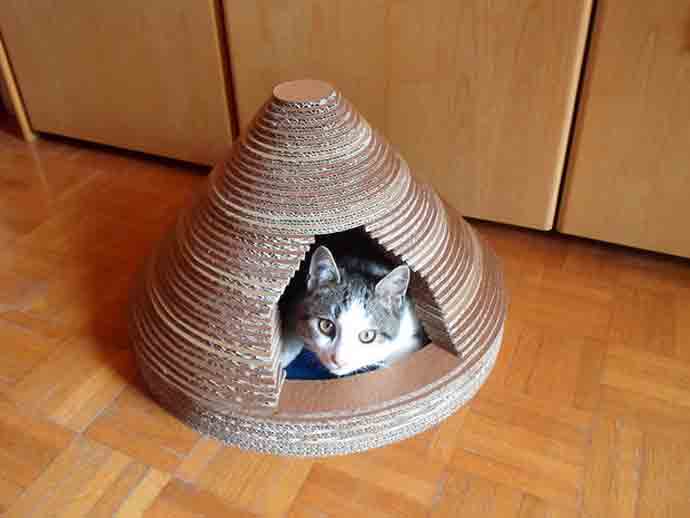 DIY Upcycled Cardboard Cat House
via Instructables
At first glance, this upcycled cat bed looks like a piece of modern design. Upon closer investigation, I realized it was a cat house made of cut cardboard circles! Super easy, super lightweight, super inexpensive. This one takes the ol' cardboard box to a level of luxury.
Pictured at top: DIY Cat Portraits, via Dream A Little Bigger.
(P.S. I need everybody to know that I've been singing the Cats soundtrack the entire time while writing this.)