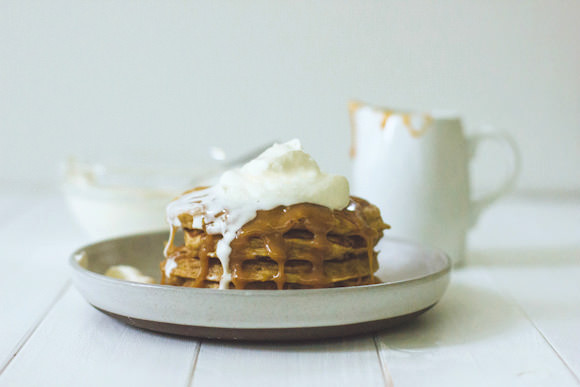 I must admit fall is my favorite season. And as much as I dread the endless months of the cold winter, I still get excited when the air becomes crisp, the leaves change color, and apple-picking season has started.
Our family makes a point every year to visit a local apple orchard, bringing home bags of apples and a pumpkin or two. I never seem to run out of ideas to use all the apples; we all take pleasure in pies and crisps and turnovers. But this is the first year I put them in our pancakes, and we were all pleased with the result: a delicious, indulgent, autumn breakfast.
Caramel Apple Pancakes

This recipe is adapted from Adrianna Adarme's wonderful cookbook Pancakes.
Dry mix
1 cup all-purpose flour
2 tablespoons sugar
1 teaspoon baking powder
1 teaspoon baking soda
1 teaspoon ground cinnamon
¼ teaspoon salt
Wet mix
1 cup plus 2 tablespoons buttermilk, shaken
1 large egg
2 tablespoons unsalted butter, melted and cooled
1 teaspoon vanilla extract
1 cup apple, peeled and grated
Caramel sauce
Whipped cream
In a medium bowl, mix together the flour, sugar, baking powder, baking soda, and salt.
In a measuring cup or small bowl, measure out the buttermilk. Add the egg, melted butter, and vanilla and whisk until thoroughly combined. Stir in the grated apple.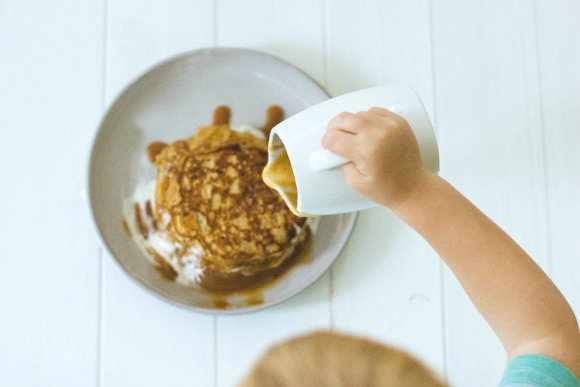 All at once, add the wet ingredients to the dry ingredients and mix until just combined. The batter should have some small to medium lumps.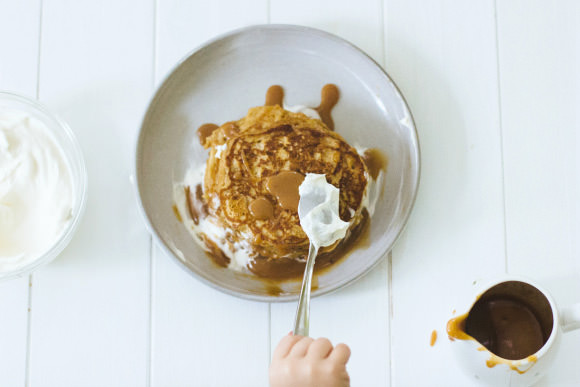 Preheat your skillet over medium heat and brush with a teaspoon of vegetable oil. Using a ¼ cup measure, scoop the batter onto the warm skillet. Cook for 2 to 3 minutes until small bubbles form on the surface of the pancakes, and then flip. Reduce the heat to medium-low and cook on the opposite side for 1 to 2 minutes, or until golden brown.
Transfer the cooked pancakes to a baking sheet and place in a preheated 200-degree oven to keep warm. Repeat the process with the remaining batter, adding more vegetable oil to the skillet when needed.  Serve with gently heated caramel sauce and whipped cream.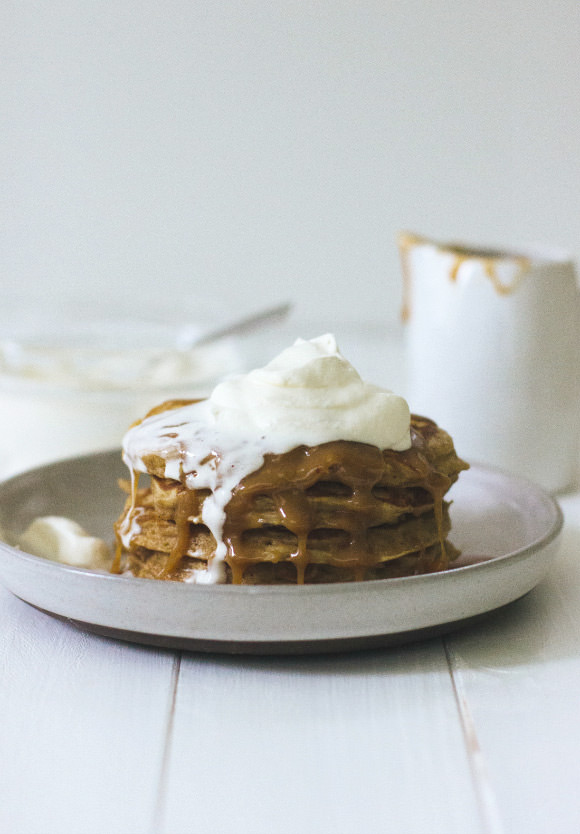 Enjoy!