Whether your kiddies are giddy with excitement about going back to school or need a little help easing into it, these berry cream sodas will make the perfect after-school treat.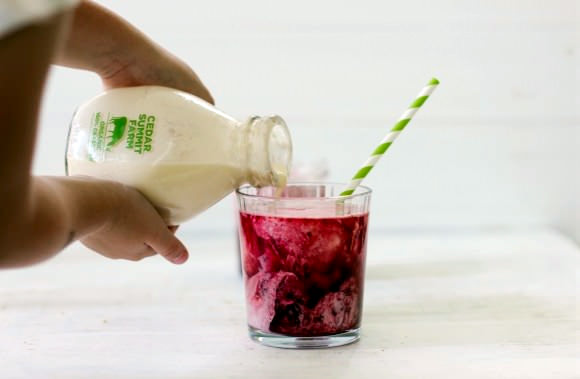 My children have been nervous all week, knowing that a new school year is waiting for them right around the corner. We've spent a lot of time talking about longer school days, picking out school clothes and supplies, and snuggling close to help ease the fear. But sometimes, something extra special is needed.
So we spent an afternoon capturing summer in a glass. Our refrigerator is packed with raspberries, and all our memories of hand picking them one by one over long summer days are tucked away with them in their freezer-safe bags. Naturally, we had to figure out a way to incorporate some berries into our treat. Bubbly soda water always brings a smile, and heavy cream brings a little comfort, so they were in, too. We topped things off with a fancy straw, and for a few sweet moments there was nothing in this whole wide world to worry about.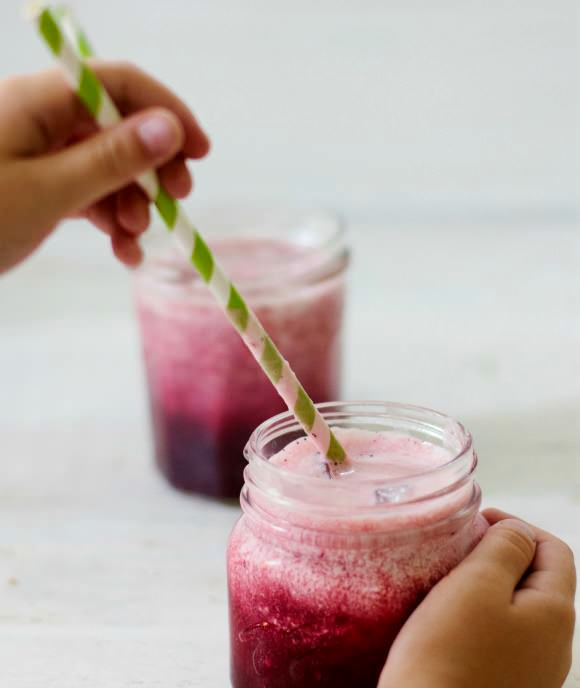 Instead of simmering the berries with honey, I added the honey to the warm juice after it had been cooked and strained. I found this gave it more of a clean honey taste. I thought 2 tablespoons was the perfect amount—it still left a little bit of tartness to the drink. (Feel free to add more if you'd like it sweeter.)
If you want to make the juice ahead of time, remember that honey will firm up in the fridge, and you will have to gently reheat the mixture to loosen it. Sugar could be substituted, although I would include it in the simmering stage. Half and half occasionally can curdle when mixed with fruit juice, so I've used heavy cream here, which doesn't separate as easily. For extra protection against curdling, you can add the heavy cream to the fruit base, and thoroughly mix before adding the club soda. But I thought adding the cream to the top made a prettier presentation. Whipped cream, of course, would also be delicious.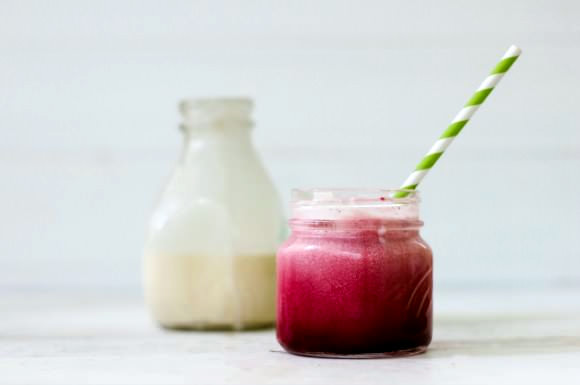 Ingredients

16 ounces mixed berries (raspberries, blackberries, and strawberries work best)
1 vanilla bean pod, seeds scraped
2¼ cups water
8 tablespoons good honey (more or less to taste, see note above)
Cold club soda, ginger ale, or any other bubbly drink you think would be a good fit
Heavy cream (a little goes a long way)
Place the berries, vanilla bean seeds and pod, and water in a sauce pan. Bring to a boil, and then let simmer for about 15 minutes until the berries are broken down (strawberries and blueberries may need a little help with a potato masher).
Place the mixture in a strainer over a large bowl and press on the berries until all the juice is released (you should have around 2 cups). Discard the pulp.
Divide the warm mixture equally between 4 glasses and stir 2 tablespoons of honey into each glass (more or less to taste), making sure the honey is dissolved.
Let cool, and then add equal amounts of club soda to each glass (about ½ cup per glass). Add ice, and then top with heavy cream as desired (see note above).
Enjoy!