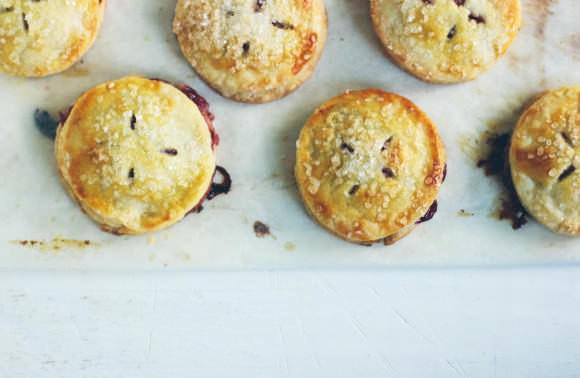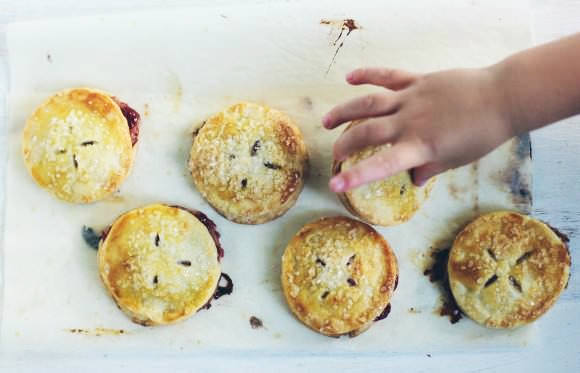 I'm always looking for fun ways to include my children in the kitchen. While they do enjoying helping me with 'regular' tasks, such as making dinner, they get very excited when we do something out of the ordinary. And while any dessert-making session will bring a pitter patter of tiny feet into our kitchen, I've found that the smaller items, the treats that fit perfectly in little hands, get the most positive response.
We've made plenty of pies over the years, but had never tried hand pies. Not only are they fun to make, but they can also be a good excuse to go over shapes and colors: the pies can be cut into almost any shape (circles, squares, or rectangles work best), and while this recipe uses strawberry jam, any flavors (or colors) could be used.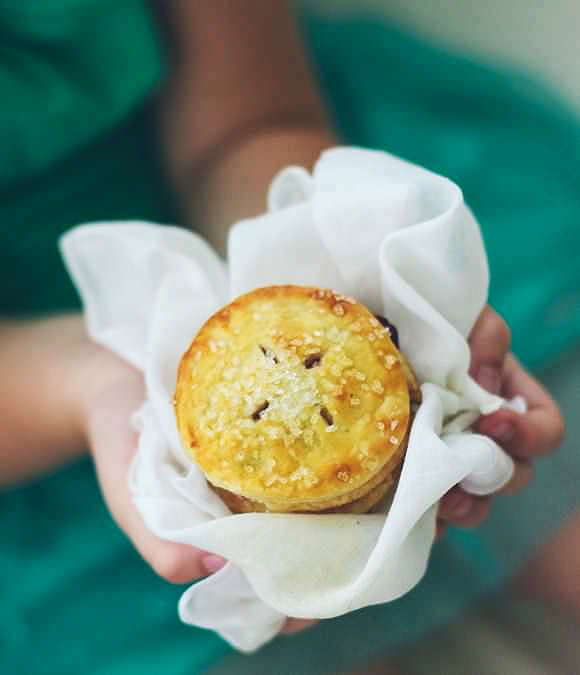 Strawberries and Cream Hand Pies
These pies are adapted from the Smitten Kitchen. Don't be tempted to add more filling to these little pies, or you will have very leaky hand pies (you can make the pies larger if desired, just adjust the filling accordingly). This will make about 16-18 pies with a regular double-crust pie dough recipe (the recipe I used yielded a bit more, about 24). And, of course, you can use any flavor jam here.
1 recipe pie crust (your favorite will work just fine, I used this one by the Smitten Kitchen)
Cream cheese filling (recipe follows)
Strawberry jam
Egg wash (recipe follows)
Coarse sugar (such as Sugar in the Raw), for sprinkling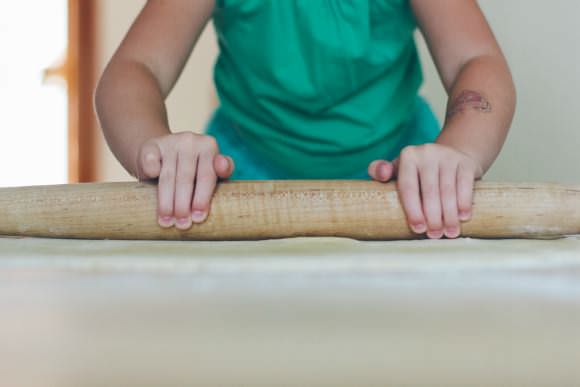 Cream cheese filling
6 ounces cream cheese, soft
2 tablespoons sugar
½ teaspoon vanilla
1 egg yolk
Using a whisk, mix the cream cheese, sugar, vanilla, and egg yolk together until smooth. Place in the fridge until ready to use.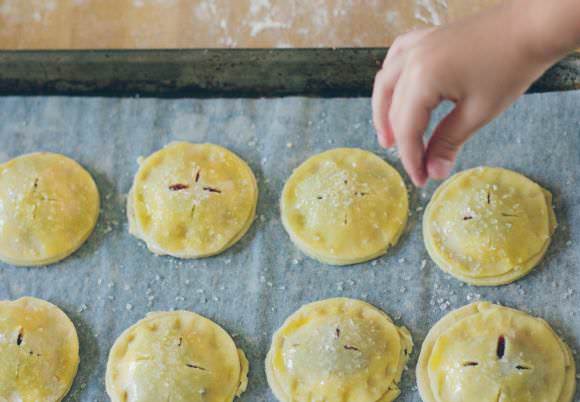 Egg wash
1 large egg
1 tablespoon of water
Pinch of salt
Whisk ingredients together until blended.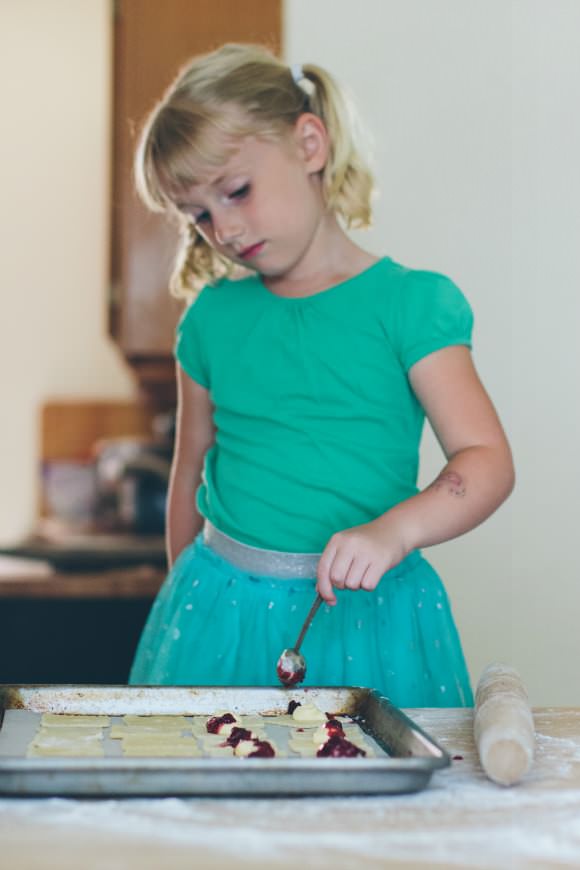 To make the hand pies:
Preheat the oven to 400 degrees. Line two baking sheets with parchment paper.
Generously flour your work surface, and roll out the pie dough so it is about 1/8 inch thick*, flouring dough and roller as necessary.
Using a 3-inch round biscuit cutter (or other cookie cutter), cut out equal amounts of rounds for pies. Cut steam vents into half of the rounds (these will be the 'top' of your pies; the rounds without vents are the 'bottoms').
Place the 'bottom' rounds on the baking sheets, about 1 inch apart. Brush the bottoms gently with some of the egg wash.
Place 1 teaspoon of cream cheese filling on each 'bottom' round, and then 1 teaspoon of jam on top of the cream cheese filling.
Place the 'top' round on each bottom, and press gently to seal the pie together, or use a fork to crimp the edges. Gently brush the tops of each pie with the egg wash, and then sprinkle liberally with coarse sugar.
Bake each sheet for 15-20 minutes, until golden and puffed, rotating the baking sheet halfway through baking.
Transfer to a wire rack and let cool before eating.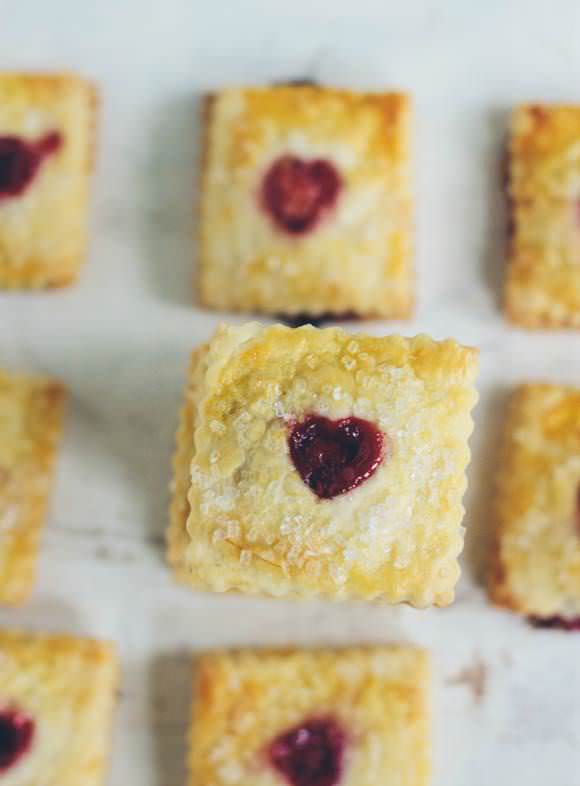 Note: If you are using a double-crust pie recipe, you will want to work with one round at a time, keeping the other in the fridge until ready to use.