We recycle everything in the Handmade Charlotte studio. We turn cereal boxes into traveling amphitheaters and moth bitten sweaters into giant rainbow snakes. Recycled crafts make us double happy. Happy that we saved a little cash and happy that we're doing our part to keep the planet a little bit greener.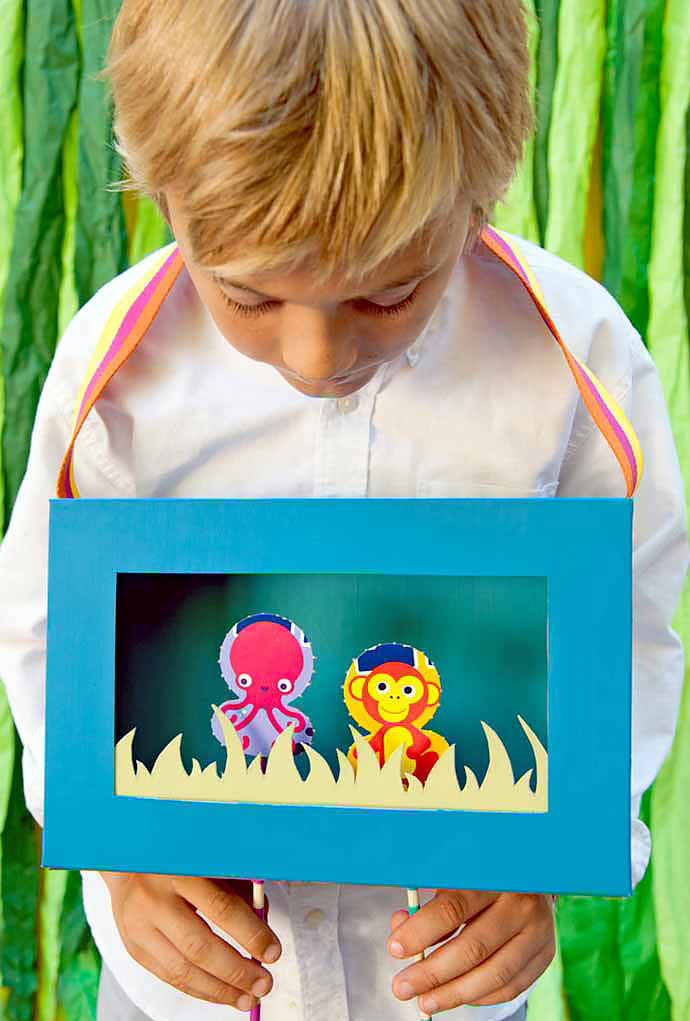 In the past year we have had some great opportunities to make some killer recycled and upcycled crafts! We turned this used cereal box (that would have been discarded otherwise) into a crazy fun traveling amphitheater.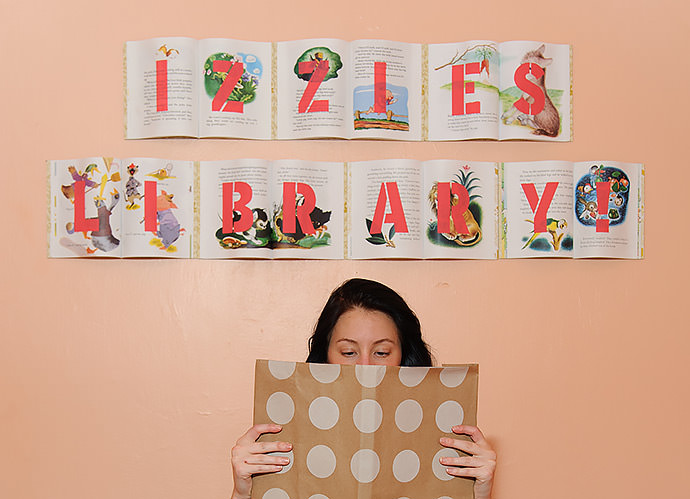 When my 5-year-old nearly demolished some of my old children's books, I was able to salvage them by crafting this seriously cozy reading nook. What I'm getting at here is that at Handmade Charlotte we know that doing our part for the environment not only makes us feel good, but helps us produce some of our most creative projects in the process.
Ok so I'm going to make a guess and say that you're on the green train just like me. Well, I have some good news for you. We're not alone! I recently discovered Target's partnership with EcoSet to take recycling to an entirely new level and help thousands of people every year with their repurposing efforts. They are on a serious mission to make the film industry more sustainable. I never considered how harmful a big commercial photo shoot could be until I learned about everything Target does to prevent this monumental amount of waste.
As a group of folks who LOVE gorgeous photography and cool styling, we have always admired Target's work. Now we can enjoy all the eye candy and feel good about it! Target and EcoSet donate what is seen on-camera and repurpose what is used off camera. They donate all of their sets, Christmas trees, clothing, props, furniture and more to local partners who have the greatest need and can give the items the longest life cycle. They even convert the leftover food to soil compost!
I support this company and know on a teensy, tiny, itty bitty level that it's much easier and cost effective to just stick it in the trash. I was so impressed by their efforts that I felt it was important to shine a spotlight on exactly how Target and EcoSet are working together to make a difference:
Diverted 300 tons of waste from reaching landfills in 5 years
Donated reusable items to more than 600 nonprofits and community organizations in LA, NYC, Minneapolis, Vancouver, Toronto, Montreal, Portland and New Orleans
Avoided the use of more than 120,000 single-use plastic bottles on Target sets
Donate clothing, props, furniture, set dressing and scenic materials to local partners with the greatest need
Donate constructed elements such as walls, flats, flooring and custom or oversized props to local artists, filmmakers and theaters
Repurpose items like packaging materials, lighting gels, rope,and unused paint
Use linguini noodles as coffee stir sticks rather than wood or plastic
Reuse props, decor, furnishings, clothing and toys from their various holiday ads
Give all holiday props, decor, furnishings, clothing and toys to dozens of nonprofit organizations that benefit families who coudn't otherwise afford Christmas trees or gifts, as well as nonprofits whose budgets don't include holiday decorations for their facilities
It really makes you think about all those little ways we can make a really big difference. We are leaving you with 5 awesome DIY recycled kids projects that had us smiling this week…..Enjoy!
Batman and Robin DIY Paper Roll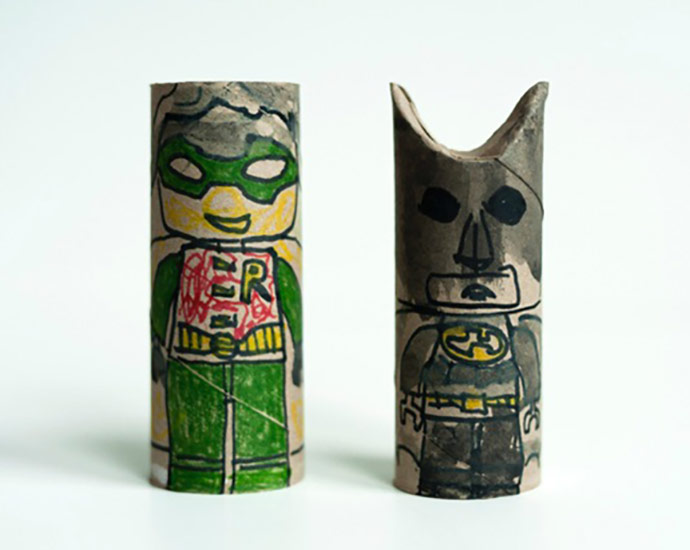 It doesn't get much cuter than these little superheroes. Not only are they fighting crime, but they're doing their part for the environment too! Visit Made By Joel to see the craft.
DIY Scratch Off Recycled Crayon Art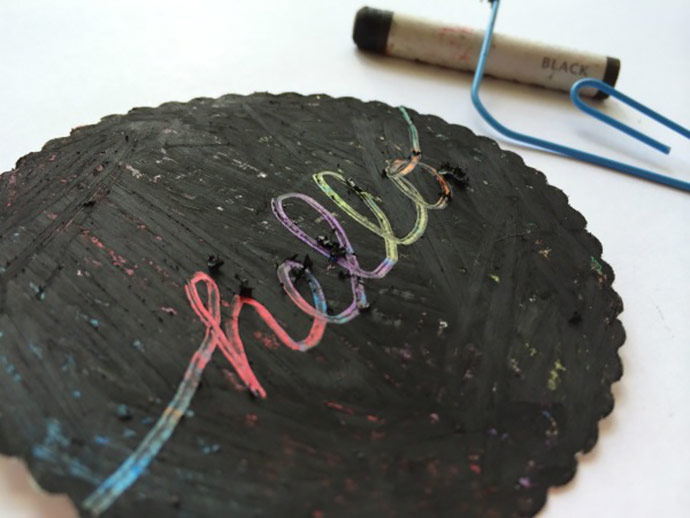 No parent can deny the plethora of crayons scattered around the house in various stages of breakage. Time to put those guys to use! Check out the craft on Mamookids.
DIY Recycled Bottle Cap Cymbals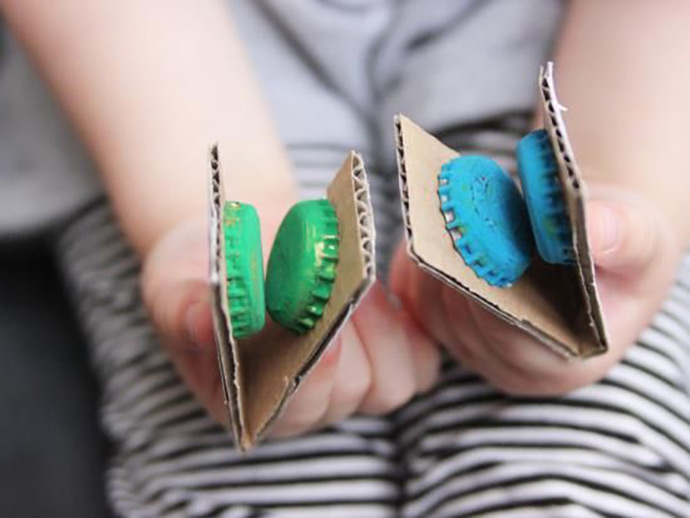 Your little musical prodigies will be click clacking in no time with this DIY Recycled Bottle Cap Cymbals tutorial from one of our favorites: Kiwi Crate.
DIY Recycled Cereal Box + Scrap Fabric Alphabet Cards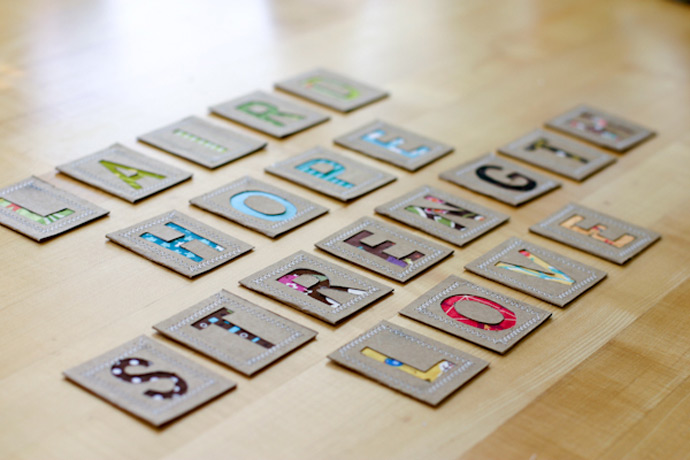 What gets us more excited than typography and upcycled crafts? Nothing! Absolutely nothing. Get the full tutorial at Whip Up.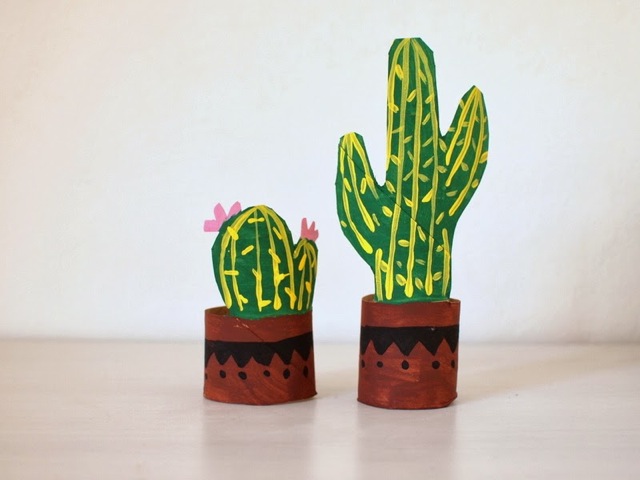 Do you know why these DIY Paper Cactus are even better than a real cactus? You can hug them! Check out the how-to at Pink Stripey Socks.
This post is brought to you by Target.