Ahoy, matey! Have you ever seen such sweet looking crab cakes? Normally when you hear someone say "crab cakes", you picture a savory snack with a side of fries and tartar sauce, but we're here to flip that on its head! These crab cupcakes make the perfect dessert for any summer bash, pool party, or nautical themed event. And here's a tip: if the weather is scorching where you live and you're avoiding turning the oven on, these tasty toppers are a great way to jazz up plain store-bought cupcakes.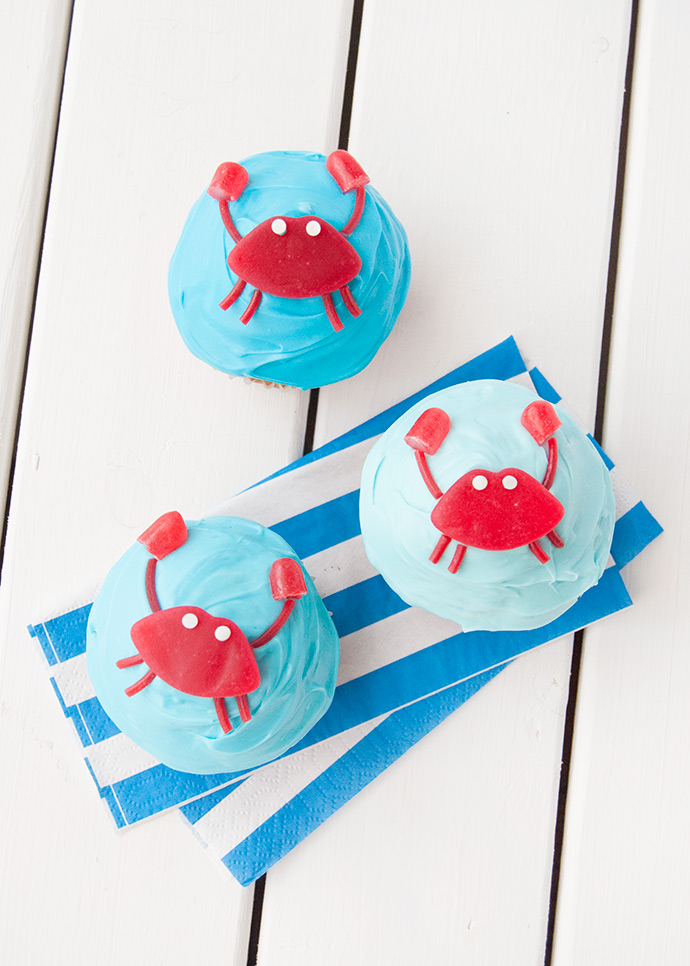 If these cupcakes look a little familiar to you, you're not wrong! Last summer we made these playful lobster cupcakes using red gummy candies too! This time around, we noticed that Hot Lips gummies were the absolute perfect shape for a crab, so couldn't help but whip these guys up too. Keep reading for the full how-to below!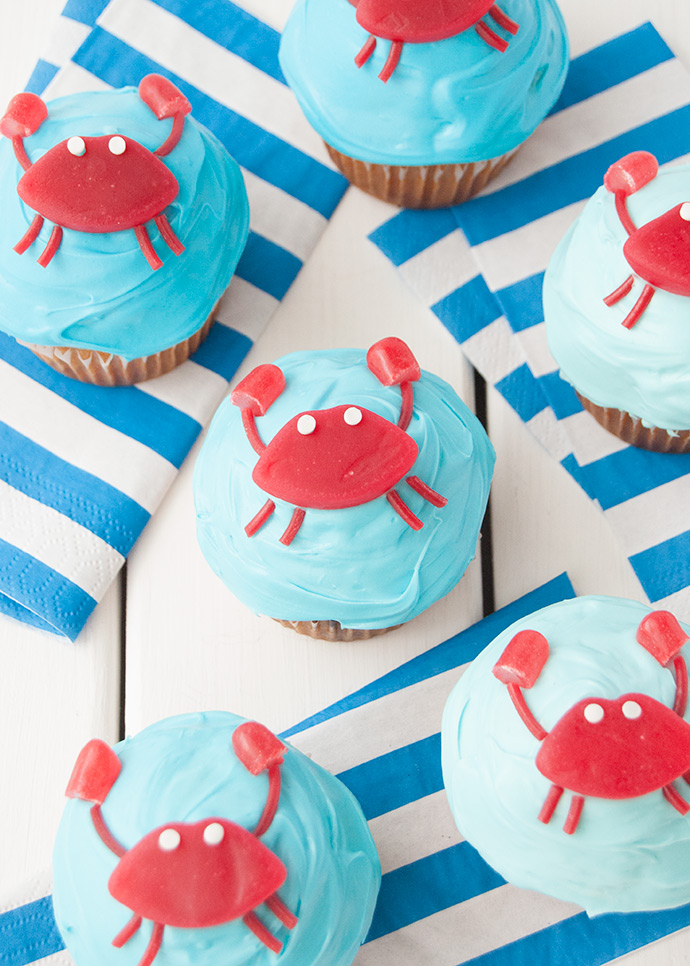 Frosted cupcakes
Hot Lips gummy candies
Mike and Ike candies (red)
Red shoestring licorice
White sprinkles
Toothpick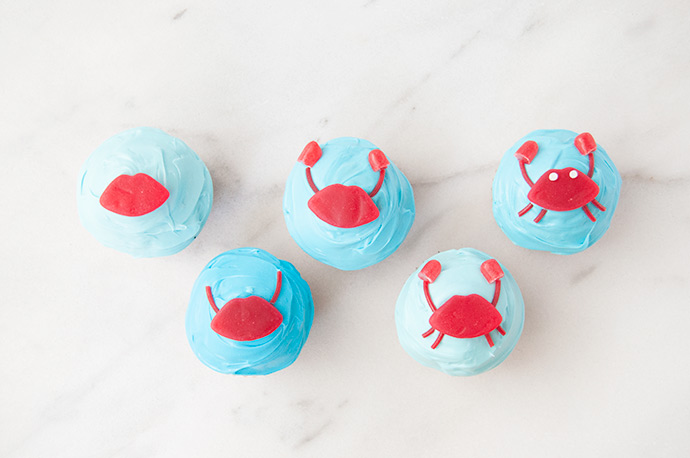 Step 1:
Begin by placing one Hot Lips gummy into the center of the cupcake. Make sure to put it right-side down, so that the flat, less detailed side is visible.
Step 2:
Cut two pieces of red shoestring licorice, about 3/4″ long each, and place them on the frosted cupcake touching the top of the Hot Lips, curved gently.
Step 3:
Find a red Mike and Ike candy from the package and use a kitchen knife to carefully cut it down the middle, forming two equal-sized pieces. These will be the claws! Place the claws directly above the licorice pieces, just touching them, making sure that the cut edge faces down and the rounded end up.
Step 4:
Cut four more pieces of red shoestring licorice, just longer than 1/4″ long this time. Place them below the Hot Lips, two on the left and two on the right.
Step 5:
Finally, add on some eyes! This step is optional, or you can use the larger candy eyes if you prefer a sillier look. Here we used flat white round sprinkles that we picked out from a jar of rainbow-hued sprinkles. Use a toothpick to apply the tiniest dab of icing onto the backs of two sprinkles, and gently place onto the top of the Hot Lips, using the other end of the toothpick to nudge them into place as necessary.
Repeat for as many cupcakes as needed!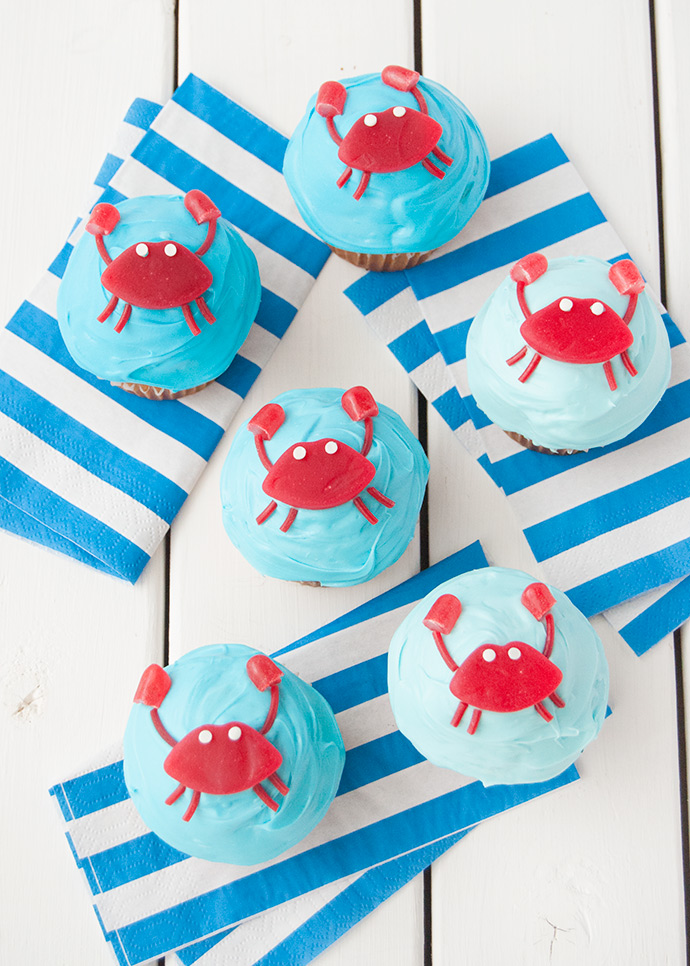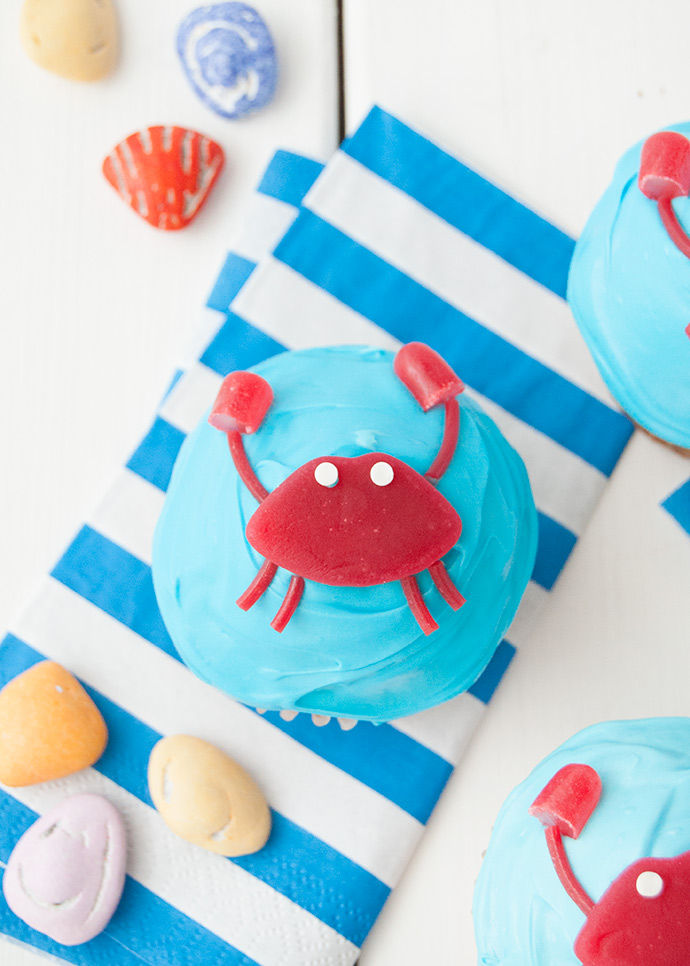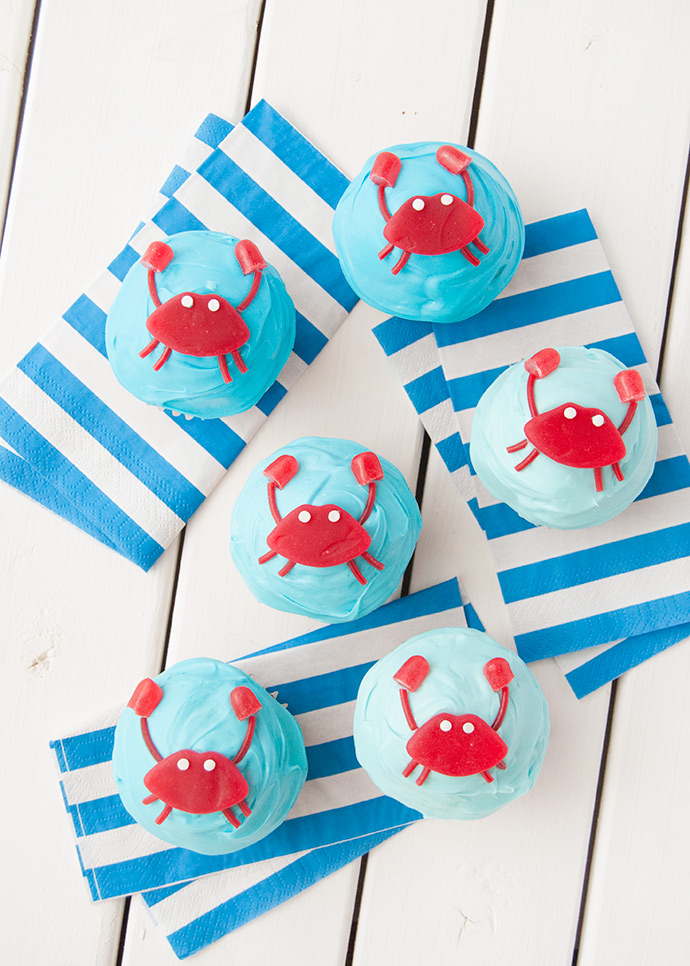 Enjoy!