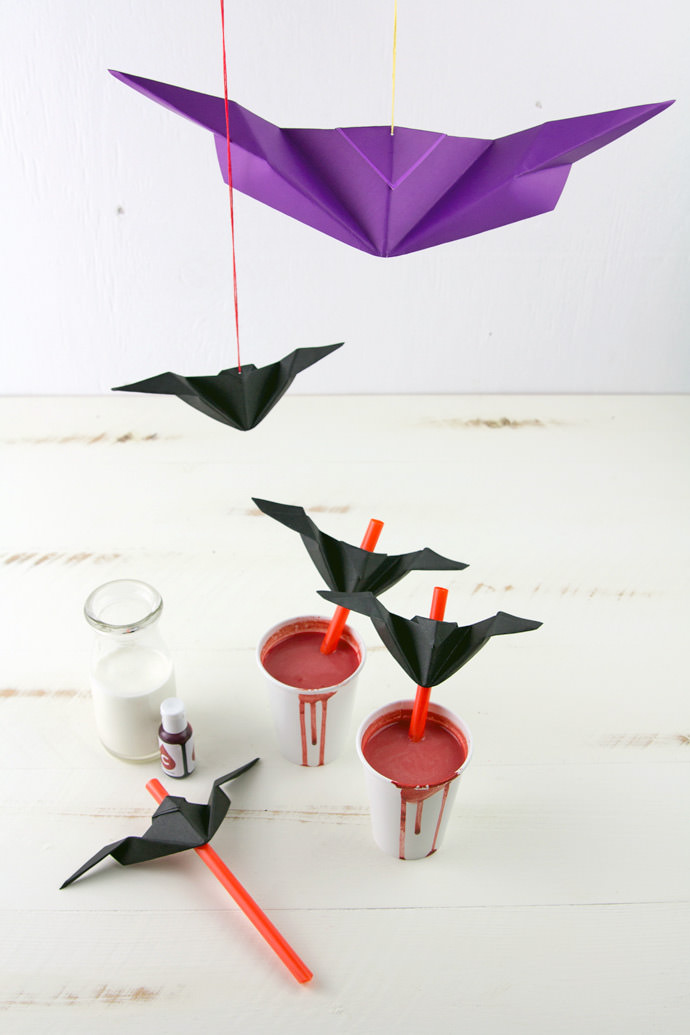 We were happy to team up with Mavis, the mom blogger over at Hotel Transylvania on some kid (and vampire kid) friendly crafts for this Halloween! One of our very favorite things is hot chocolate on a cool fall night. Why not make it a little extra spooky and appealing to your vampire friends by making it red velvet! Grab your materials out of the crafting cave and let's get started!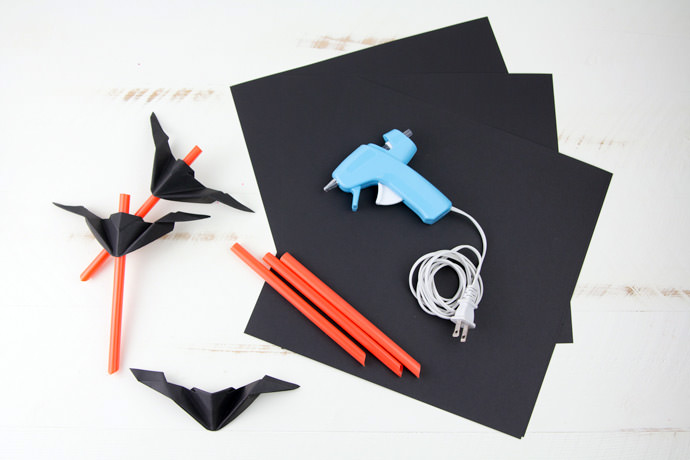 For the Origami Bat
Black square paper
Orange smoothie straws
Hot glue gun
For the Red Velvet Hot Chocolate
Hot chocolate mix
Red food coloring
Heavy whipping cream
How To Make The Hot Chocolate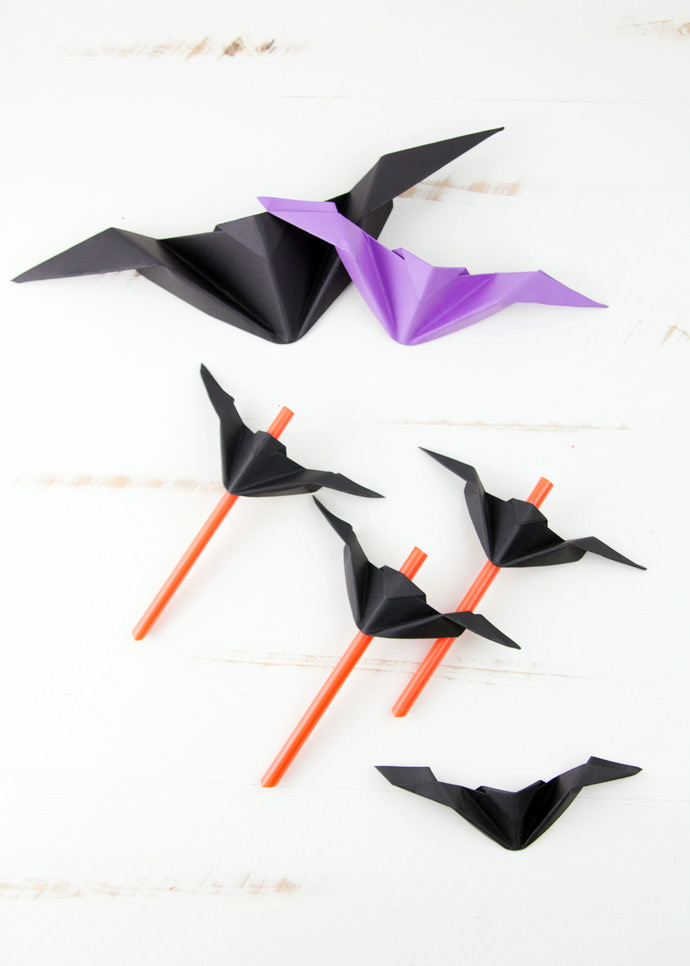 One simple step and you'll have the hot chocolate of every vampire's dream. Whip up your favorite hot chocolate recipe. Stir in a little extra heavy whipping cream and a couple drops of red food coloring. Stir very well and serve hot! Keep an eye out for vampires! They can smell this recipe from miles away!
How To Fold The Origami Bat
Step 1
Fold a square piece of black paper in half to create a large triangle. Fold again, in quarters, just to crease the paper then unfold. From the base of the large triangle, fold up from the bottom so that there is just a small, triangular tip left at the top.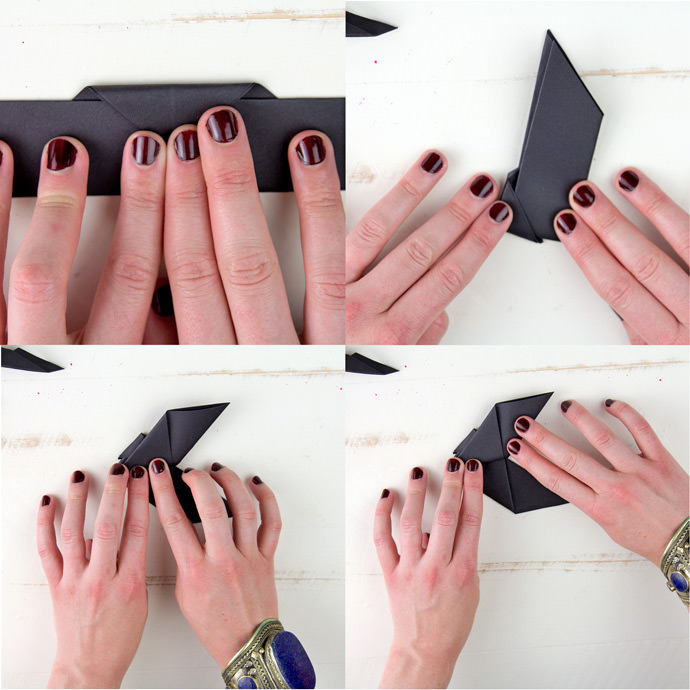 Step 2
Fold the small triangular tip towards you, leaving about 1/8 inch. Fold in half with the small triangular tip (the "head") facing out and to the left. Fold one side (the "wing") at a 45 degree angle up towards the head of the bat.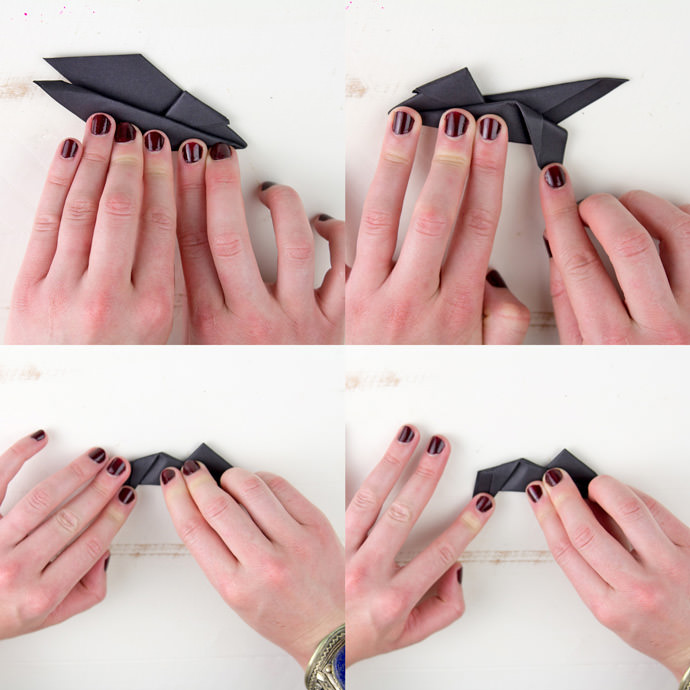 Step 3
Flip the body over and repeat. You should be left with a large diamond shape, with the bat folded flat. With the bat's head facing left and down again, pull the left side of the wing back and down to the right. Flip over and repeat. Finally, with the head back on the left side, fold the tip of the wing back and down to the right at a 45 degree angle. Flip over and repeat.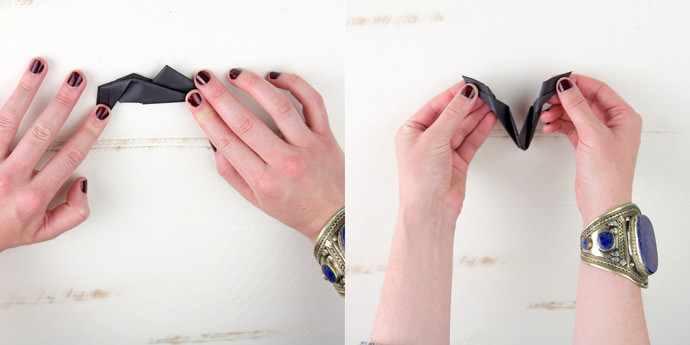 Step 4
Press all folds down firmly, then flip over and tug open from the tips of the wings!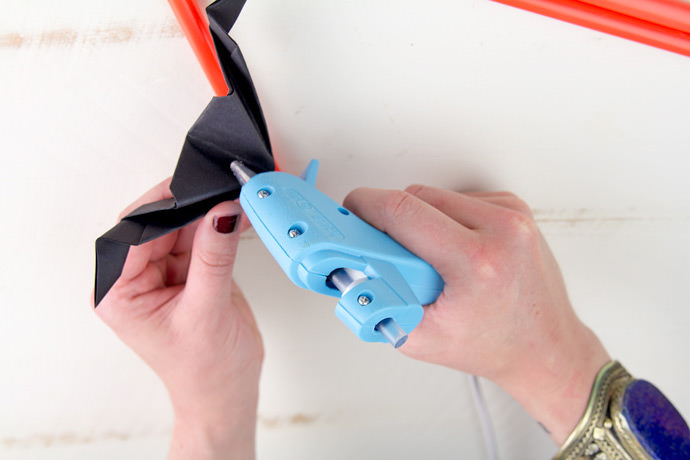 Step 5
All you need to do is hot glue your little bat to the straw! Put a dab of hot glue on the underside of the bat.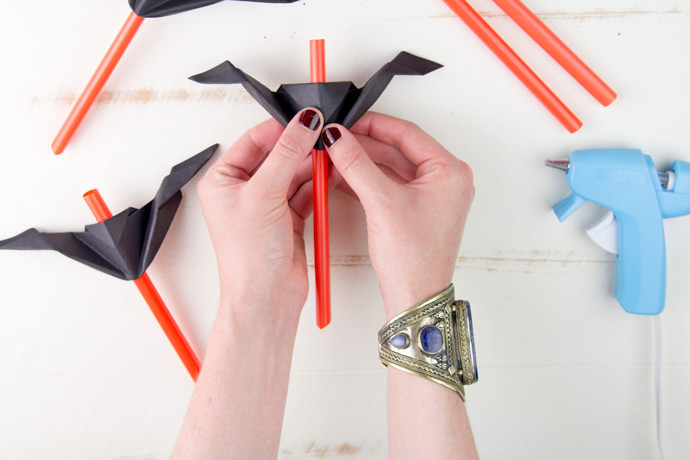 Step 6
Press the bat firmly to the straw.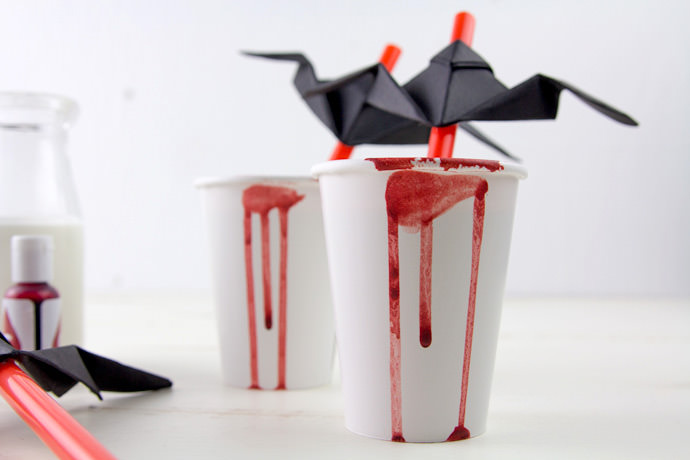 You can use this little bat to stir up your silky smooth red velvet hot chocolate. Add a few red drips for some extra spookyness! Why not stir up a batch for post movie fun? Hotel Transylvania 2 comes out on September 25th! Holy rabies, we're excited!
Enjoy!