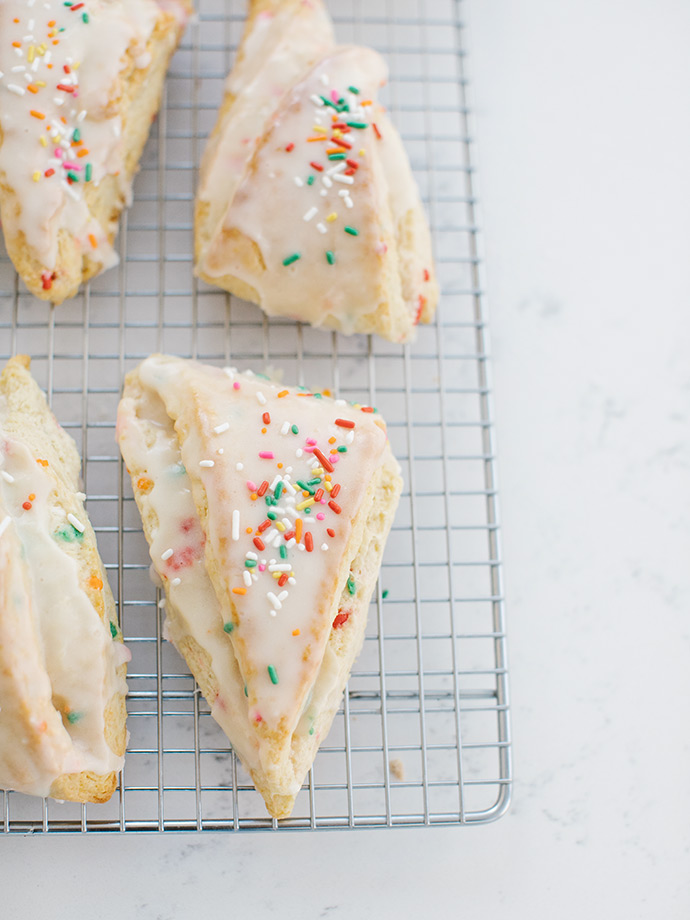 Scones are my favorite, hands down. I like them plain, packed with fruit, dusted in sugar, coated in icing, studded with chocolate and white chocolate and more chocolate, dotted with crystallized ginger and dried cranberries and poppy seeds and candied orange. Any and all kinds will do. For the first time ever I made them with sprinkles, because it's cold and dreary here in Minnesota, and I thought we could use a little color in our lives. They are delicious, and perfect for cheering anyone with the winter blues.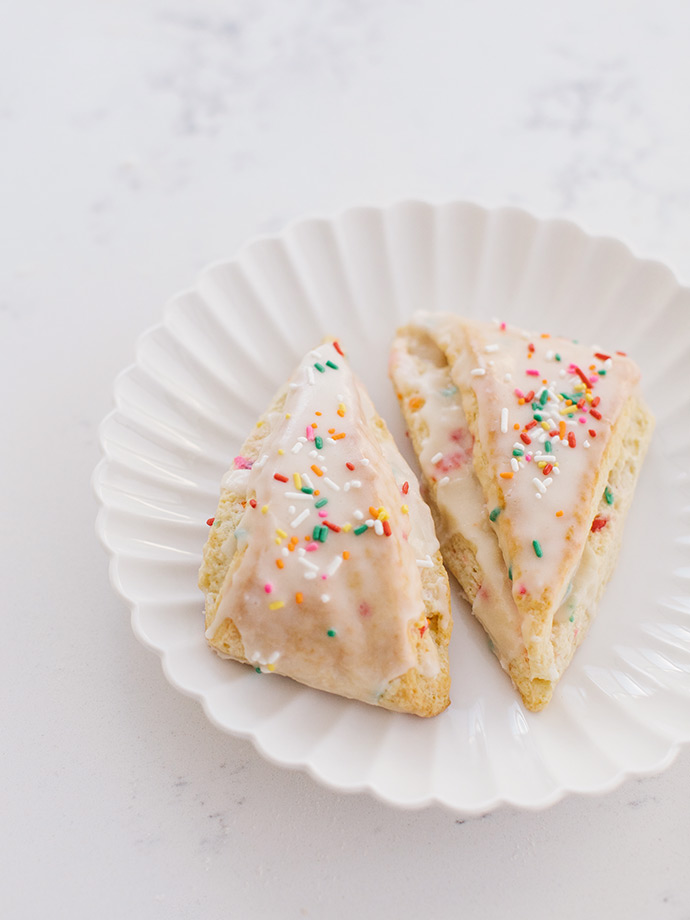 2 ¼ cups all-purpose flour
¼ cup granulated sugar
1 tbsp baking powder
1/2 tsp salt
1/3 cup sprinkles, plus more for topping
12 tablespoons cold unsalted butter, cut into 1/2-inch pieces
1/2 cup heavy cream, plus more for brushing
1/2 tsp pure vanilla extract
1 large egg
Icing
1 1/4 cup confectioner's sugar
1 tablespoon unsalted butter, melted
2 tablespoons heavy cream
1/2 teaspoon pure vanilla extract
Pinch salt
For the scones
Adjust an oven rack to the lower middle position. Preheat the oven to 400°F. Stack two baking sheets on top of each other and line the top sheet with parchment paper.
In a large bowl, whisk the flour, sugar, baking powder, salt, and sprinkles. In a medium bowl or liquid measuring cup, whisk the heavy cream, vanilla, and egg.
Add the butter to the dry ingredients and use a pastry cutter to cut it into the mixture until the flour-coated pieces are the size of peas. Add the wet ingredients and fold with a spatula until just combined.
Transfer the dough to a lightly floured surface and knead until it comes together, 4 to 6 times, adding flour as necessary, as the dough will be sticky. Pat the dough gently into a square and roll it into a 12-inch square (again, using flour as necessary). Fold the dough in thirds, similar to a business letter. Fold the dough into thirds again, making a square. Transfer it to a floured sheet pan or plate and put it in the freezer for 10 minutes.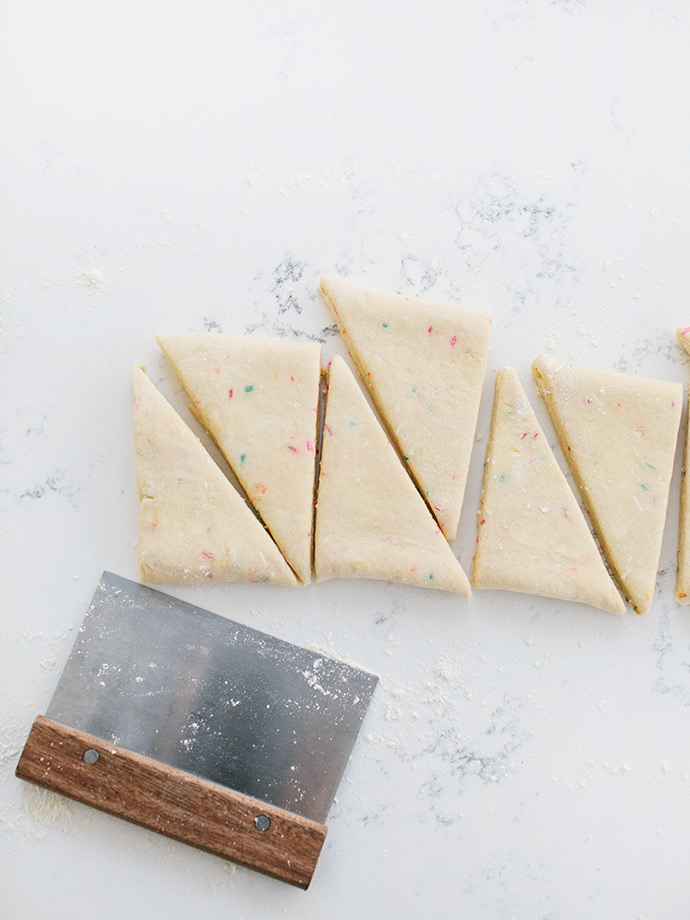 Return the dough to the floured surface, roll it into a 12-inch square, and fold it business letter style. Place the dough seam side down and gently roll it into a 12 by 4-inch rectangle. With a sharp knife, cut it crosswise into 4 equal rectangles, then cut each rectangle diagonally into 2 triangles. Transfer the triangles to the prepared baking sheet.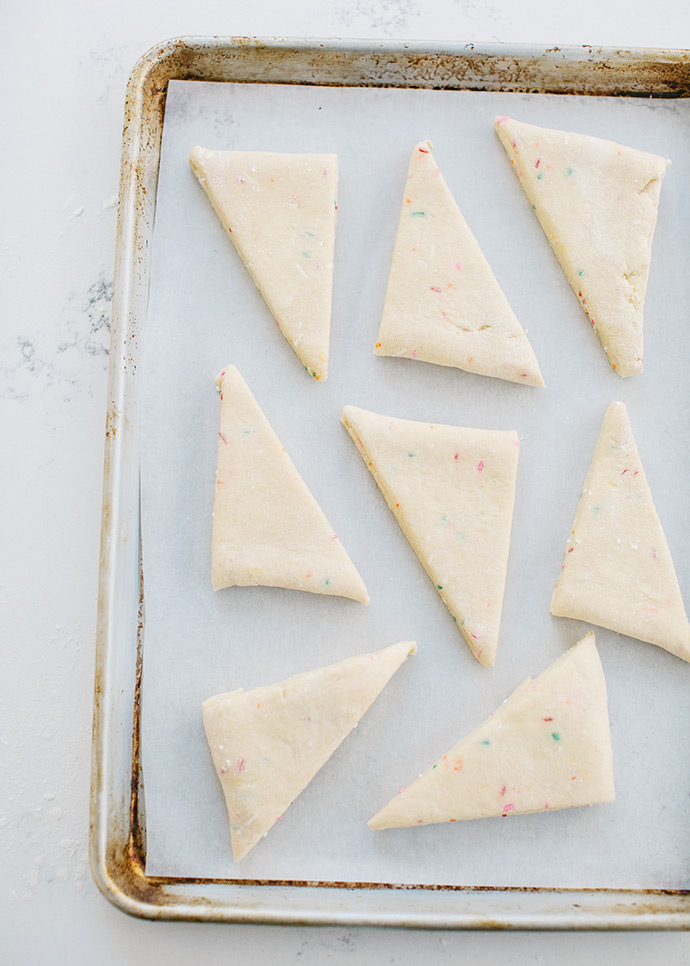 Brush the tops with a little heavy cream. Bake 18 to 25 minutes, rotating the pan halfway through, until the tops and bottoms are light golden brown. Transfer the sheet pan to a wire rack and let the scones cool 5 minutes before icing and topping with more sprinkles.
For the icing
Mix all the ingredients together until smooth. Add more heavy cream (1 tablespoon at a time) until the desired consistency is reached.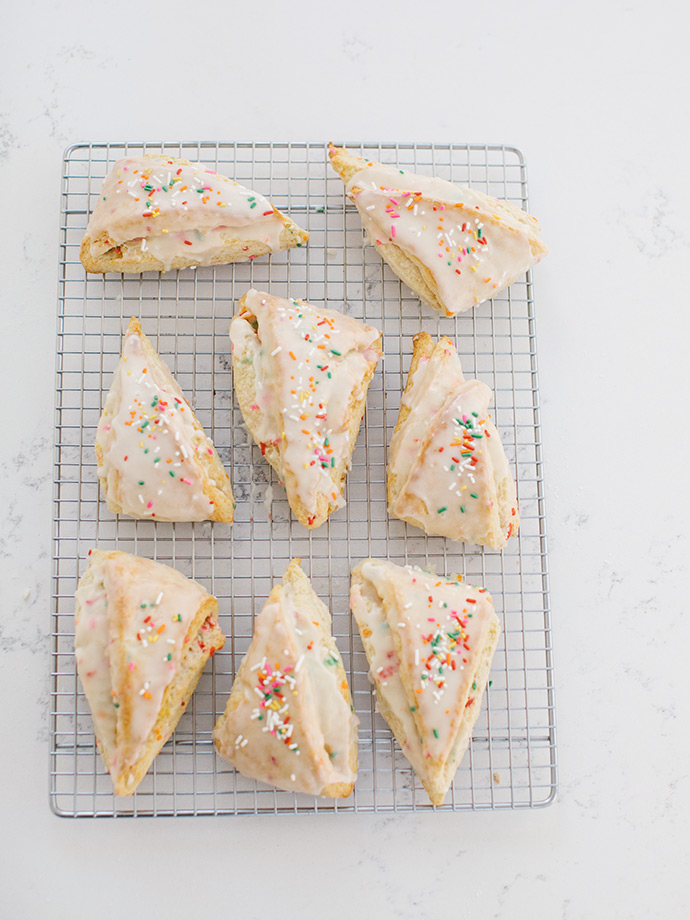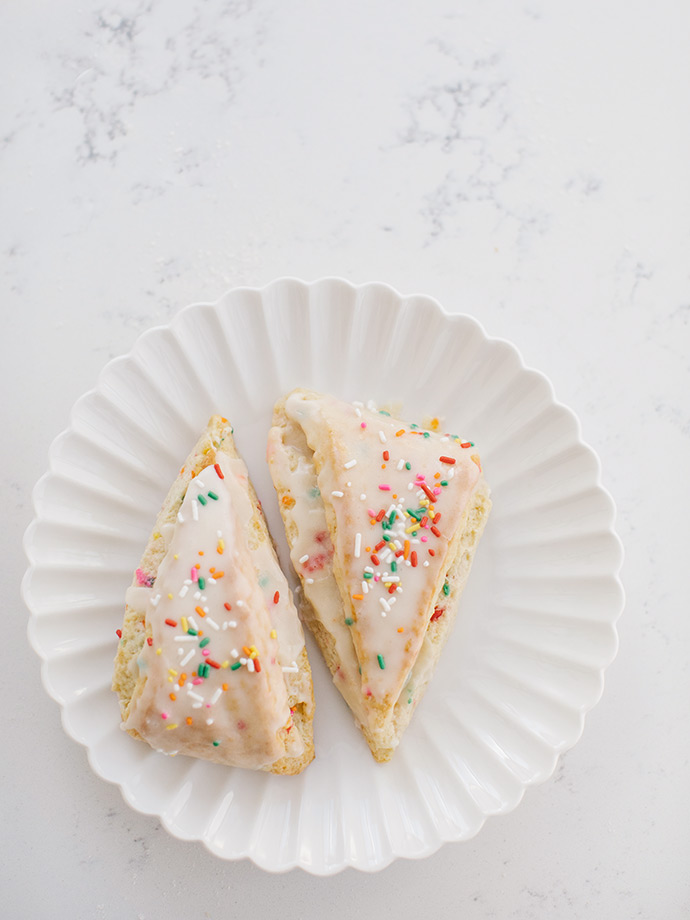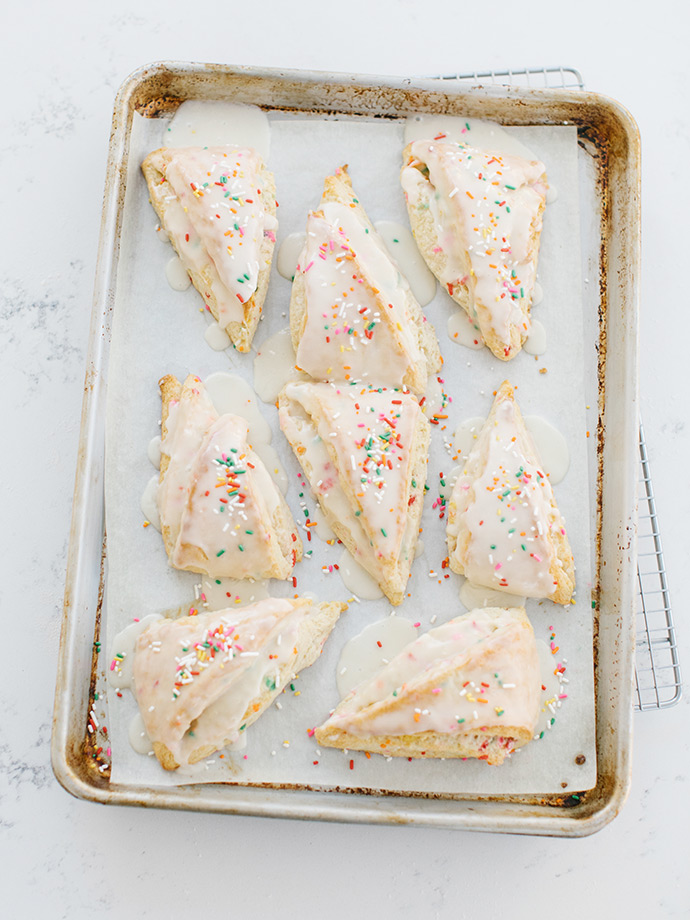 Enjoy!