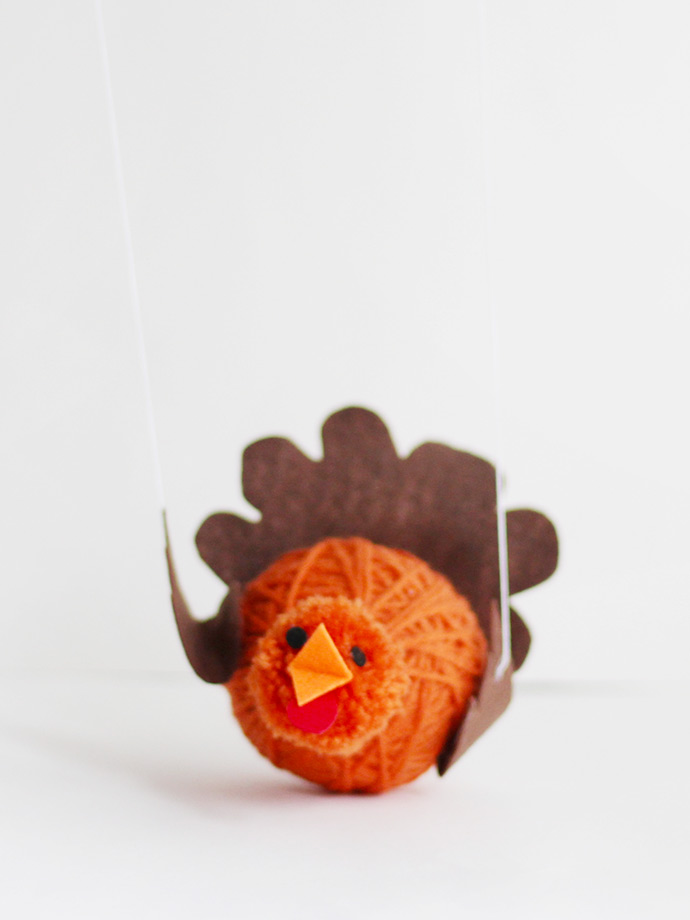 Gobble gobble gobble! With Thanksgiving right around the corner, we're excited to be sharing a new addition to our DIY puppet series today: this yarn-covered turkey! As with most of our puppets, you probably already have everything you need to make this little cutie, so watch the how-t0 video below and keep scrolling for the written instructions. Plus, why not make a friend for your turkey? Check out our DIY scarecrow puppet in the blog archives too!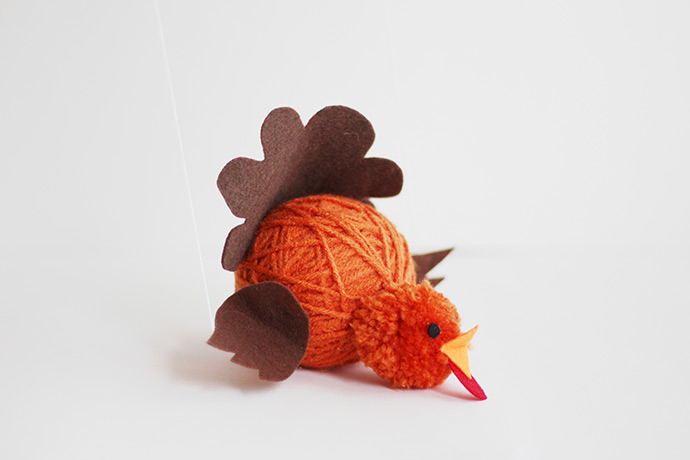 Orange yarn
Felt (orange, brown, red, & black)
Orange yarn
Tennis ball
Scissors
Glue
String/thread
Wooden dowel/skewer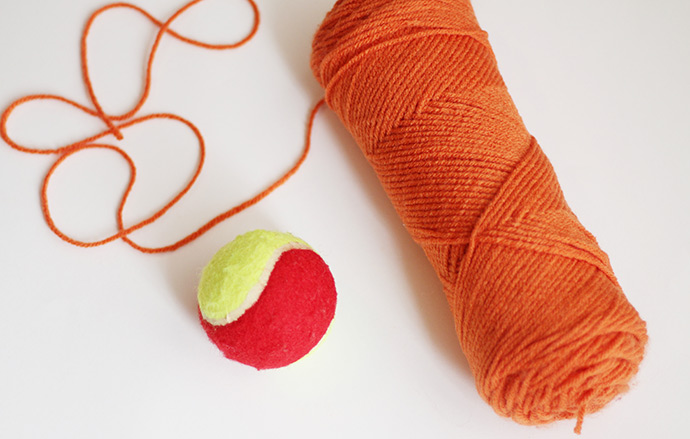 Step 1
Begin by wrapping your tennis ball with yarn so that it's covered completely.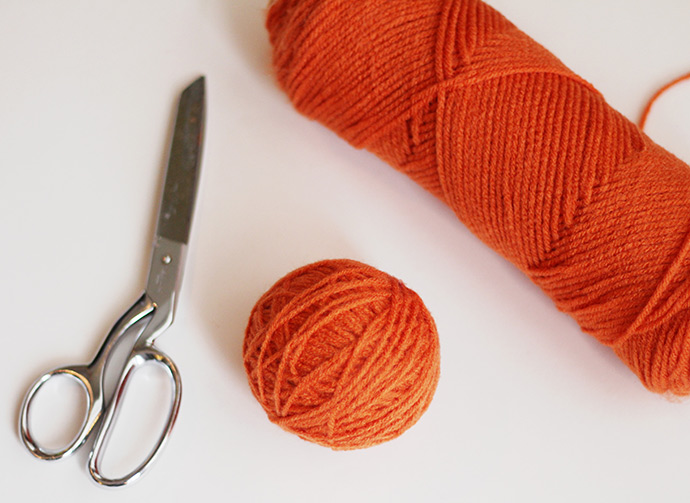 We chose to use a tennis ball so that the puppet would have a nice weight to it, but you can definitely use a styrofoam ball or another ball if that's what you have at home. A ping pong ball would make a super cute mini turkey!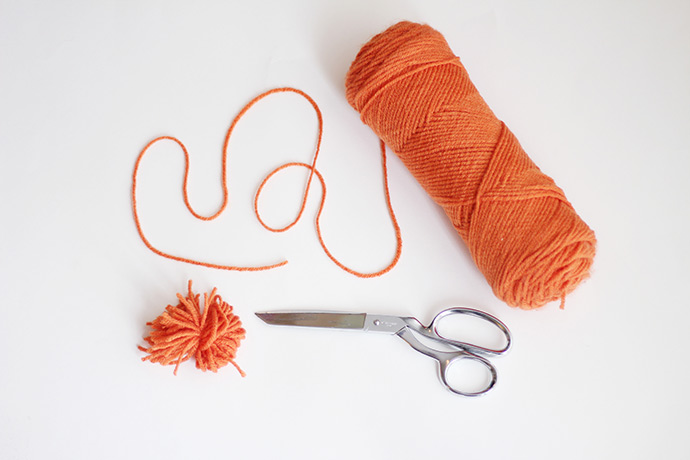 Step 2
Make a pom pom using the same orange yarn – this will be the turkey's head. If you have a pom pom maker, you can use that but if you don't you can simply wrap yarn around a piece of cardboard (or even your four fingers!) until it's a good size. Use another piece of yarn to tie around the center, securing with a double knot. Slide the yarn off the cardboard and cut the yarn loops. Trim the pom pom until it's a nice round shape, even all over. Hold the pom pom up to the tennis ball – if you're happy with the size of the head compared to the body, leave it as is, or continue trimming if you'd like it smaller. Glue the pom pom onto the tennis ball.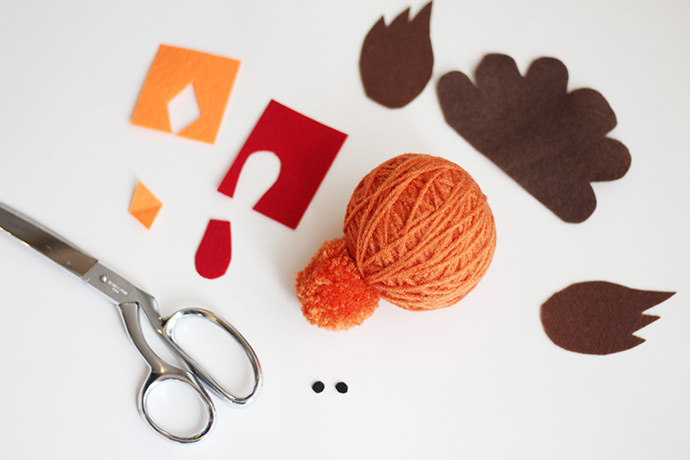 Step 3
And now to make all the felt details! Cut a diamond out of orange felt and fold in half – this is the beak. For the turkey's gobbler, cut a raindrop shape out of red felt. Cut the brown felt into two wings and one tail, as shown above. Use glue to attach all the details onto the puppet.
Step 4
Cut two pieces of string and glue one to each of the wings. Tie the other end of the strings to a wooden dowel or skewer. Voila! Your turkey is ready to gobble.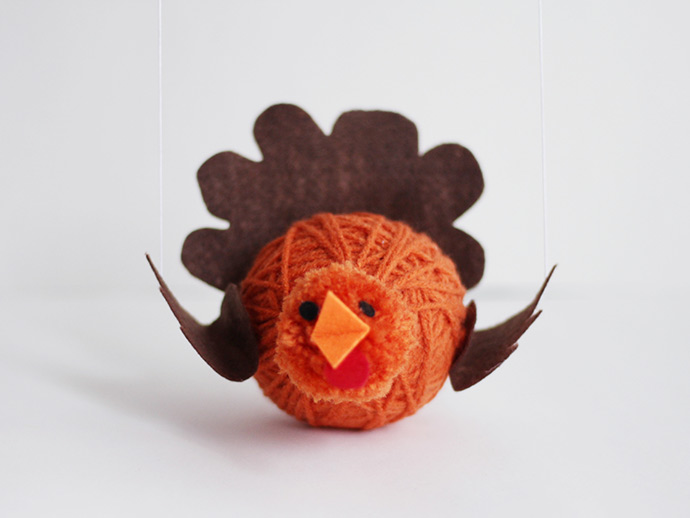 Happy Thanksgiving!
Creative direction by Handmade Charlotte
Video and photography by Caroline Gravino