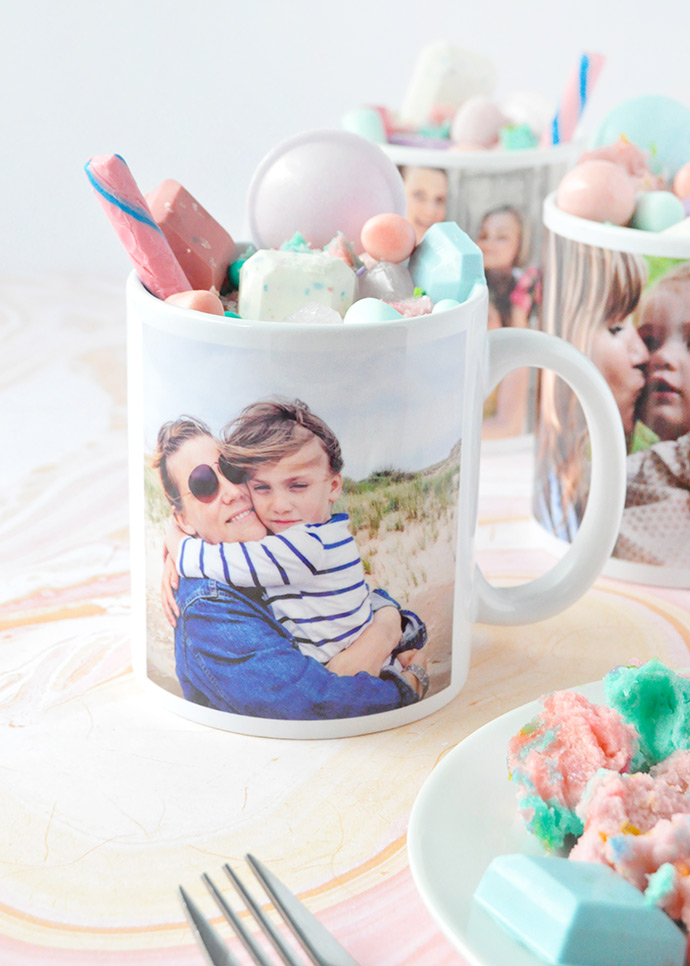 In our house, it's rare to find something that hasn't been DIYed, decorated, or customized in some way. I've always loved putting my own special touch on almost everything and it's why we love sharing DIY projects on Handmade Charlotte! Creativity and my fascination with design is definitely something that's very important in my everyday life, so I've been sure to expose my kids to it as much as possible. As long as I can remember, I've been crafting, sewing, painting, and dreaming up art projects. Although that hasn't changed since becoming a mom, I've had to find different ways to fit it into my life. In today's post, we're super excited to be partnering with CVS Photo to share not only a fun recipe for Mother's Day but to remind you to get mom in the photo!
As our five kids have grown up, the amount of time I've been able to devote to getting my hands messy with creative projects has been in major flux. Sometimes it felt like the hours were endless, and others there was none at all. One of my favorite parts of seeing our kids grow is introducing them to art and craft supplies and watching them experiment and learn. When I haven't had time to get creative myself, I lived vicariously through their amazing creations and crafts. I am so grateful that my own mother gave me space to learn and grow creatively, so I try my best to do the same for our kids.
Raising five kids takes a lot of time and energy, there's no other way to put it. Coordinating just about any activity is a handful, whether it's after school activities or a family vacation. My hands and mind are so busy that inevitably things slip through the cracks. Sometimes that means we leave a backpack behind, don't pack snacks for a long car ride, or forget to snap a family photo. We're a very go-go-go family, so often it doesn't even cross my mind that when we do snap photos, I'm not in any of them! CVS Photo's new campaign is here to change that!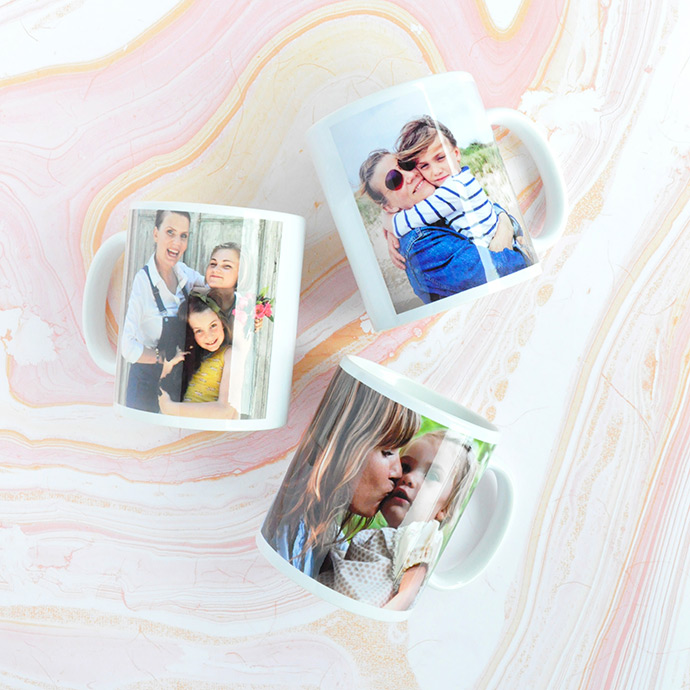 It goes without saying that spending time with my family means everything to me, and I've started to realize that if I don't make it priority to capture our WHOLE family on camera, these moments can slip right by. Now that our kids are getting older, I get them to take turns taking photos – it's a family affair! :) When we're out and about, I've been taking the extra second to ask that kind stranger to please take a photo of us all together. Give it a try, I promise you won't regret it!
But what to do with all these photos? We made these custom photo mugs at CVS! Our kids have been all about the unicorn trend (especially the frappucino!) so we decided to put our own spin on it and make these unicorn mug cakes in our new mugs! We hadn't tried making mug cakes before, so it was a lot of fun to spend time together in the kitchen experimenting with recipes. At one point, we had filled a mug too full of batter, and it overflowed in the microwave. Our faces on the mug were covered with rainbow colored goo! We wiped them clean and started again, but I don't think I'll be able to look at the mug again without thinking of how silly we looked covered in unicorn cake batter!
CVS Photos makes it SO easy to add a custom touch to everyday items, and we LOVE that! You can even add messages and designs onto your photo mugs to give them an extra custom touch. Mother's Day is only a couple days away, so it's the perfect time to drop a few hints around the dinner table about CVS – so many of their photo gifts can be ready in the same day (yes, you heard that right!) so there's still time!
Keep reading to see the recipe for our unicorn mug cakes! How are you spending this Mother's Day? Let us know in the comments, and of course don't forget to #PutMominThePhoto!!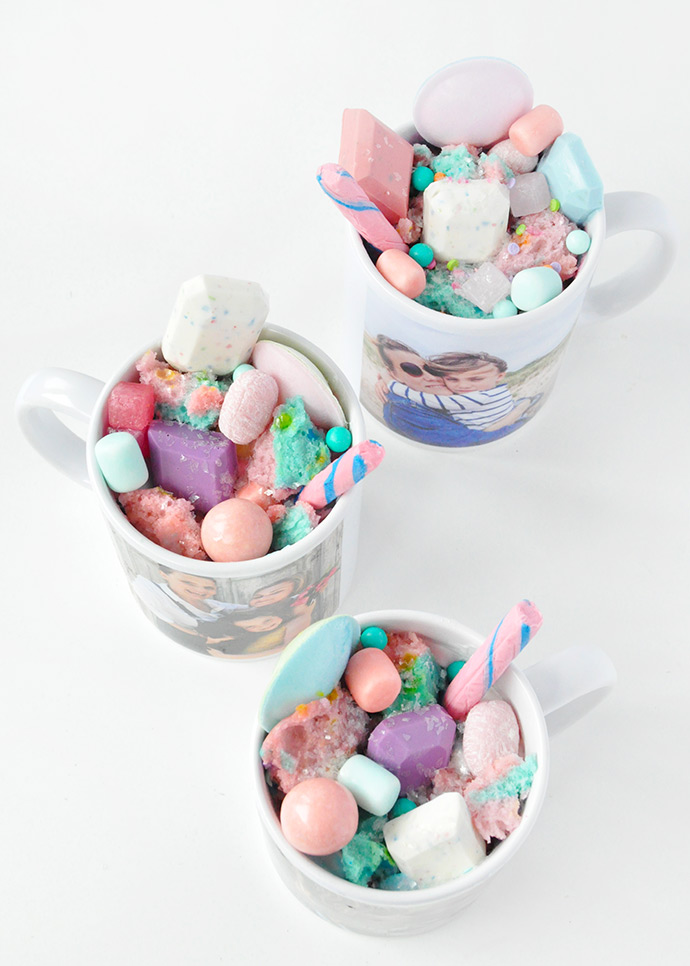 Recipe adapted from Funfetti Mug Cake by Mel's Cafe Kitchen.
Yields 3 mug cakes.
3/4 cup all-purpose flour (divided)
6 Tbsp white sugar (divided)
1 1/2 tsp baking powder (divided)
3/4 cup milk (divided)
1 1/2 tsp vanilla extract (divided)
food coloring
4 1/2 Tbsp vegetable oil (divided)
6 tsp sprinkles (divided)
vanilla cake frosting
various colorful candies, chocolates, sprinkles, etc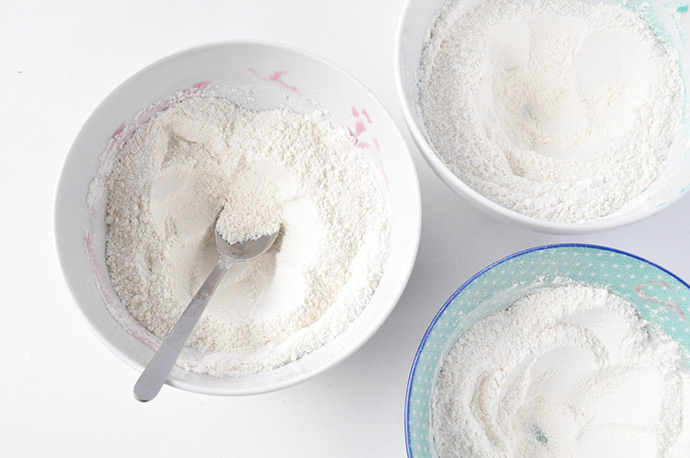 Step 1
In three separate bowls, mix the dry ingredients together. Note that the amounts listed above are the total amounts needed to make all three mug cakes. To each bowl, add 1/4 cup flour, 2 Tbsp sugar, and 1/2 tsp baking powder. Form a well in the middle.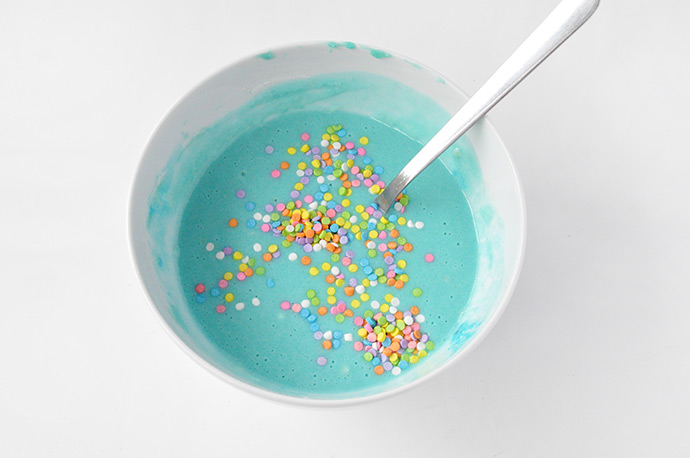 Step 2
Add the wet ingredients – to each bowl add 1/4 cup milk, 1/2 tsp vanilla extract, 2 drops of food coloring, 1 1/2 Tbsp vegetable oil, and 2 tsp sprinkles. Mix until just combined. We used a different food coloring for each bowl: pink, purple, and blue.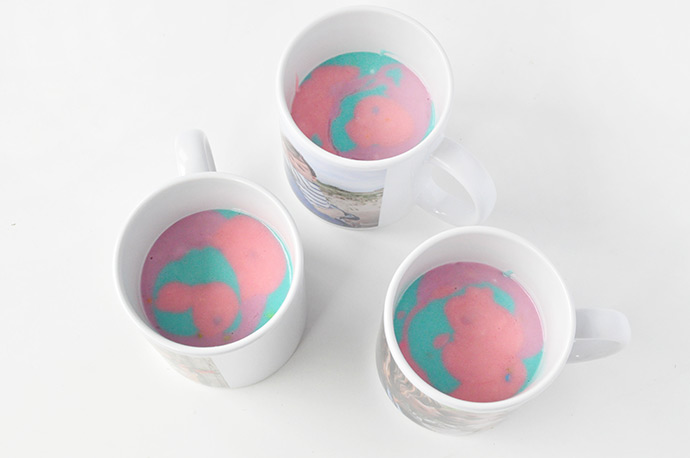 Step 3
Spoon the batter into the mugs, alternating between the colors for a fun unicorn pattern.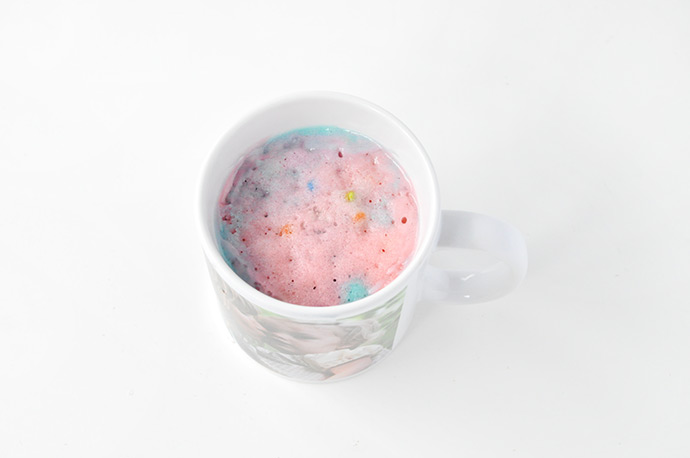 Step 4
One at a time, put into the microwave for about 2 minutes at the 7/10 heat setting. This can vary depending on your microwave, so keep an eye on it to test when it's ready.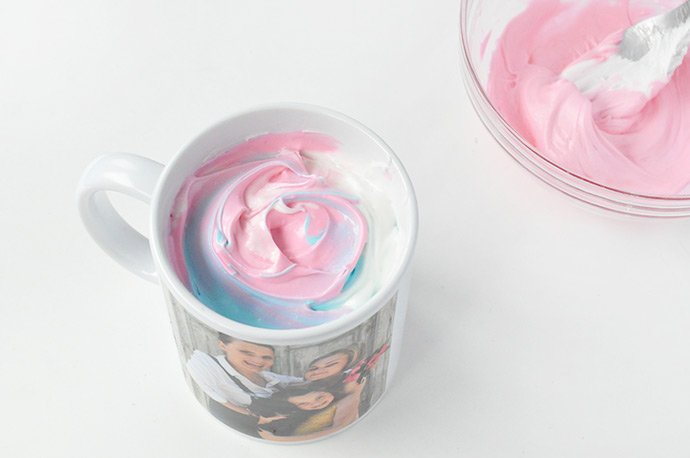 Step 5
Time to decorate! We used store-bought cake frosting to decorate the tops. Add food coloring to make this swirly pastel pattern.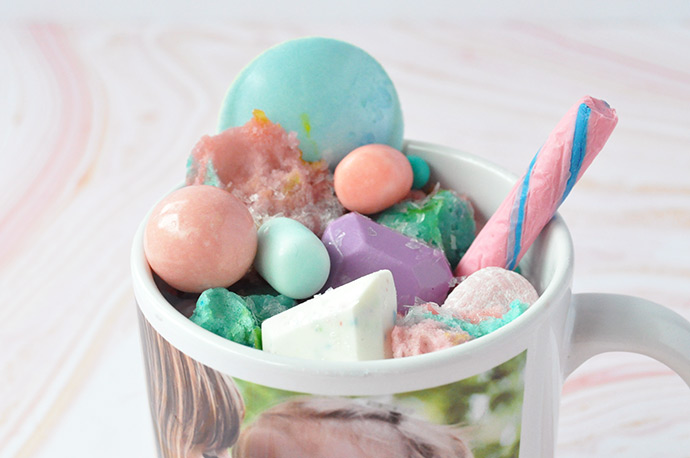 Step 6
Finally, pile the candy on top! We used colorful chocolates, sugar-coated marshmallows, and a cotton candy stick as the unicorn horn. We also made an extra mug cake previously and crumbled that up on top of this cake – if you want to do this, use the recipe listed above but divide the amounts by three so that you only mix up one extra mug cake.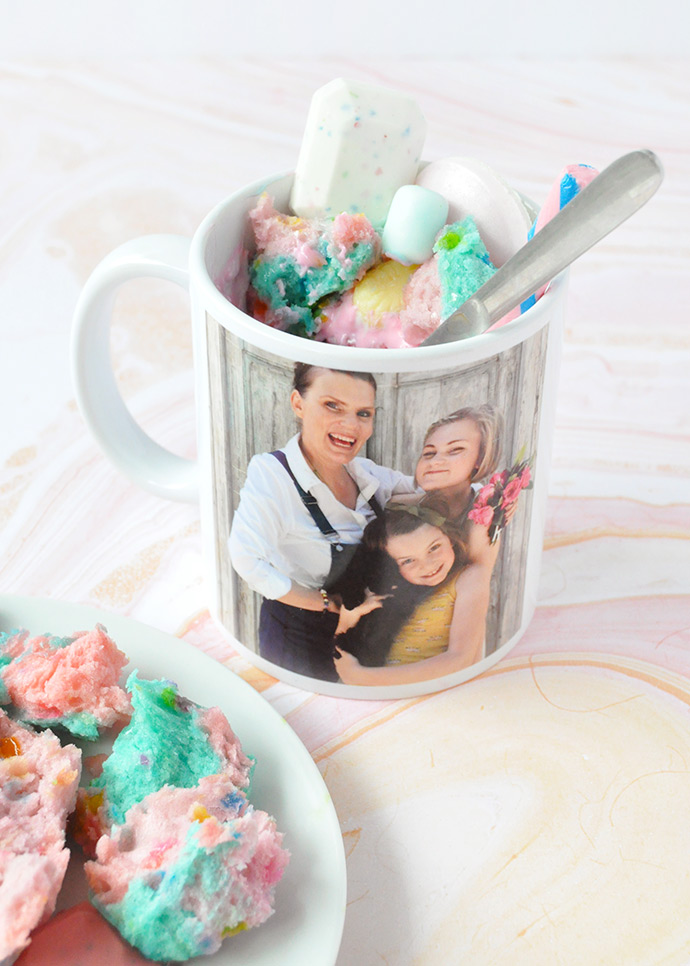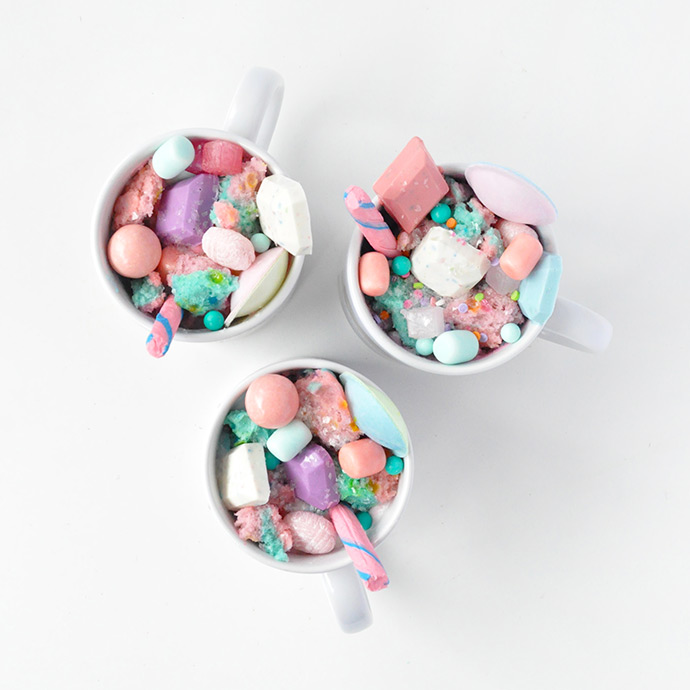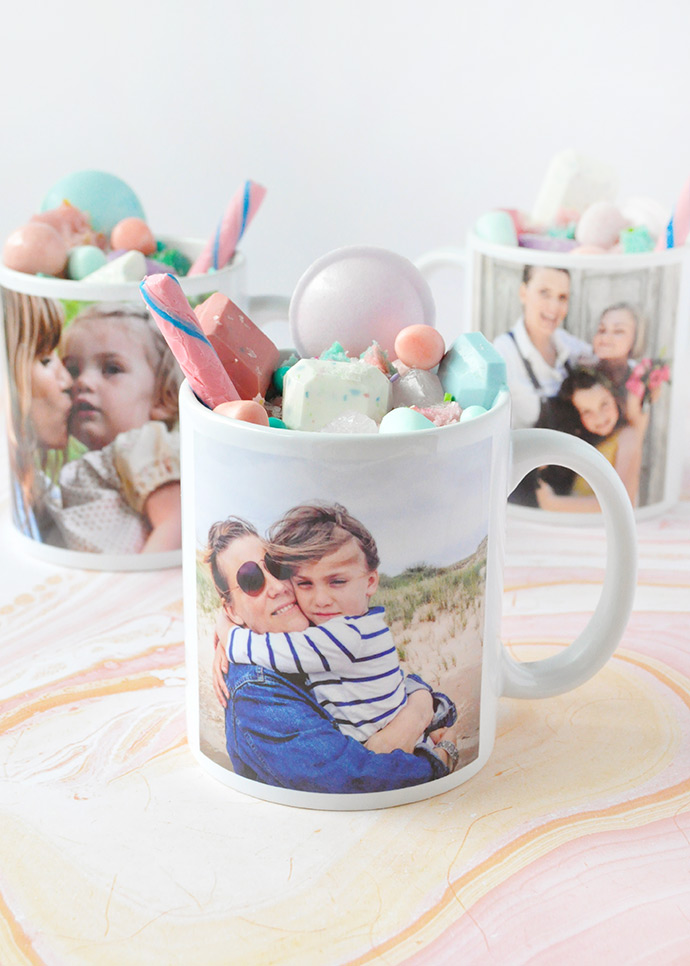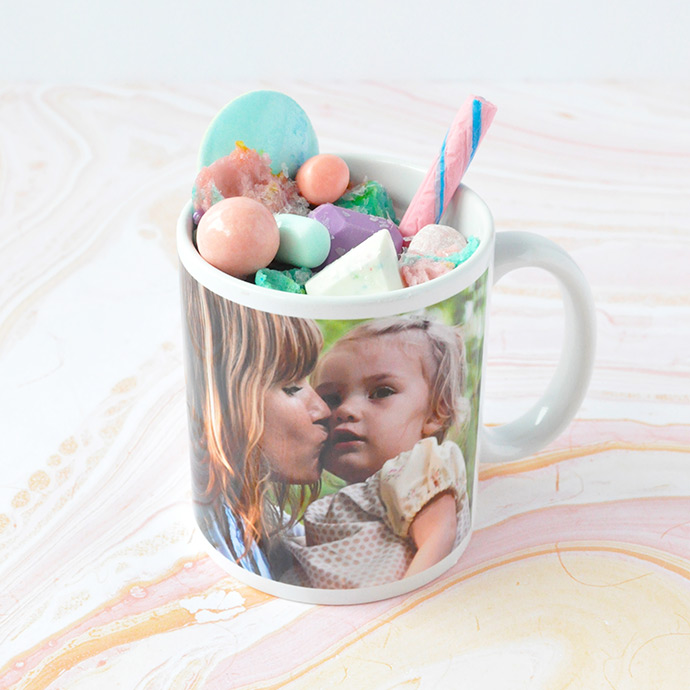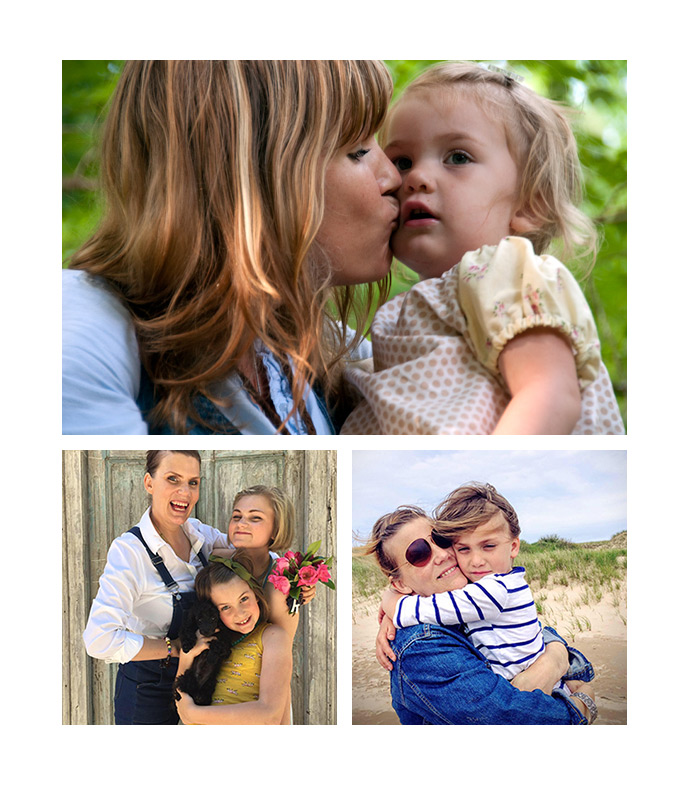 Bon appetit and Happy Mother's Day!!
I'm proud to be partnering with CVS Pharmacy to help spread the word about their photo services. All opinions expressed are my own, and all product claims or program details shared should be verified at CVS.com or with the appropriate manufacturers.