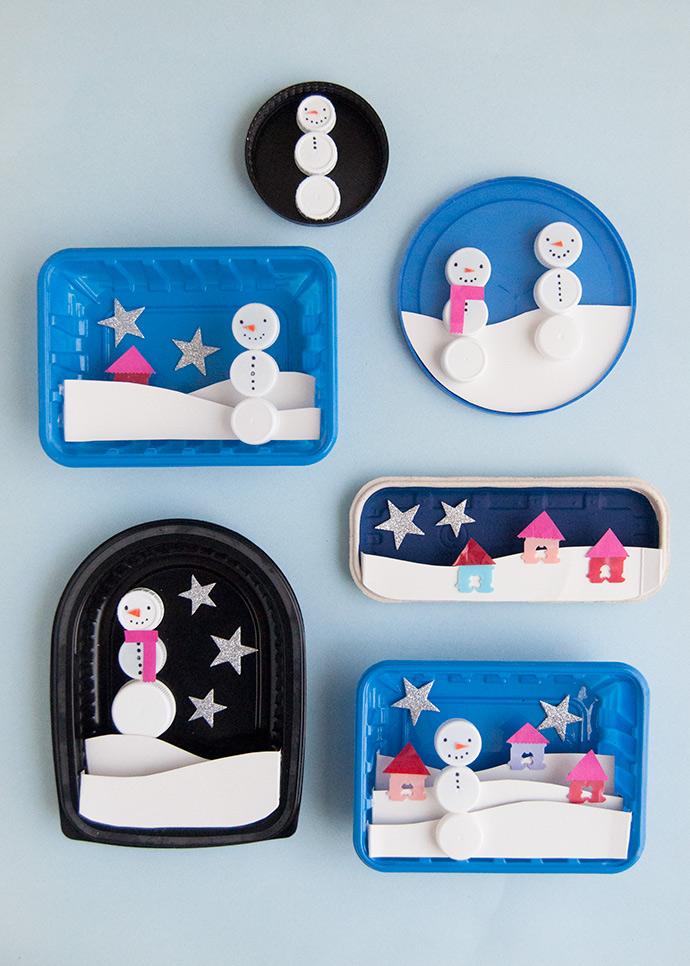 Raid your recycling bin and make these playful mini dioramas! If you're like me, you already have a little stash of neat-looking recyclables that are just a little bit too cute to immediately toss in the bin. It takes almost no time to collect quite a few bread tags, milk carton lids, and plastic produce trays! Combined with white crackerbox cardboard, these snowy scenes were born.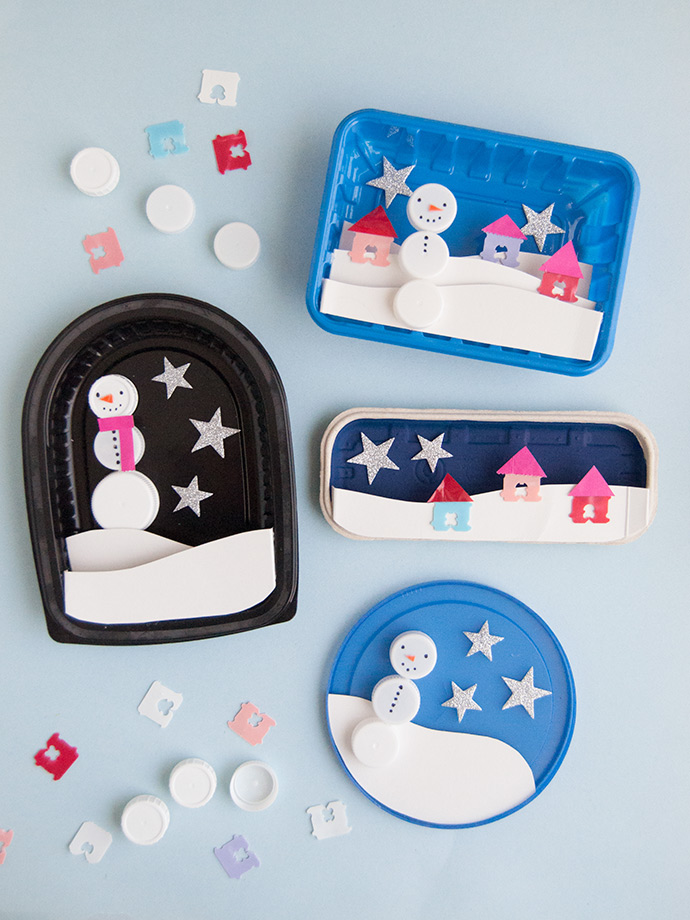 Empty plastic trays or large lids
Small white lids
Bread tags
Crackerbox cardboard (plain white inside)
Scrap paper in various colors
Scissors
Star stickers (optional)
Blue paint and paintbrush (optional)
Hot glue gun
Black permanent marker
Step 1
Make sure your trays are clean and dry. If using plastic trays (the blue ones pictured are from mushrooms, the black one is from a rotisserie chicken) wash and dry them – same goes for any lids (the large blue ones are from coffee tins, the smaller black one was from a jar of almond butter). If using cardboard trays (this one was from tomatoes) make sure they're clean as possible.
Step 2
Start your snowy landscapes with some hills and snow drifts. I used the blank white insides from cracker boxes, but you can use white cardstock if that's what you have, or even use white paint on brown cardboard if needed. Cut gentle hills and trim them to fit inside your chosen tray, making sure to fold small flaps on either side – this is how they'll attach inside. Apply hot glue to each of the flaps and stick into the tray. Repeat with another cardboard hill to set in front of this one, or leave it at just one. For the flatter lids, you can skip the flaps completely and just glue the cardboard directly onto the lid.
Step 3
Add in some snowpeople! Use hot glue to attach three small white lids together. Draw on eyes, a mouth, and buttons with the black permanent marker. I cut a tiny triangle from an orange bread tag and glued that on for the nose. Use more hot glue to secure the snowpeople into the dioramas.
Step 4
To add little houses off in the distance, cut a small triangle from scrap paper and glue it to the top of a bread tag as a mini roof. Glue the house onto the white cardboard hills, making as many as you like.
Step 5
Add in star stickers onto the background sky! I had these glittery star stickers handy so used them, but you could also make your own stars using leftover tinfoil or metallic chip bags.
Note: if you don't have colored trays on hand, you can use blue paint to add color to cardboard ones. Pink plastic mushroom trays would be cute too – like a winter sunset!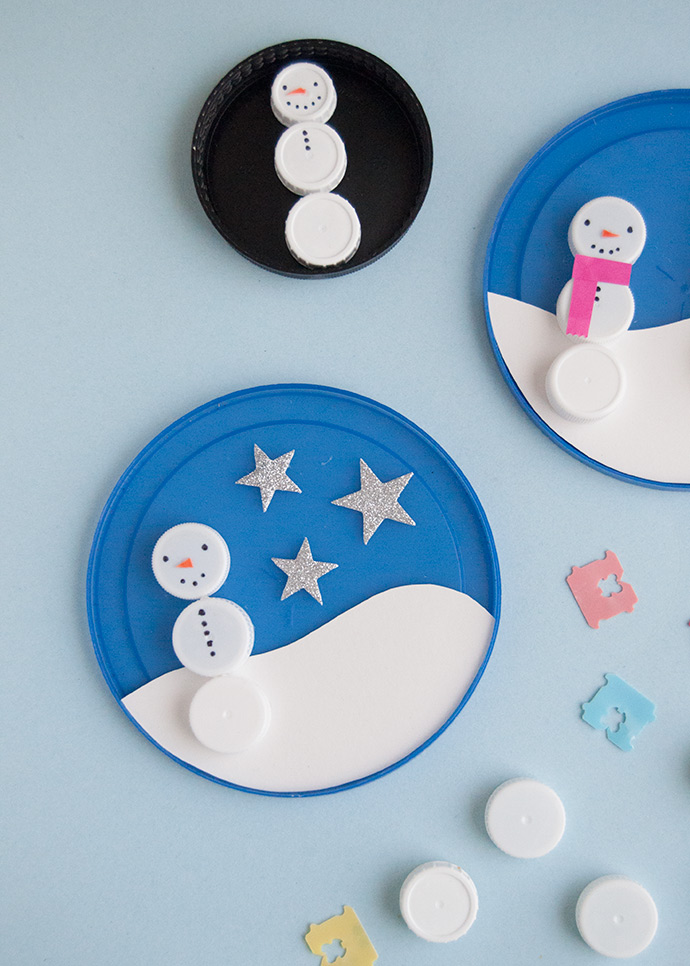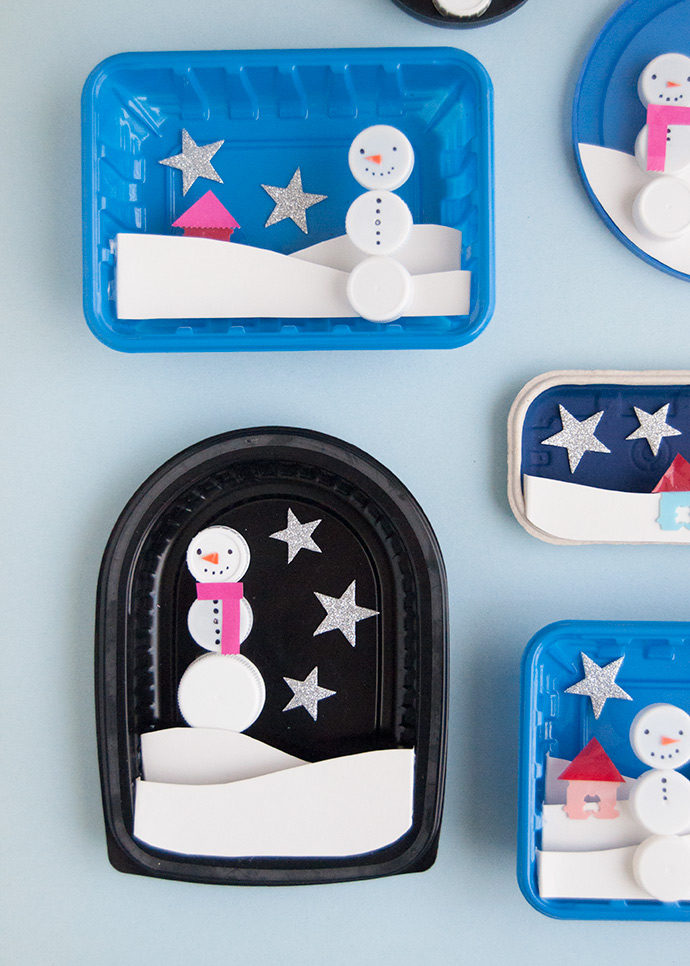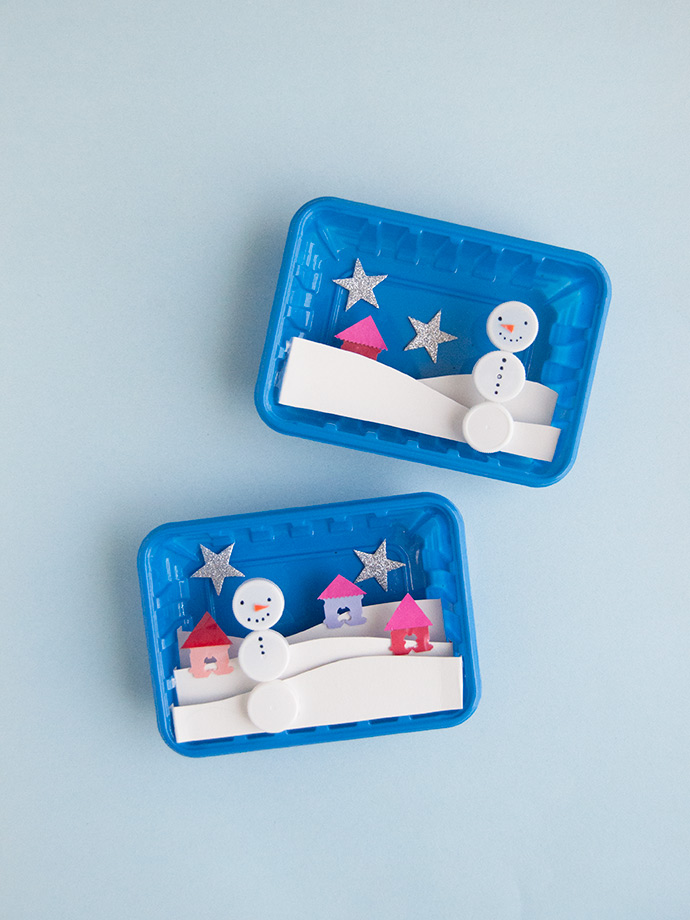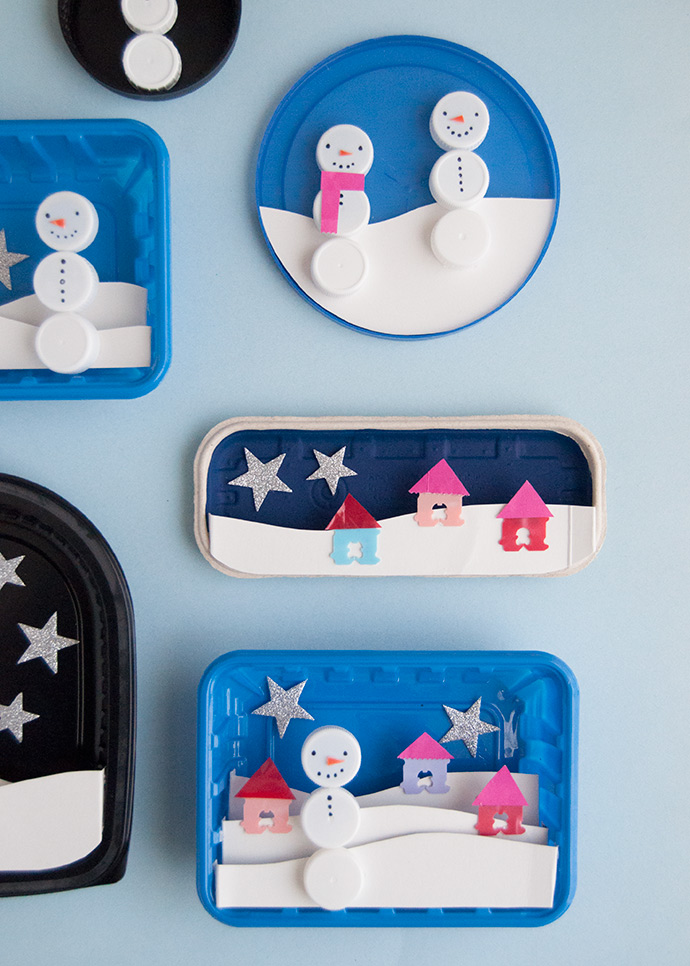 Happy crafting!