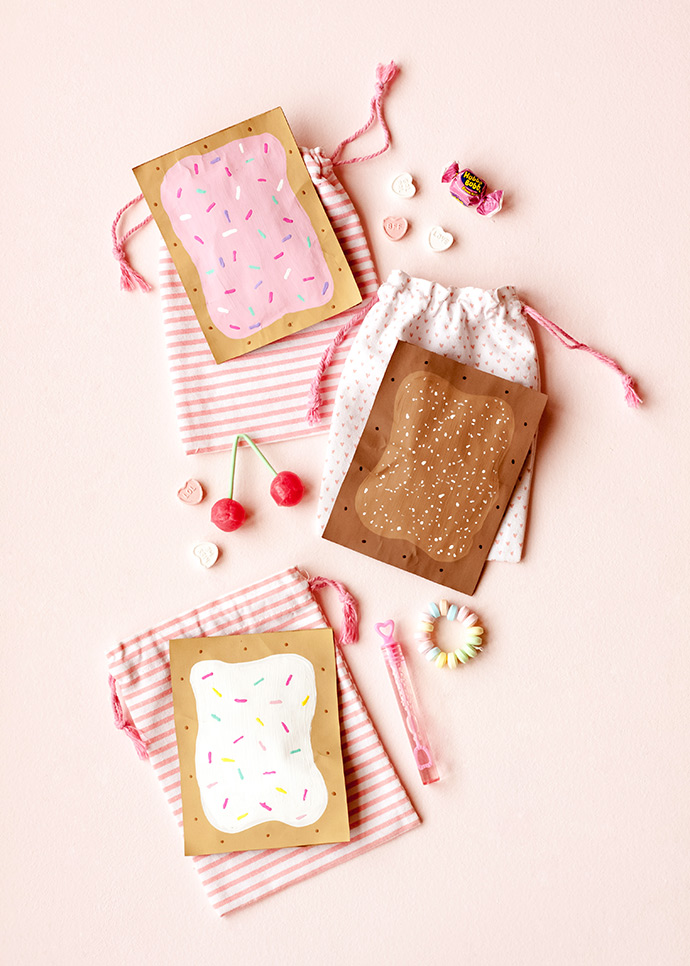 My kids LOVE Pop Tarts, and while I prefer to offer some less sugary choices, it is nice to have a self-serve breakfast available! I happen to love cheesy puns, and there are several good options to pair with Pop Tarts for Valentine's Day. V-Day is the perfect excuse to show your love with something handmade, and these are simple enough for kids to create, but fun for adults as well. You can fill them with candy and favors to pass out to classmates with a tag that says, "You will always have a piece of my TART"…or how about, "Pop it like it's hot" or "So glad you popped into my life"!
If you're sharing them with your closest friends or significant other, you might say "I love you from the bottom of my TART", or "I love you with all of my TART"! These would also be fun Valentine party invitations for a breakfast, with an attachment that says "POP by for some Valentine fun"! You could even hand them out at the end of the party with a tag that says, "Thanks for popping by". So many options!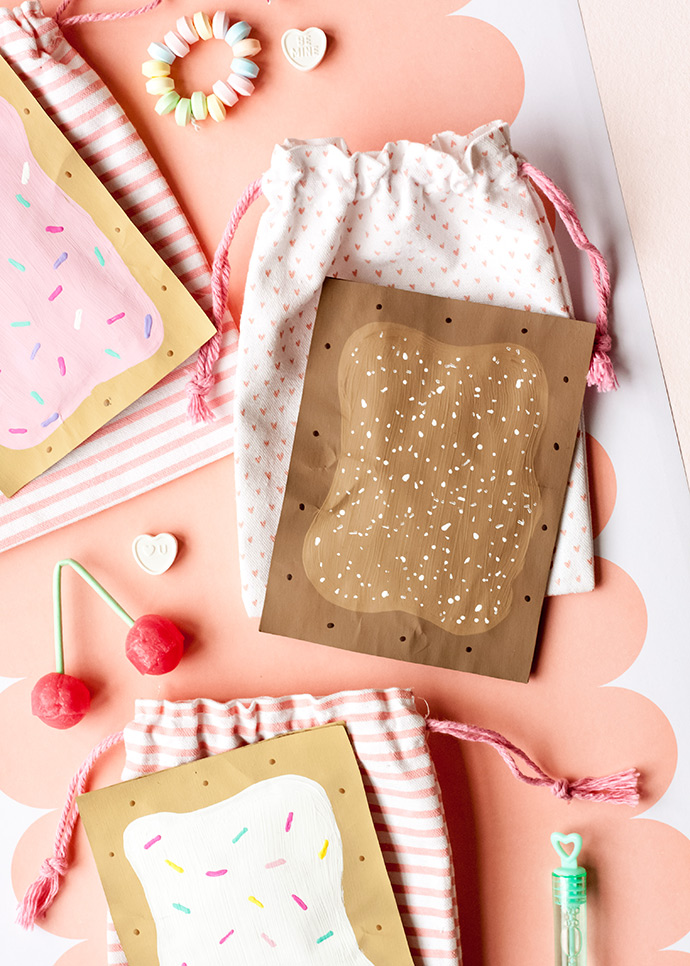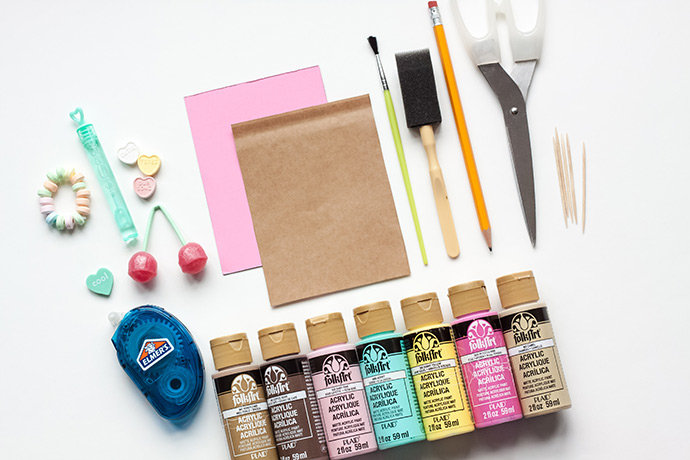 Brown paper bags
4 x 5 ¼" Cardstock template
Pencil
Scissors
Sponge brush
Paint brush
Toothpicks
Folk Art Acrylic Paint (brown, pink, white, and the colors of your choice)
Permanent dot runner
Candy and favor filler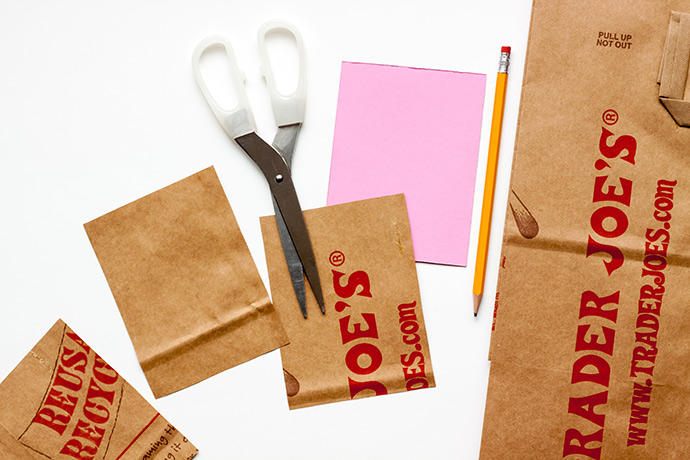 Step 1
Use your 4 x 5 ¼" cardstock template to trace onto brown paper bags, and cut out the rectangles. You will need two per pop tart.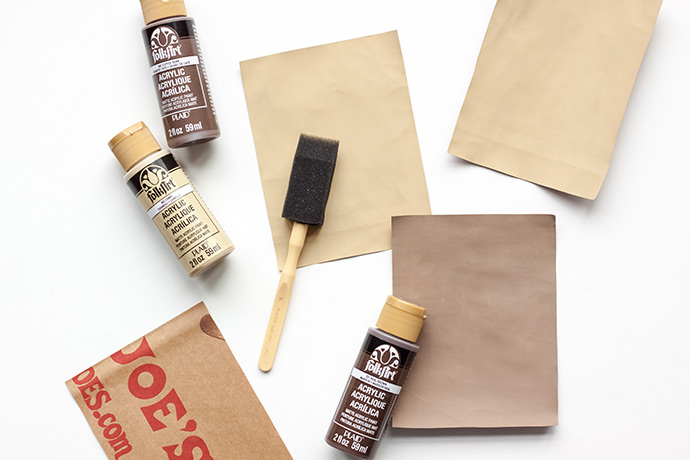 Step 2
Using a sponge brush, paint one side of each rectangle using tan paint. We used "camel" for the fruity pop tarts, and "coffee bean" mixed with a bit of camel for the chocolate pop tarts. Allow to dry.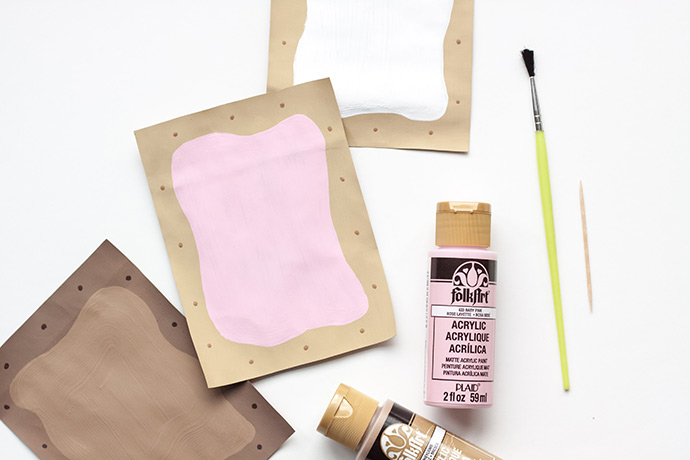 Step 3
On one of the rectangles, paint a "wavy" rectangular shape about ½" from the edge.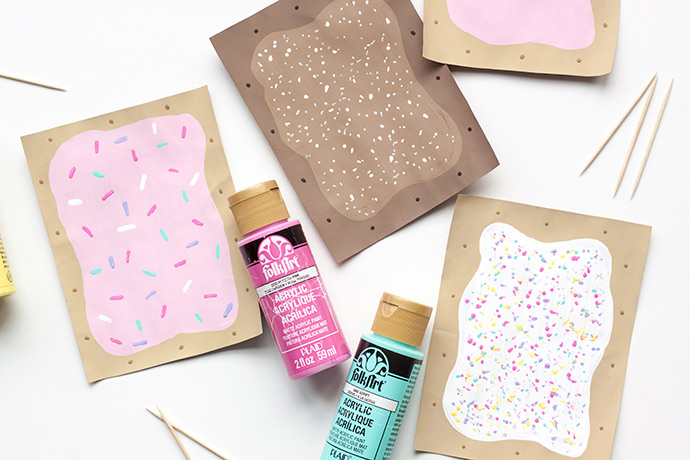 Step 4
Use a toothpick to paint evenly spaced dots around the edges of the rectangle in a light brown acrylic paint. We used "honeycomb". Paint four dots on the long sides, and three on the short sides. Using a different toothpick for each color, paint sprinkles (short lines or dots) all over the "frosted" part of the Pop Tart.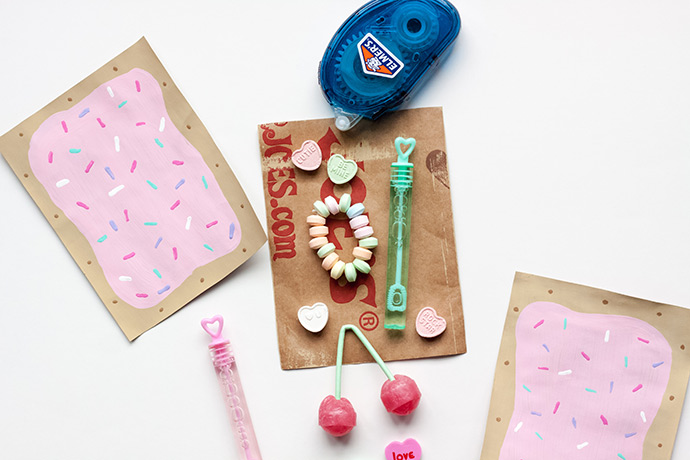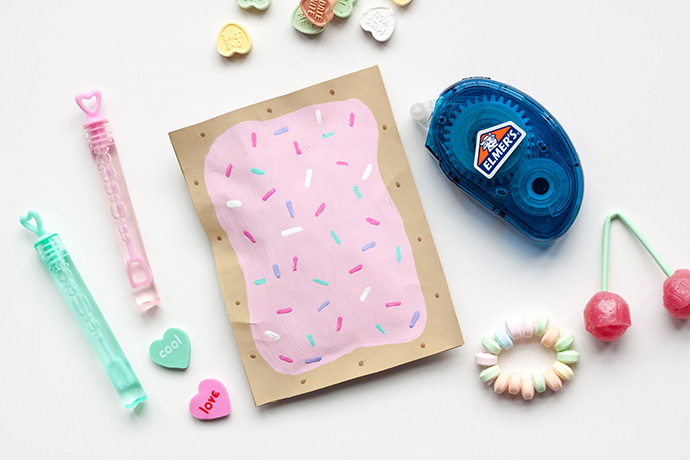 Step 5
Place some small favors or candy in the middle of the "un-frosted" Pop Tart half, and use your permanent dot runner around the entire border of the rectangle. Use your dot runner on the back of the "frosted" Pop Tart half as well, and place it directly on top of the un-frosted piece. Seal the two pieces together around the edges.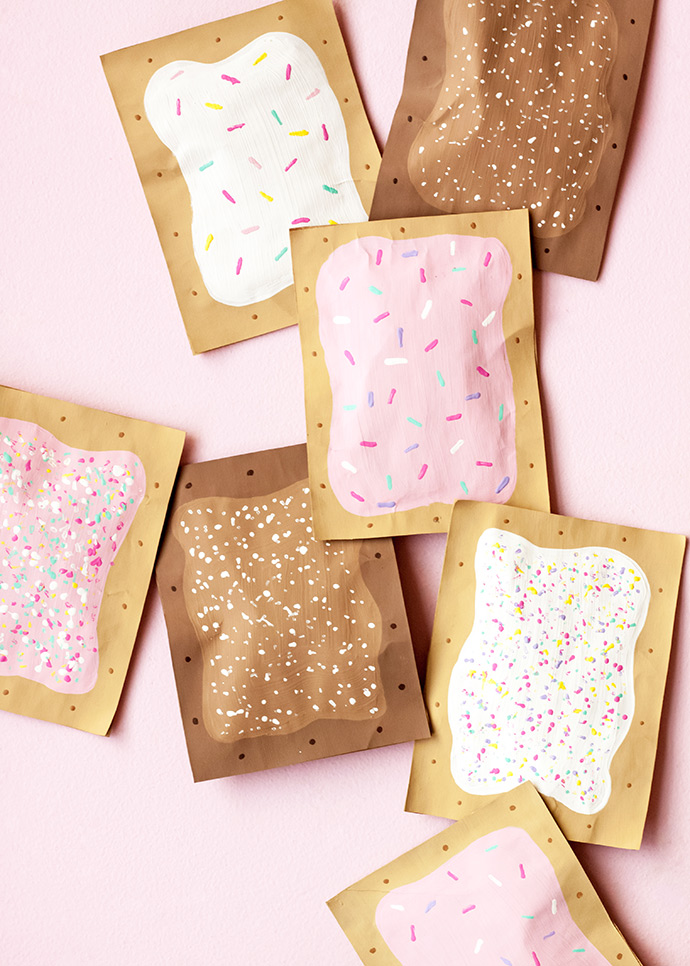 Now you have a Pop Tart pouch full of Valentine goodies for friends!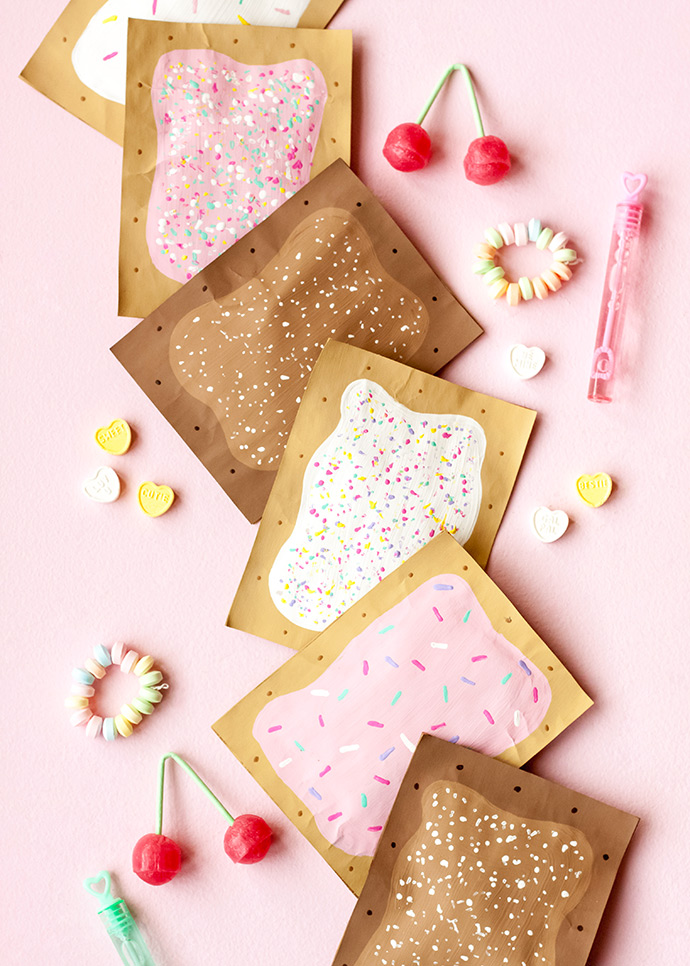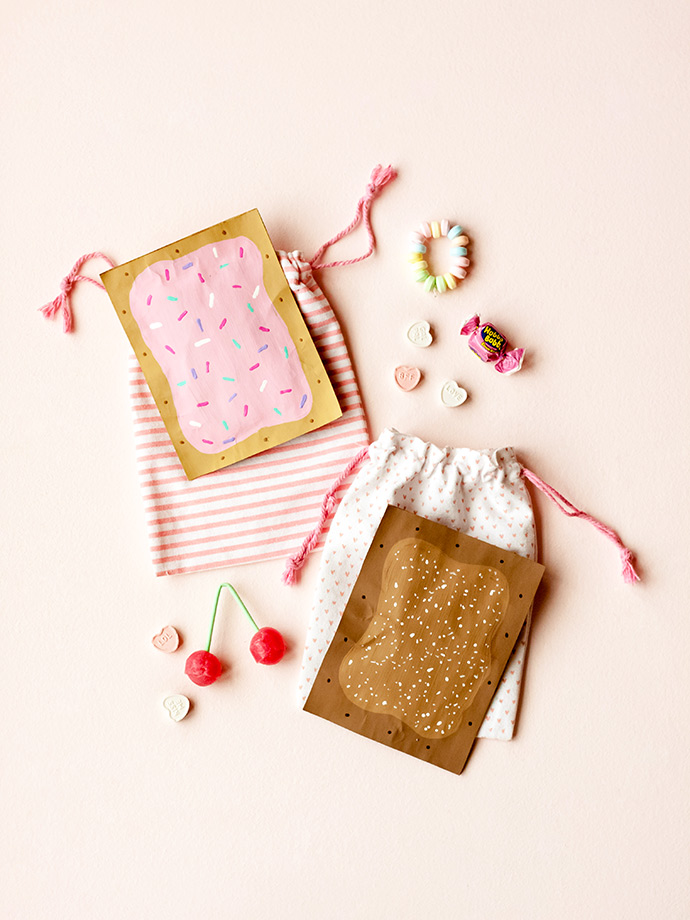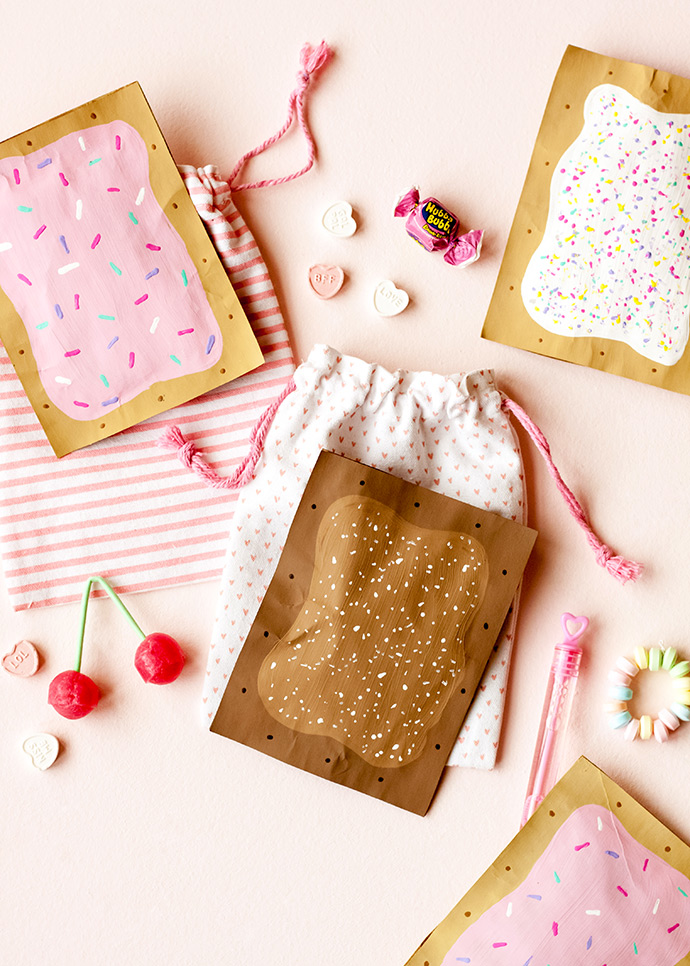 Happy crafting, and Happy Valentine's Day!