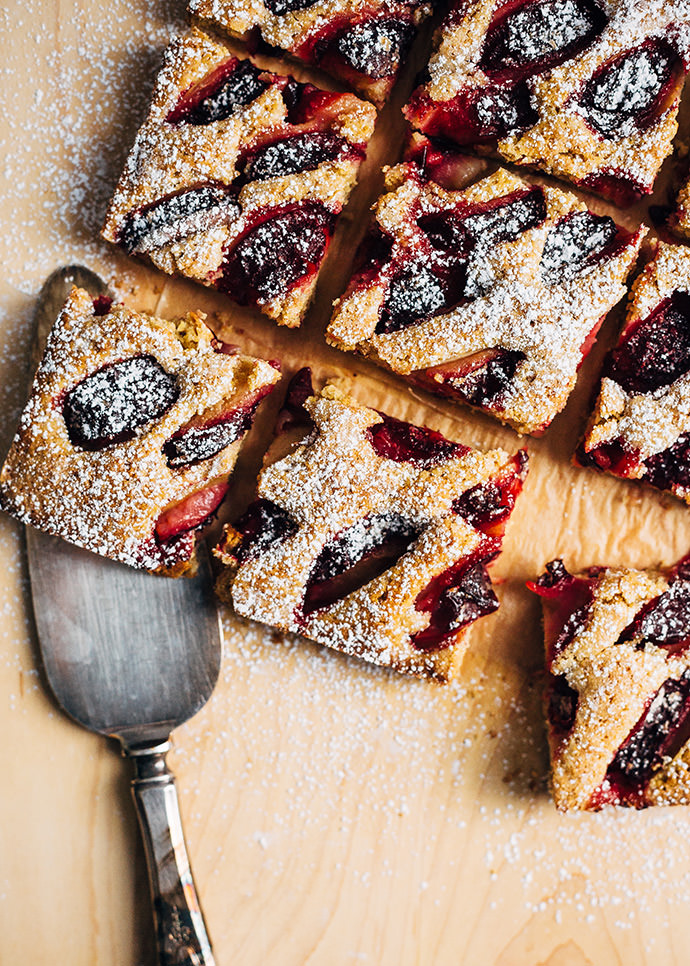 The transition from summer to fall is an excellent time to embrace produce – late August, in particular, offers the very best of fall and summer fruits and vegetables, all in season at the very same time. Among my favorite seasonal offering are plums.
Sometimes tart, and other times impossibly sweet, vibrant purple plums signal summer's end. And, hopefully, summer's heat as well, since late summer and early fall baking is some of the best baking there is. Plums bake up beautifully – even the sourest specimens turn jammy and sweet in the oven. This whole wheat plum cake makes the most of plums, contrasting the juicy tartness with a crunchy sugar-sprinkled top and a toothsome whole wheat-cornmeal crumb.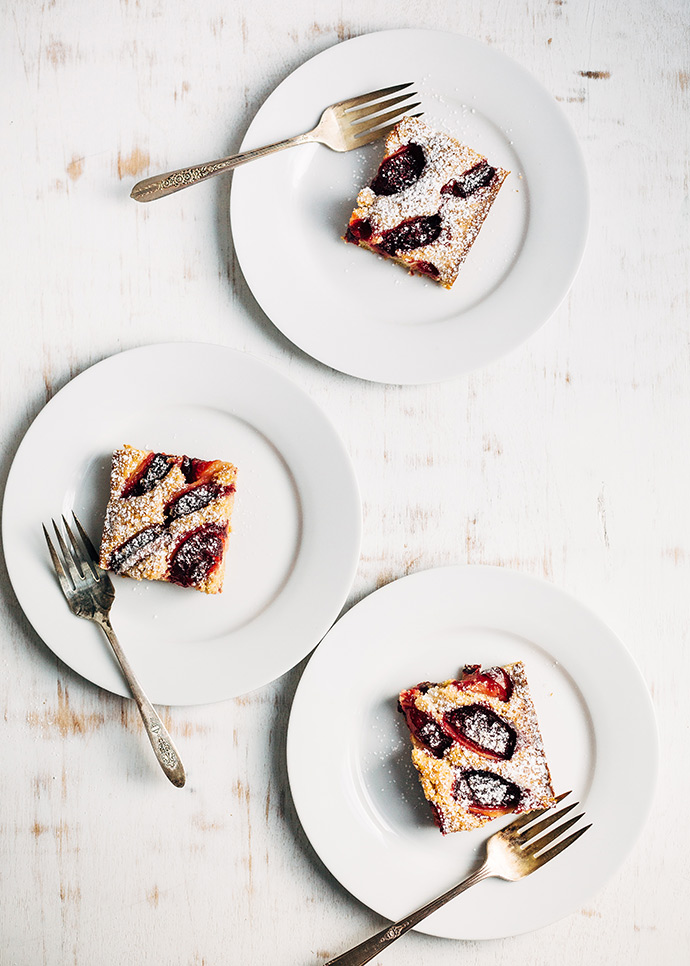 Dusted with powdered sugar, this cake is a perfect afternoon snack. Or, top with whipped cream or vanilla ice cream and serve the cake for dessert.
This versatile recipe works well with whatever kind of plums you might have – I used black plums here, but red, Santa Rosa, or European plums would all be excellent.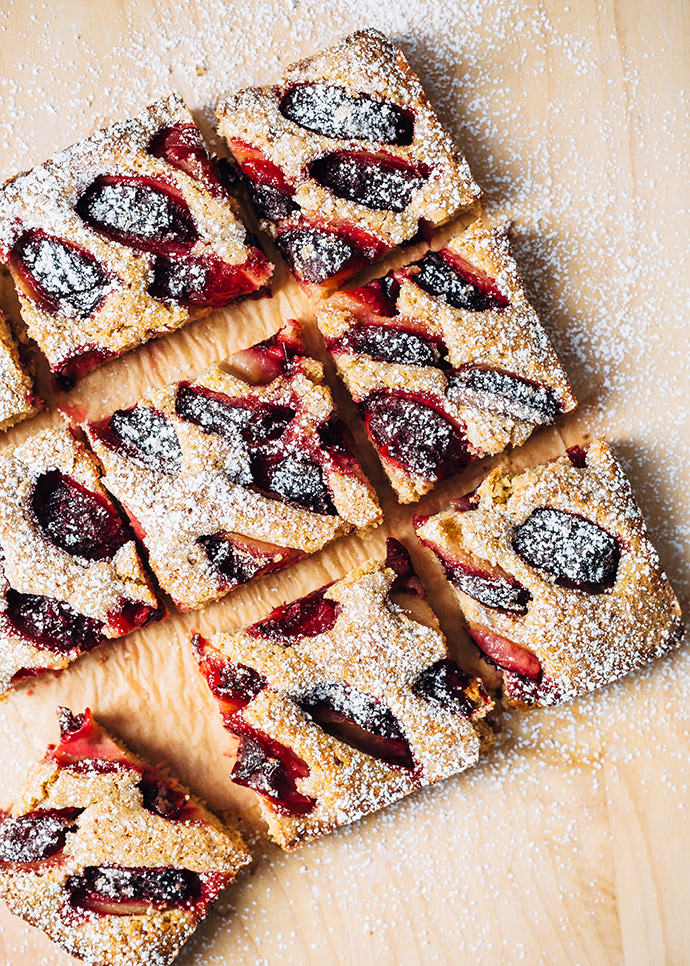 Makes: 9 servings
4 tablespoons unsalted butter, room temperature
1 large egg, room temperature
1/4 cup milk, room temperature
1/2 pound plums (about 3 medium), pitted and sliced 1/4-inch thick
1/2 cup plus 1 tablespoon whole wheat flour, divided
1/4 cup fine-ground cornmeal
3/4 teaspoon baking powder
1/4 teaspoon sea salt
6 tablespoons turbinado or cane sugar, divided
1 tablespoon vanilla extract
Set out butter, egg, and milk to come to room temperature.
Preheat oven to 400 degrees F. Line an 8-inch square baking pan with a parchment paper rectangle, leaving a small flap overhanging 2 of the edges. Butter the parchment and sides.

In a small bowl, toss plums with 1 tablespoon flour and set aside.
In another small bowl, combine 1/2 cup flour, cornmeal, baking powder, and sea salt.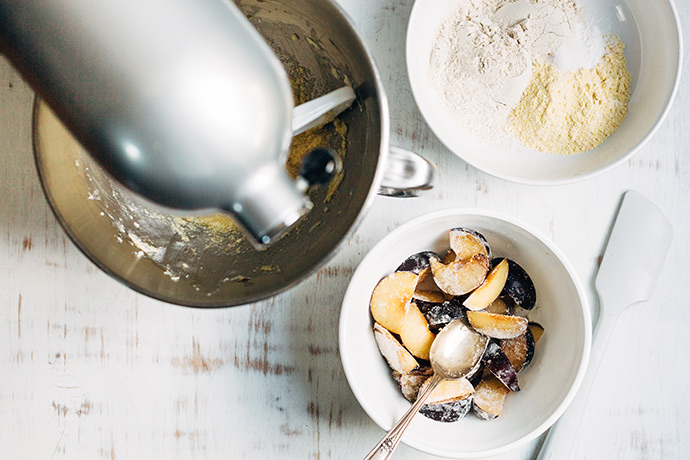 In the bowl of a stand mixer fitted with the paddle attachment, or with a hand mixer, cream butter on medium speed until light and fluffy, about 3 minutes. Add 6 tablespoons sugar, and beat 3 minutes more. One at a time, add the egg and then the vanilla, beating until each is fully mixed in and scraping down sides as needed.
With mixer on low, add half the flour, followed by the milk, and then the remaining flour. Mix just until combined.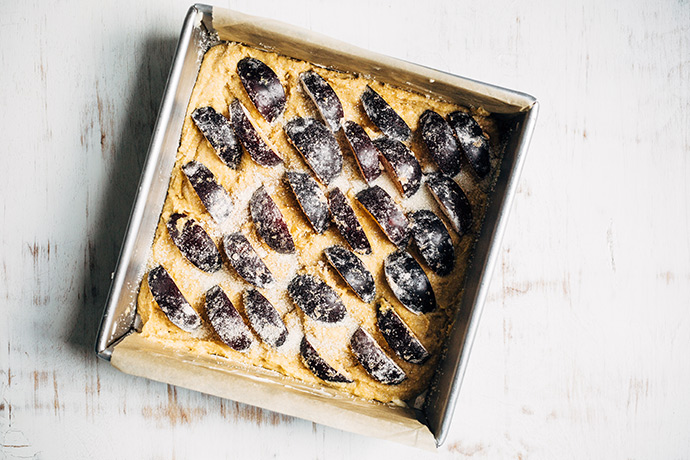 Spoon batter into prepared baking pan and spread out to the edges. Press plums diagonally across the batter, skin side up. (Note that the batter really puffs up to surround the fruit – don't worry if the batter doesn't seem like quite enough.)
Sprinkle the remaining 1 tablespoon sugar over the top.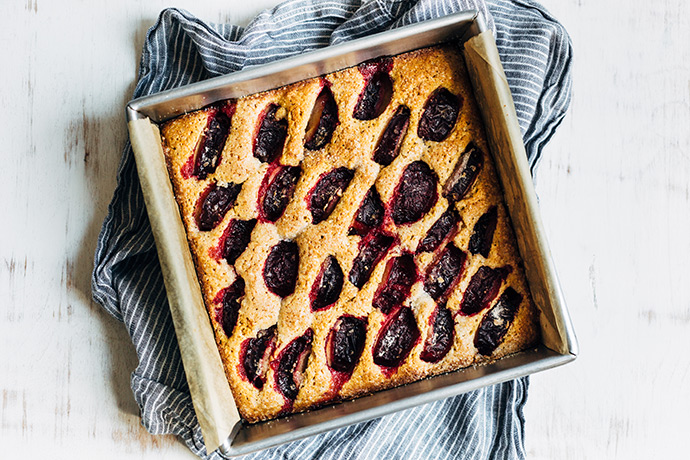 Bake 25 – 30 minutes or until a toothpick inserted in the middle comes out with just a few crumbs attached. The cake should be golden and just pulling away from the edges, and the fruit should be bubbling and juicy.
Cool completely in the pan, then swipe sides with a dull knife and remove. Dust with powdered sugar, slice into 9 equal slices, serve, and enjoy!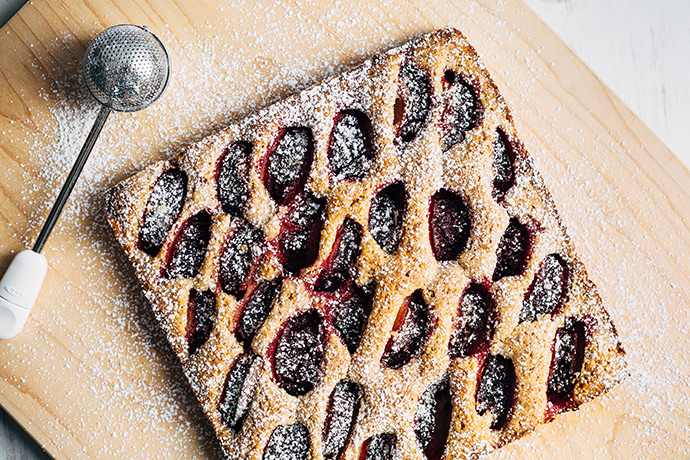 This plum cake is best eaten the day it's made but will keep for 1 day covered at room temperature.