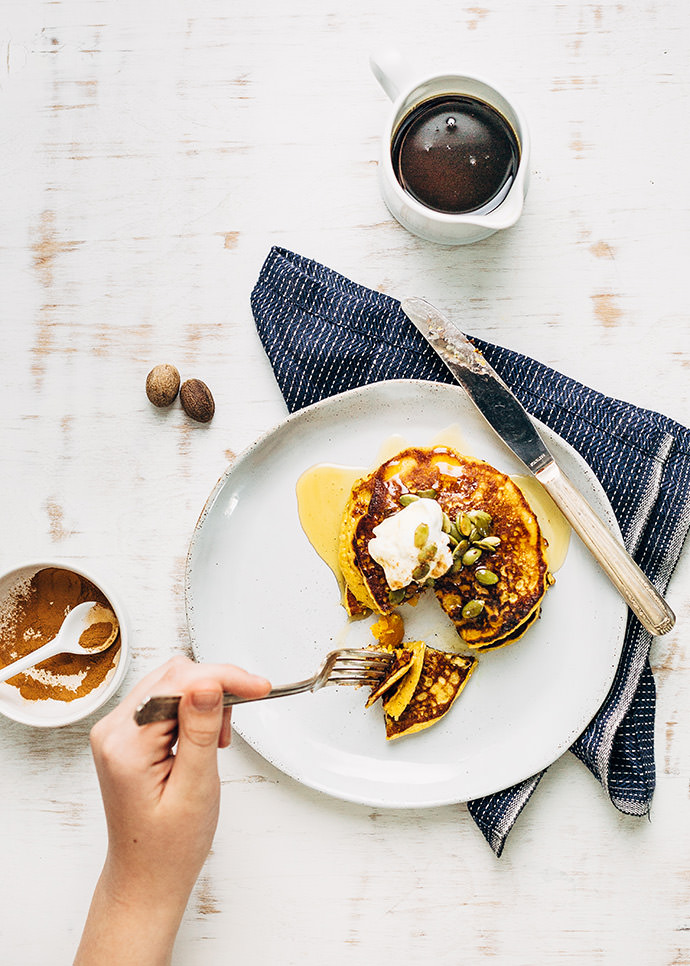 Fall weekends call for leisurely breakfasts and family time. After so many busy summer weekends – filled with travel, swimming, and cookouts – fall offers time to settle into a more relaxed pace. A quiet Saturday morning is the perfect time to brew up some tea and get into the kitchen with kids. These classic pumpkin pancakes are a great place to start.
Cooking with kids is best taken at a relaxed pace. Generally, my kids love to measure and stir, while the actual cooking feels more daunting. I always let them do whatever they're comfortable with and stand by ready to jump in when they need help.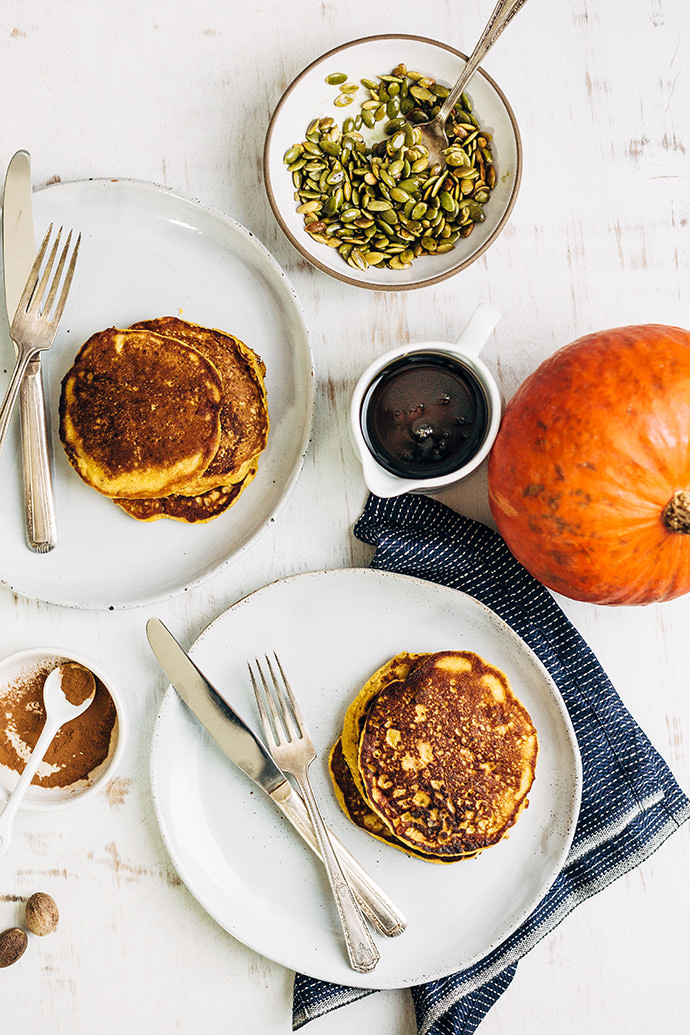 These homemade pumpkin pancakes have the fragrance of traditional pumpkin pie spices and a tender crumb that's suffused with real pumpkin flavor. They cook up to an autumnal golden hue and are sure to be a hit with everyone on the family.
The pancakes call for pumpkin puree; this can be made from scratch – any winter squash will do – or use canned pureed pumpkin for a simple shortcut. Next, you'll want to measure out the ingredients carefully, mix them up, and get frying. A baking sheet in the oven helps to keep pancakes warm while the others cook; spread them in a single layer to prevent soggy pancakes. I like to top these with toasted pumpkin seeds (the raw, hulled kind also known as pepitas), a dollop of yogurt, a little bit of cinnamon, and, of course, a drizzle of real maple syrup.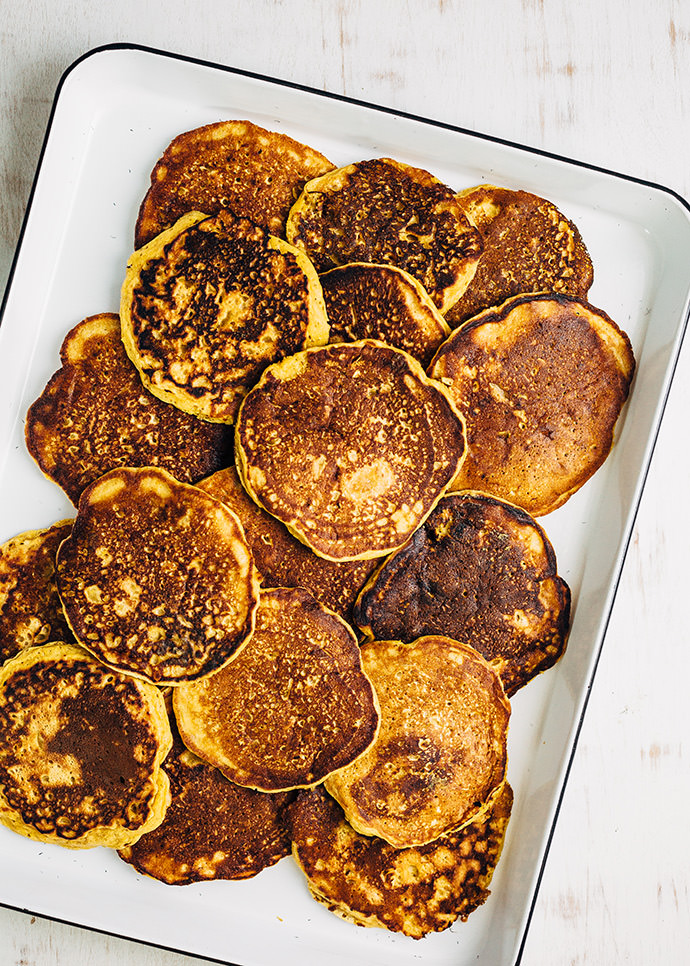 Serves 4
For pancakes:
4 tablespoons unsalted butter, plus more for frying
1 cup pumpkin or winter squash puree
2 cups whole wheat pastry flour
2 tablespoons sugar
1 tablespoon baking powder
1 teaspoon ground cinnamon
1 teaspoon ground ginger
1/2 teaspoon freshly grated nutmeg
1/4 teaspoon ground allspice
1/2 teaspoon sea salt
2 large eggs
1 1/2 cups whole milk
1/2 cup whole milk yogurt
For serving:
Toasted pumpkin seeds
Yogurt or whipped cream
Cinnamon
Maple syrup
Melt 4 tablespoons butter and set aside to cool.
Set a rimmed baking sheet in the oven and preheat to 200 degrees F.
In a large bowl, whisk to combine flour, sugar, baking powder, spices, and salt.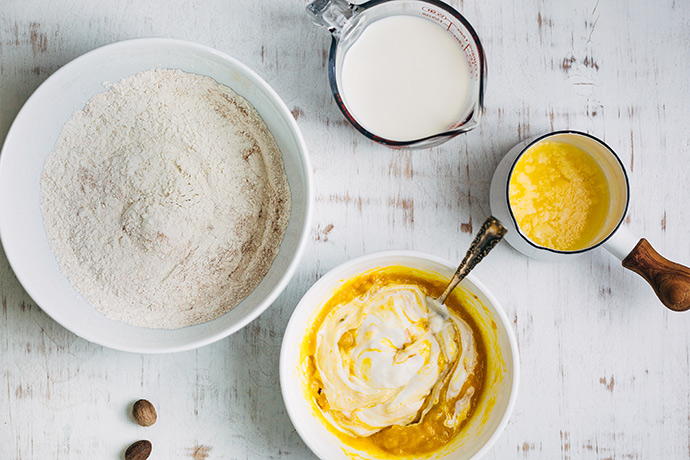 In a medium bowl, beat the pumpkin puree into the eggs. Fold in milk and yogurt.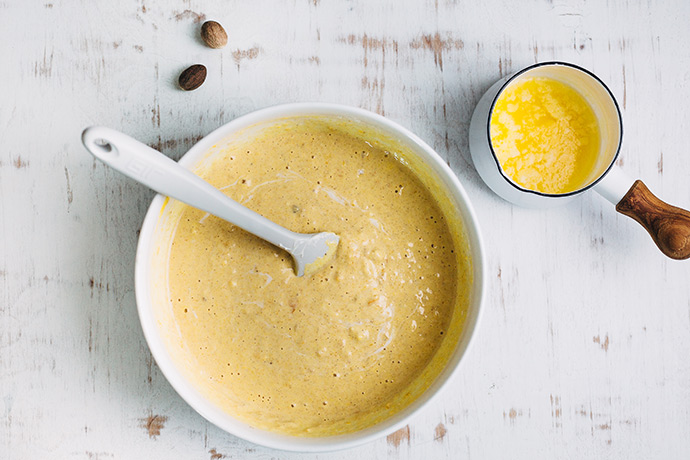 Fold the wet ingredients into the dry, mixing just until combined.
Heat a large griddle or skillet over medium heat.
Once skillet or griddle is hot, add a pat of butter and swirl. Use about 1/4-cup batter for each pancake. Cook until golden, 3 – 4 minutes per side. Set cooked pancakes on baking sheet in the oven. Adding butter as needed, continue cooking until all of the batter is used. If needed, lower heat to prevent smoking.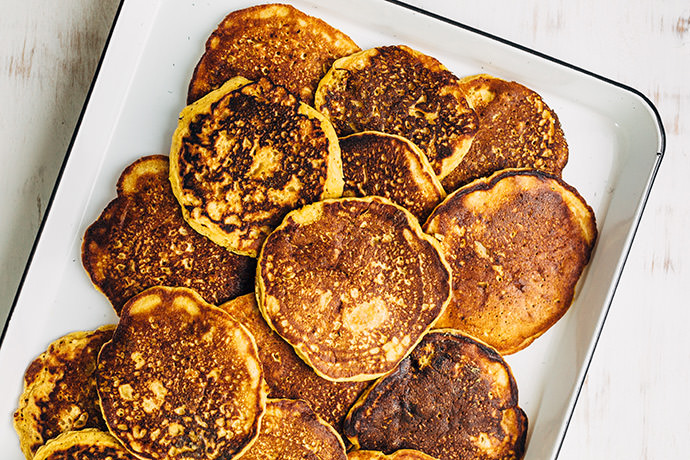 Serve pancakes with toasted pumpkin seeds, yogurt or whipped cream, a dusting of cinnamon, and a generous drizzle of maple syrup.
Pumpkin Puree (from Scratch)
1 small winter squash (sugar pie pumpkin, or butternut or kobocha squash are great options)
Preheat oven to 400 degrees F.
Halve and seed the winter squash.
In a rimmed baking dish, place squash halves cut side down. Fill pan with 1/2-inch of water and cover tightly with foil. Bake 60 – 70 minutes or until squash is tender and cooked through. Carefully remove the foil from the dish – the will be a hot steam plume. Set squash cut side up to cool, then scoop out the cooked flesh. Mash with a fork or puree on a food processor.
Squash puree can be frozen or kept sealed in the fridge for 3 days.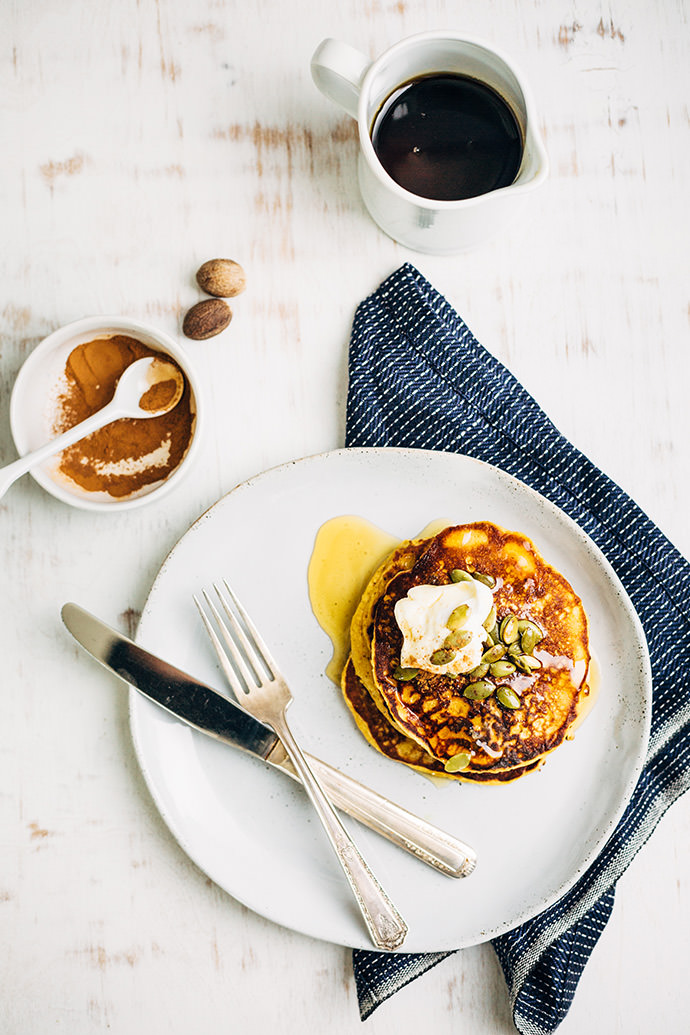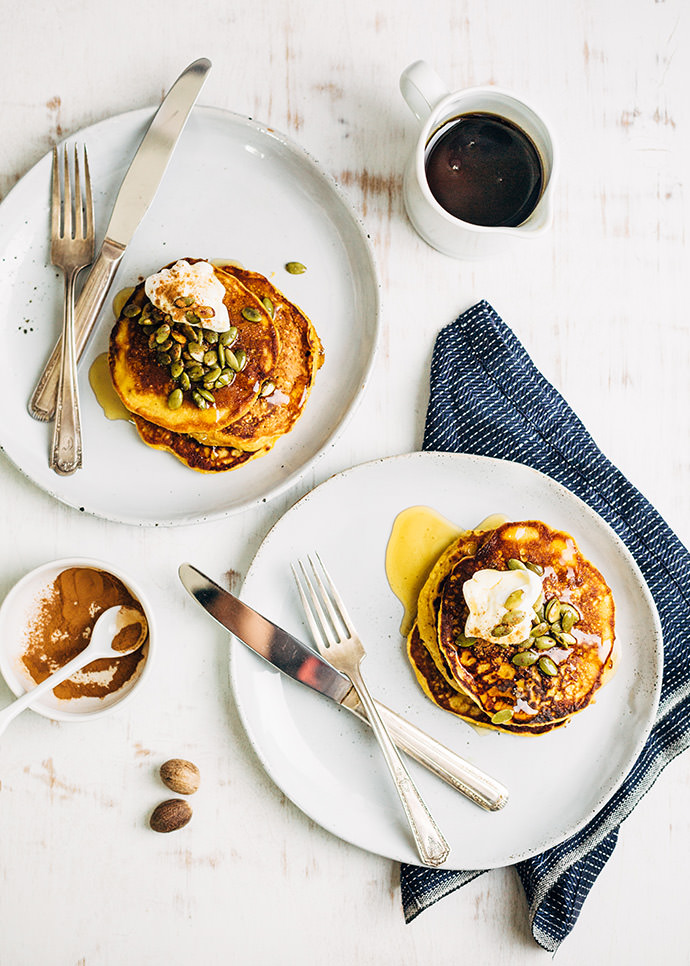 Enjoy!