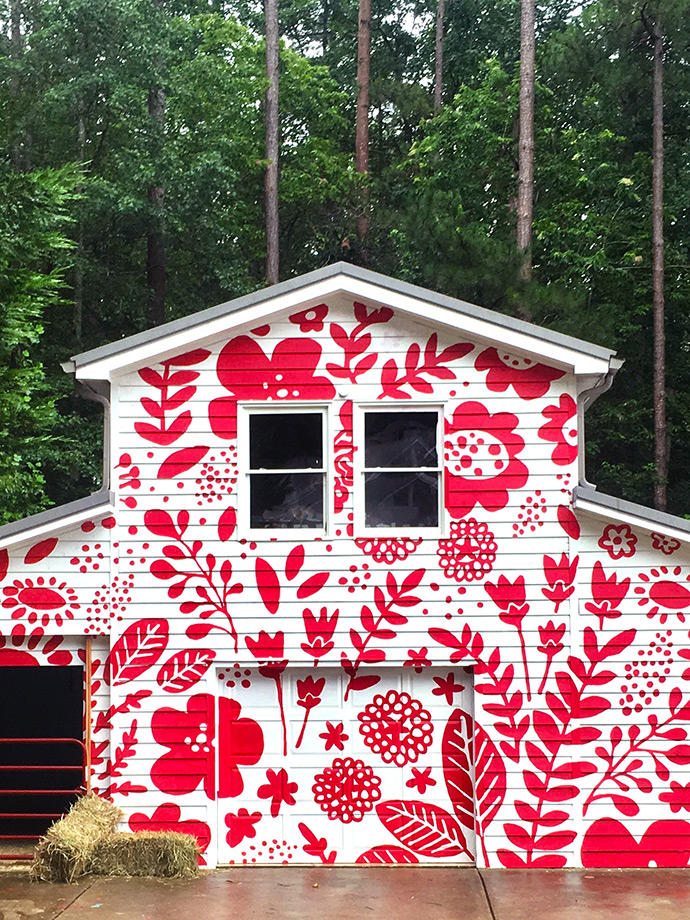 We are SO excited to be sharing one of our most favorite collaborations ever! We teamed up with the amazing Winter Water Factory and Plaid and painted the most beautiful mural on our studio – we can't wait to tell you all about it!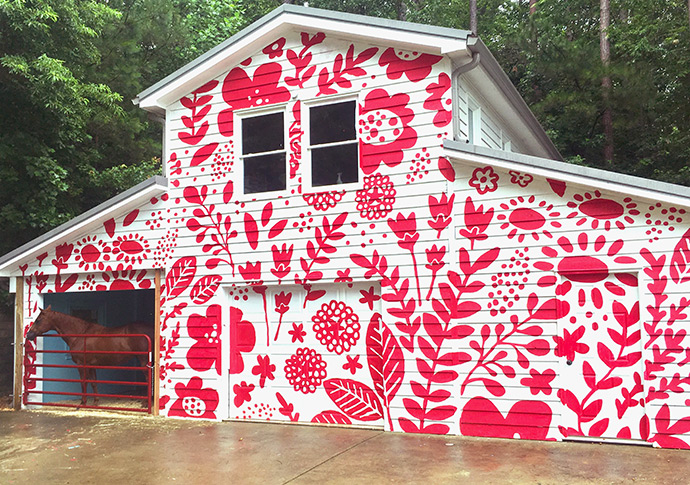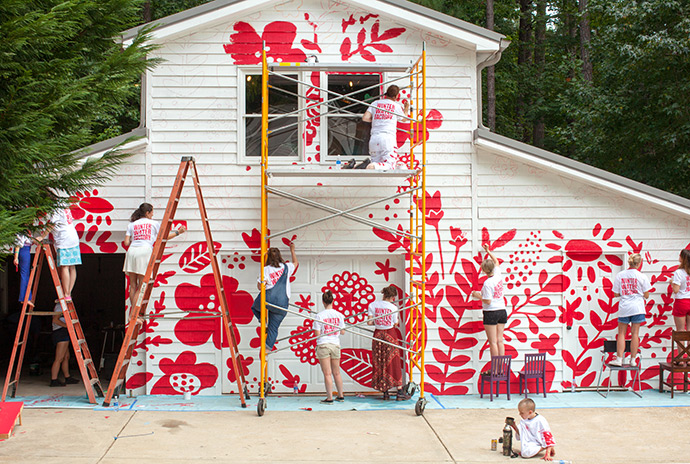 We decided to give the studio a fresh, playful makeover and immediately thought of Stefanie Lynen, who founded Winter Water Factory with her husband Todd Warnock. Based in Brooklyn, Stefanie designs the most gorgeous prints that are then screen-printed onto textiles and organic clothing. Every single Winter Water Factory product is made in the USA out of 100% certified organic cotton!
This show-stopping print is called "wildflowers" and was designed for Winter Water Factory by Jessica Scott, an illustrator and surface designer. Check out a wide range of textiles and clothing available in this print online here! We're so excited to share that Winter Water Factory's new fall collection will be also be available online in the coming weeks, so be sure you don't miss it!!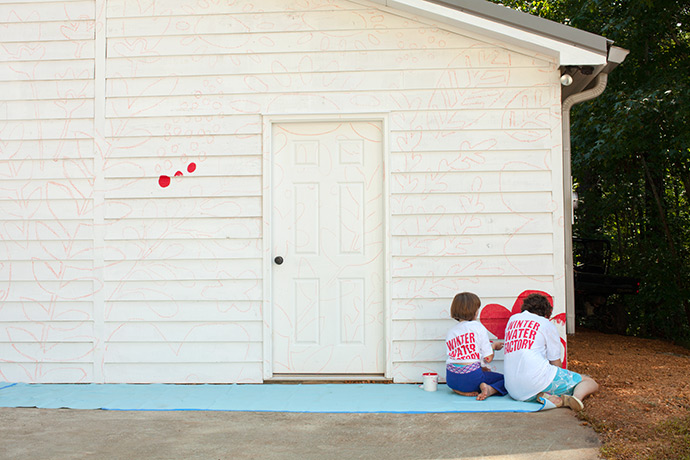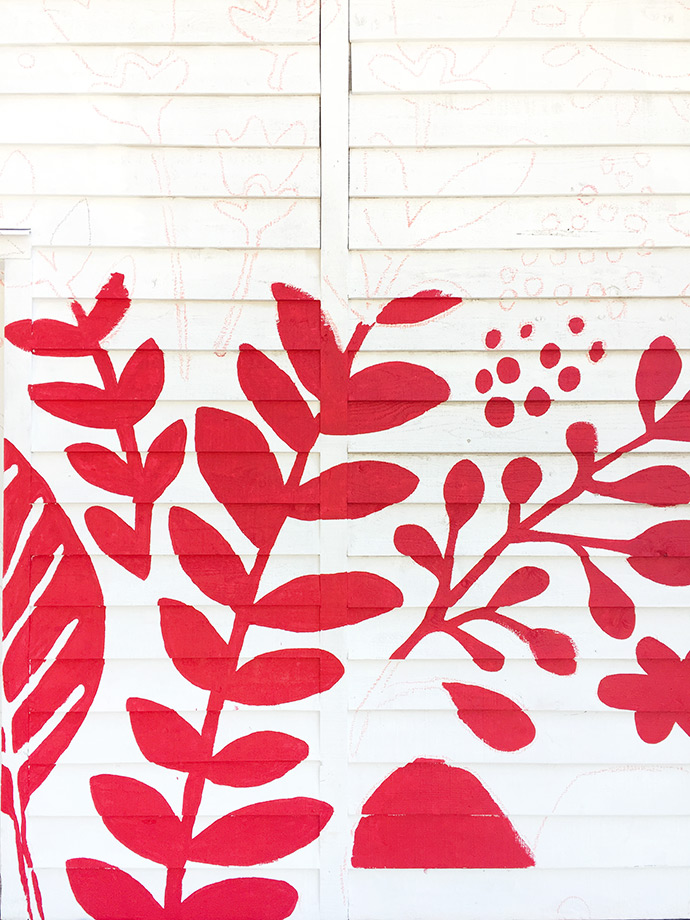 We knew right away that this print would be perfect for our studio – the natural and flowing shapes of the leaves and flowers are playful and modern, and the nature-inspired design would fit right in with our studio surrounded by the forest.
For this project we also teamed up with the always amazing team at Plaid! We already were super familiar with their amazing line of Martha Stewart Multi-Surface Acrylic Craft Paints and we were so thrilled to have the opportunity to test them out on a massive scale. Since the studio is surrounded by a forest of evergreen trees, we decided that a nice pop of red would be just right for this project – we went with Habanero.
In our next post, we'll tell you all our tips and tricks for prepping and painting your very own mural! Before this collaboration none of us had worked on a custom paint job this large in scale before, so we learned a lot along the way. Keep your eyes peeled for that post next week! :)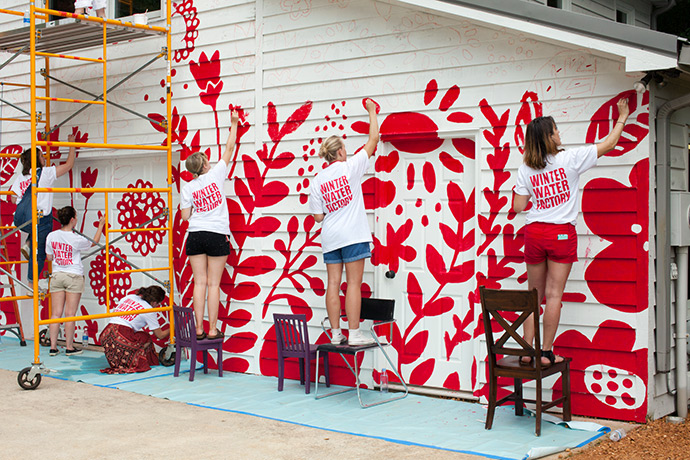 Since we knew that this project was bigger than anything we'd done on our own before, we decided to throw an awesome weekend paint party to get the job done! The Winter Water Factory team all flew down to Georgia to help out, and we invited all our friends, families, and neighbors for an epic day of creativity and teamwork.
We arranged for one of our favorite local food trucks to swing by at lunchtime to feed all the hungry painters – it worked out so nicely because everyone could take a break whenever they needed it and eat some tasty treats! One of our friends and his band set up and kept everyone entertained into the afternoon, and some of the kids even took turns rocking out on the drum set! It was such a fun day, and we're so grateful to everyone who came out and painted with us!!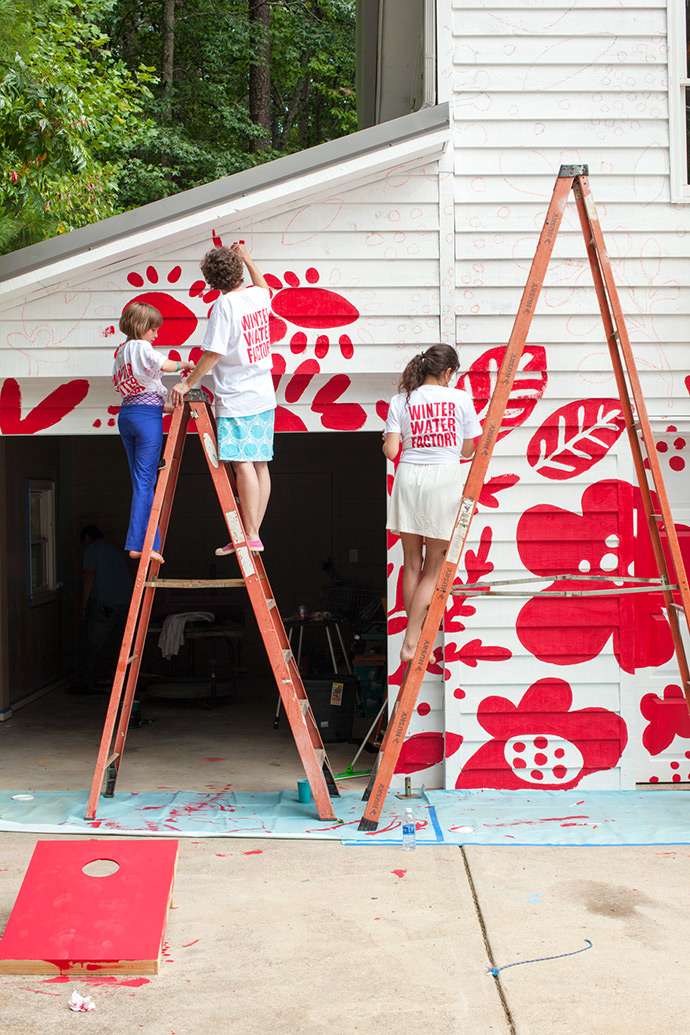 As mural was being finished up and the day was winding down, we handed out loot bags to our guests to thank them for all their help. Winter Water Factory made beyond amazing screen-printed tote bags so that everyone would have something to remember the day by, and our friends at Plaid generously filled the bags with paints and supplies for our guests to get creative with in their own homes.
We want to again thank every single person who helped turn our studio into a wildflower dream, especially everyone at Winter Water Factory and Plaid. It wouldn't have been possible without you!!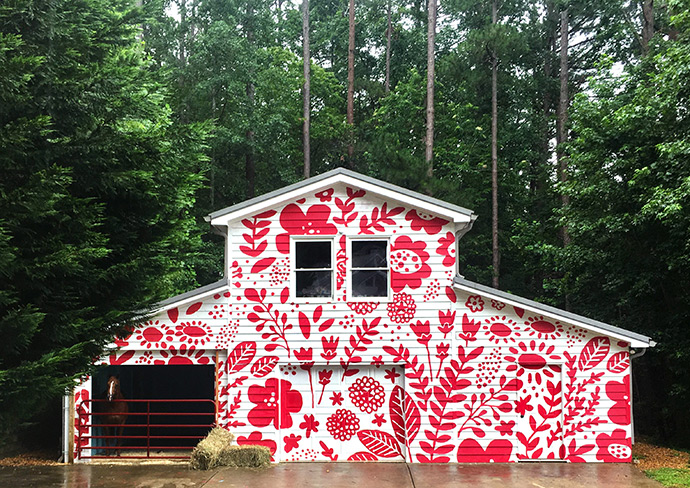 In our next post we'll tell you all about how to paint your own gigantic mural!
Photography by Todd Warnock