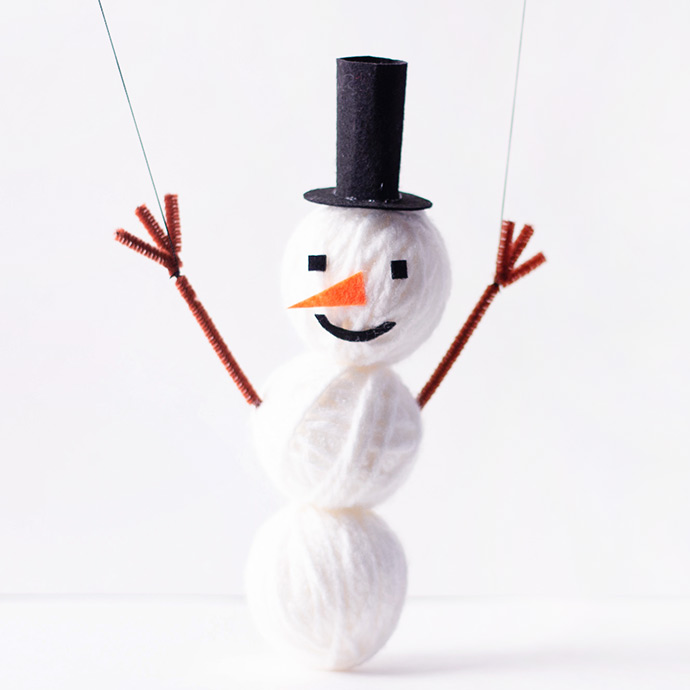 Do you want to build a snowman? Well, today we've got just the project for you, no winter boots, mittens, or real snow required! Craft this DIY snowman puppet while staying warm and cozy inside on those super chilly days this winter. This snowman loves bouncing around, and we're betting he might even like to go on a walk around your neighborhood to meet all the other snowmen and women! Watch the how-to video below, and keep reading for the written instructions.
White yarn
Three styrofoam balls
Felt (black and orange)
Pipe cleaners (brown)
String
Wooden dowel or skewer
Scissors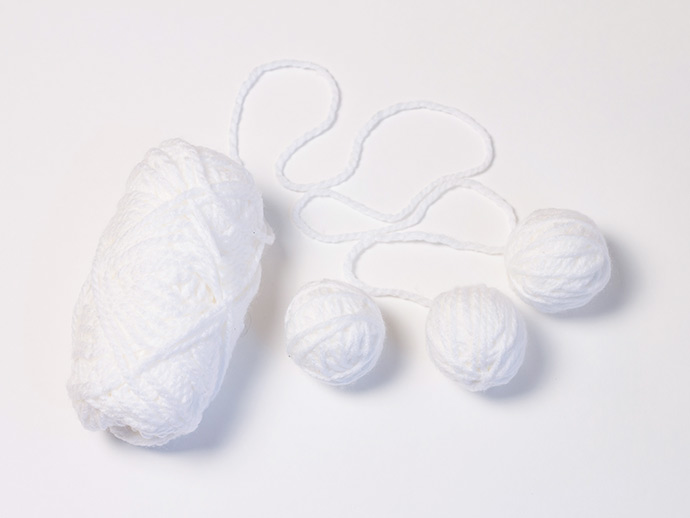 Step 1
Begin by covering each of the three styrofoam balls with white yarn. Use a dab of glue to secure the one end and wrap the ball until it's covered completely. Use another dab of glue to secure the other end of the yarn. We used three identical sized balls for this snowman, but you can mix it up if you like! Once all three are covered, use glue to secure them together, forming the snowman's body.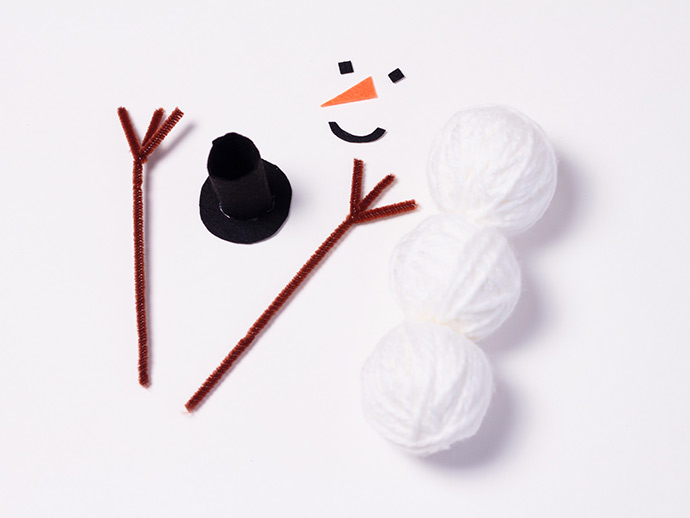 Step 2
Time to make all the accessories! For the arms, we shaped brown pipe cleaners into stick-like arms and hands, simply twisting to keep in shape. For the face, cut two black felt squares to be the eyes and a black felt curve for the mouth. For the nose, of course we went the traditional carrot route with this orange felt triangle. And finally for the top hat, cut a piece of black felt into a circle to be the brim, and them roll a rectangle into a tube, gluing to secure. Glue the tube onto the circle and voila!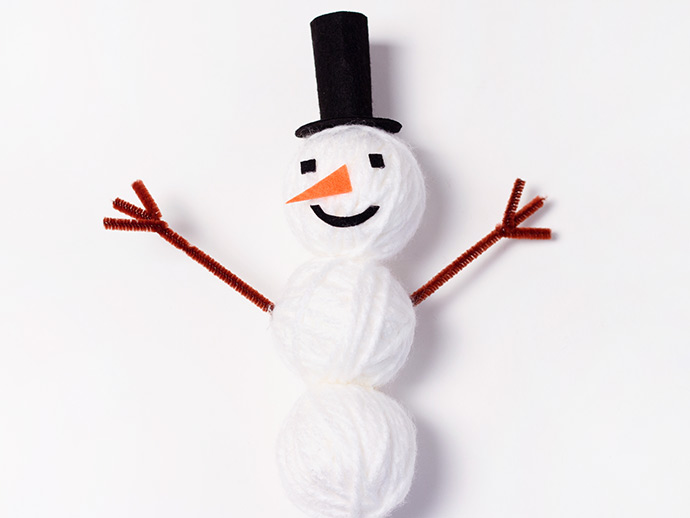 Step 3
Use glue to secure the face and hat onto the snowman. For the arms, you should be able to pierce the pipe cleaners into the styrofoam body. When doing this, you might need to gently rearrange some of the white yarn so that the pipe cleaner can get into the foam. Use glue to secure even more if you like.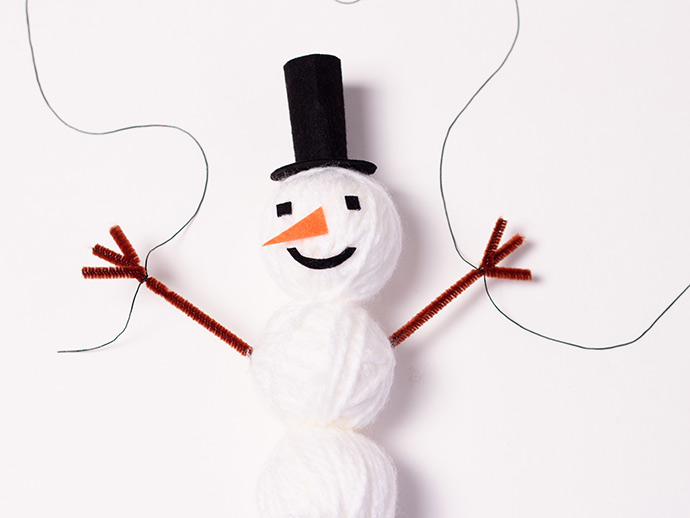 Step 4
To make your adorable snowman into a puppet, simply tie a piece of string onto each arm and then tie the other ends onto a wooden dowel. Trim any excess string and you're ready to go!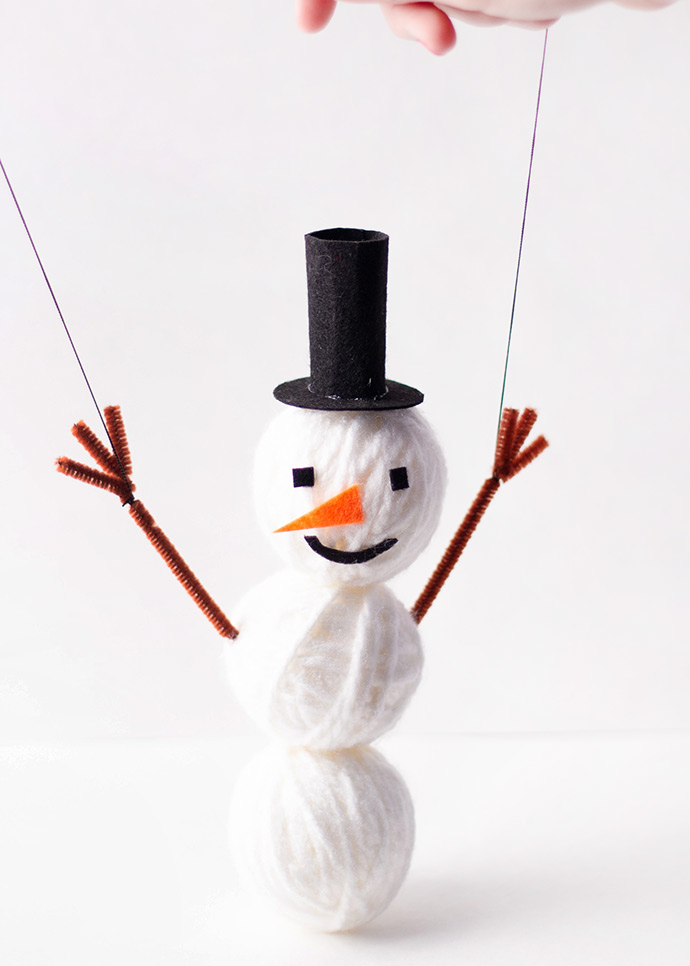 Want even more winter-themed puppets? Check out this rad snowboarder puppet in the archives!
Video and photography by Caroline Gravino
Creative Direction by Handmade Charlotte