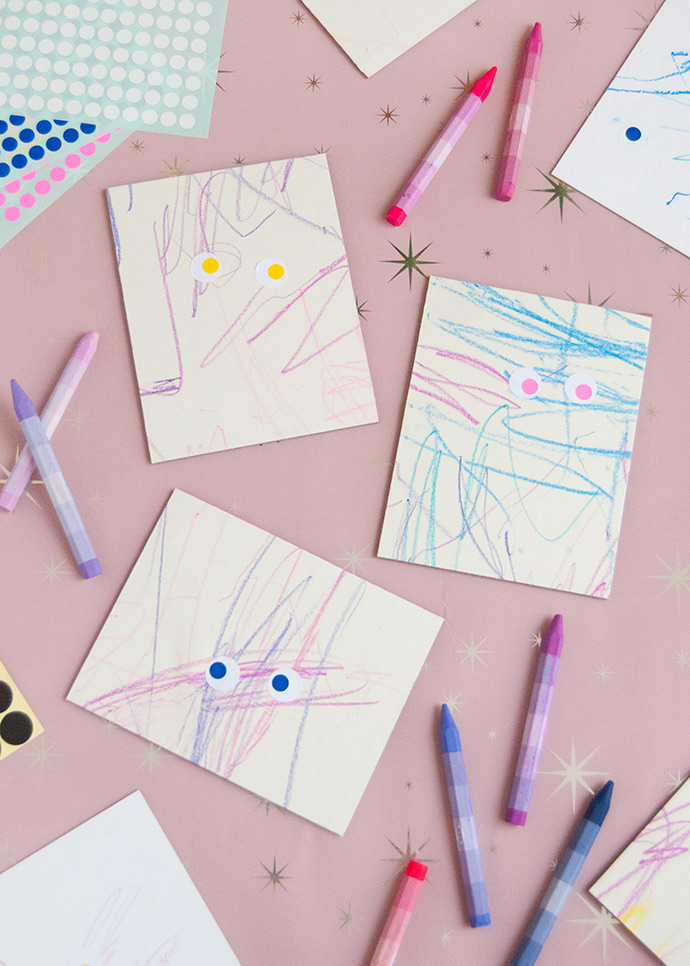 Now that my little one is getting older, I've been excited about finding activities and art projects for her to work on to celebrate holidays and seasons. In the past, I've been a big fan of the paint-in-a-bag method since it keeps things mess-free and gives such fun, colorful results – see these Valentines here. We've also embraced the mess with edible paint and made these postcards! Today's project is similar in that we're turning kid-made art into a simple keepsake, but this time we went with crayons and stickers to make these silly Halloween monsters. A few weeks ago, my daughter had a lot of fun with this super simple sticker activity from The Busy Toddler and it got me thinking of ways to include this idea into an art project or keepsake. This activity is super simple but a fun way to get toddlers involved in Halloween art at home! I'm thinking I might even turn these into postcards and send them to friends and family as a little Halloween surprise.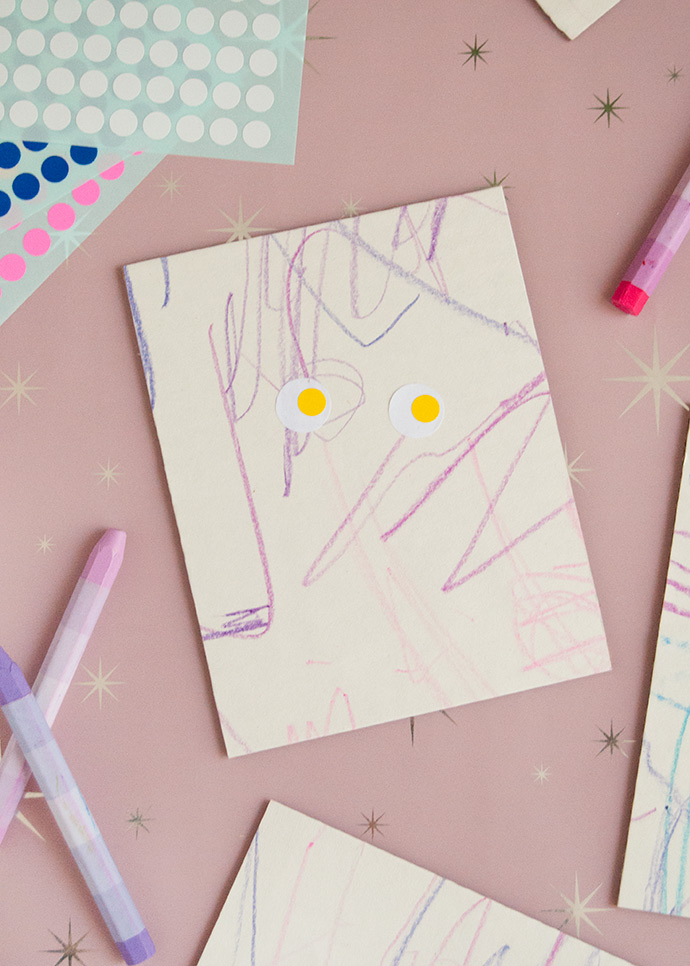 Crayons
Cardboard (or paper)
Round office stickers (in a variety of colors)
Craft knife or scissors
Masking tape (optional)
Gluestick (optional)
Step 1
First things first – time to prep your cardboard or paper for some scribbles! You can do this a handful of ways, so pick whichever you think sounds best suited for your little ones. We did this a couple of ways: by cutting cardboard into postcard-sized rectangles and taping them onto the tray of a high chair and also by taping a large piece of white paper onto the floor. Both worked well for us! You can also skip the taping down entirely and let your kids scribble on either side of the card – I wanted to keep the backs blank so I could send these in the mail as fun Halloween postcards to friends and family.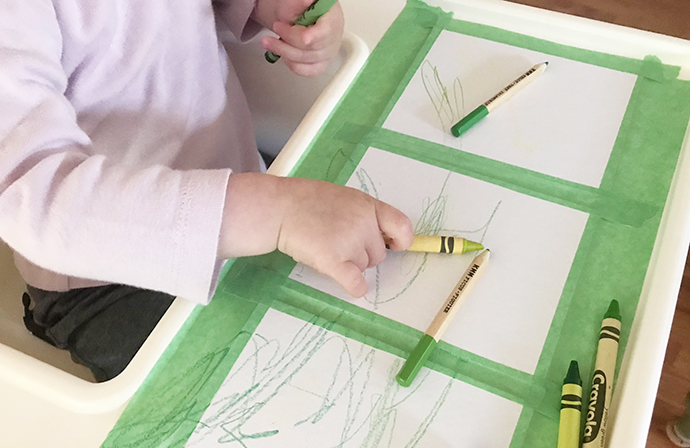 Step 2
Set your little one up with crayons (or whatever marking tools you prefer) and let them go wild scribbling! You can choose to provide crayons in the same color family so that the "monsters" look almost furry in a few similar shades or just use all colors at once for a more mixed-and-matched rainbow look.
Step 3
Once the scribbling is done, stick mini colored circle stickers onto slightly larger white round stickers to look like eyeballs. You can also use adhesive googly eyes for this, but since I wanted to send these in the mail I went with these instead since they'll be completely flat and more likely to survive in the mail. I gave my daughter the stickers one at a time and she would stick them onto the scribbles (or she would hand them back to me and point where she wanted me to stick them for her). This step was inspired by this fun activity from The Busy Toddler that my daughter had a lot of fun with recently.
Step 4
If your scribbles are on a large piece of paper, cut out rectangles and then glue onto sturdy cardboard to form postcards. Write a message on the back, stick on a stamp, and drop them in the mail for a fun Halloween surprise!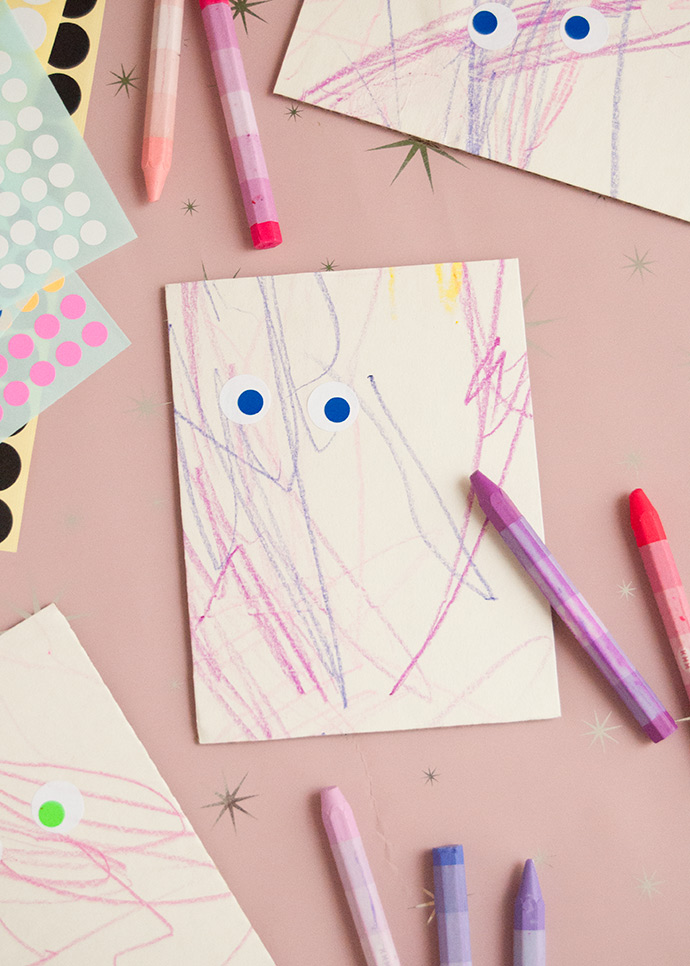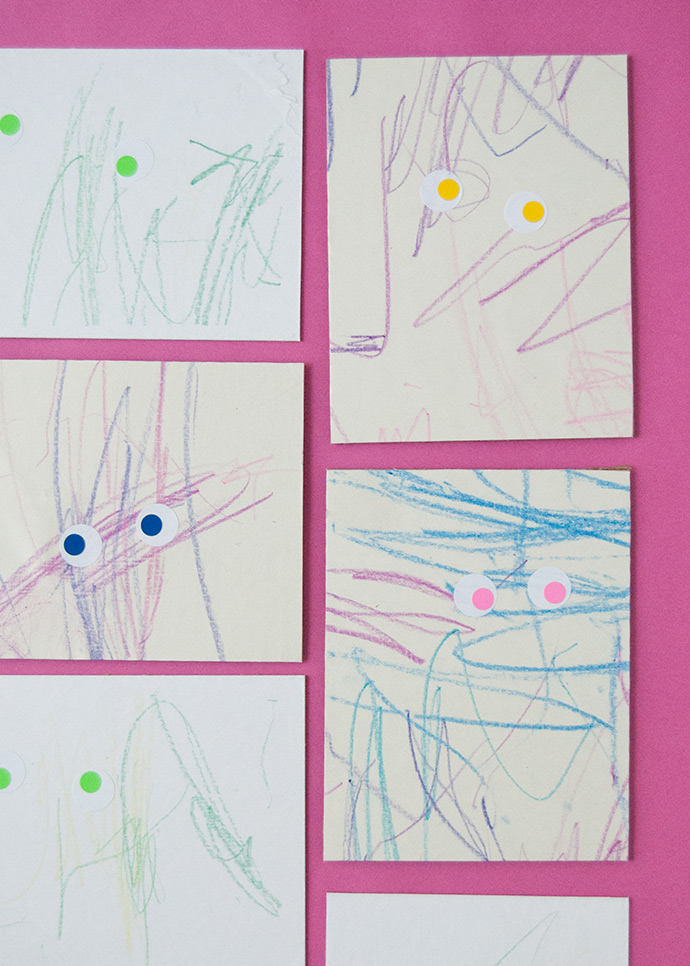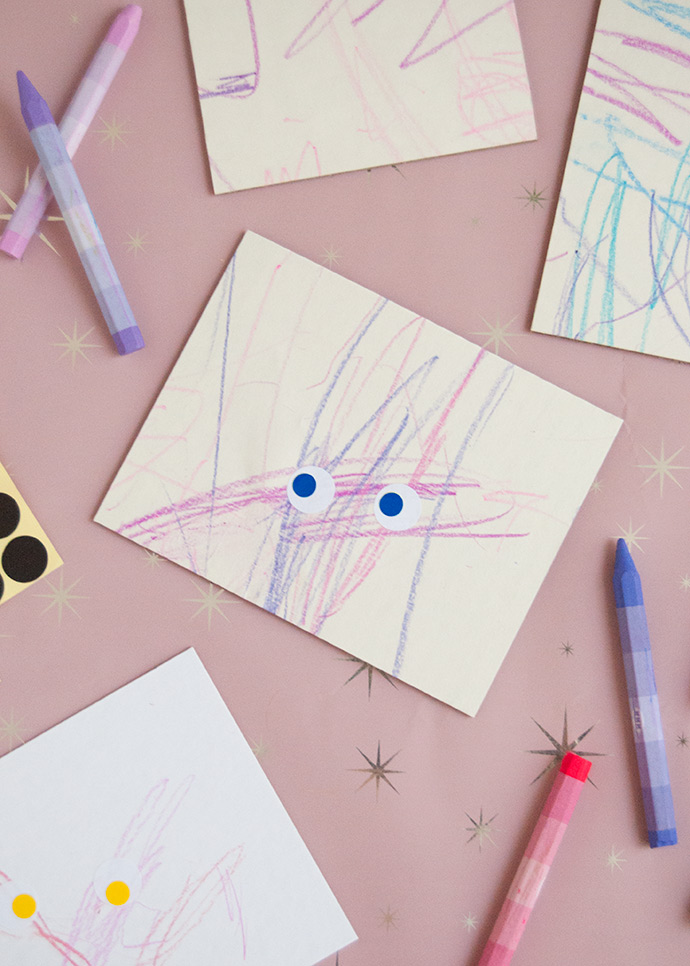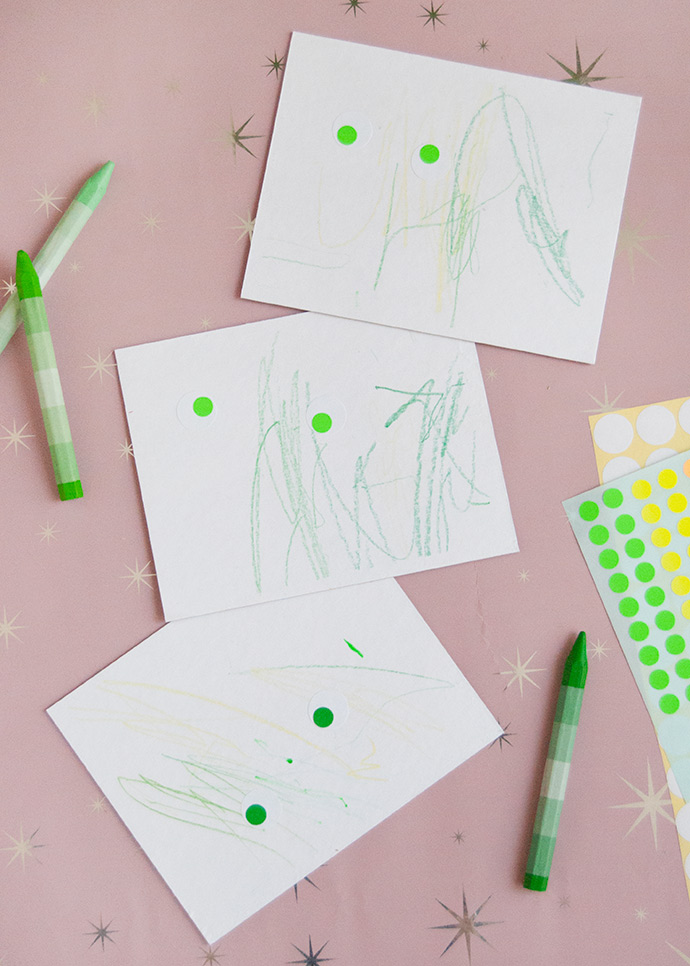 Happy crafting!