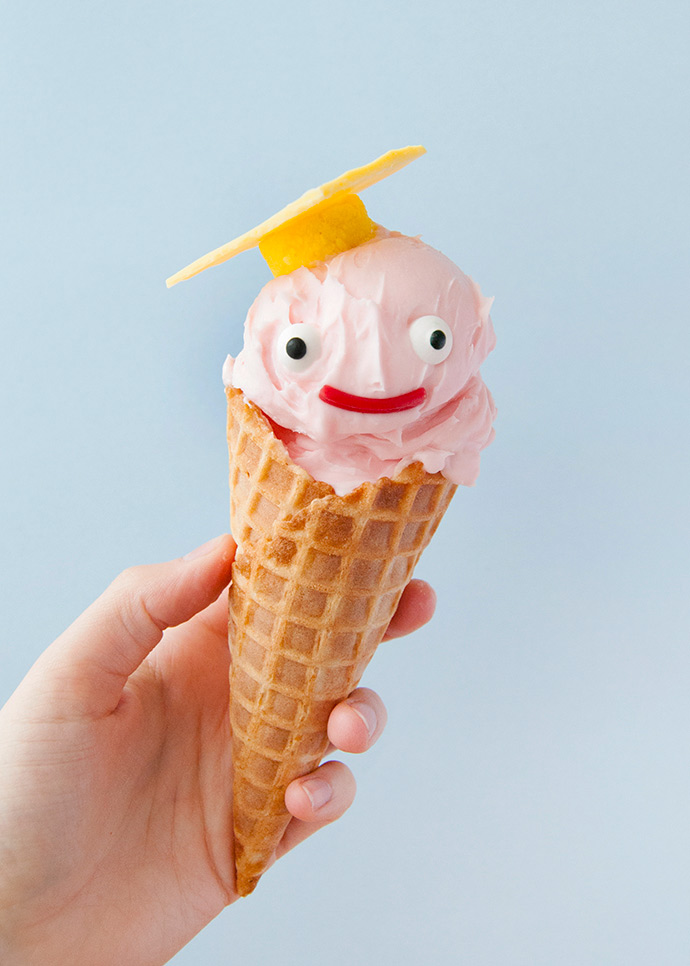 School's out for summer! Looking for a super quick and easy way to make a special treat for the graduates in your household? With just a few candies, a regular ice cream cone can be turned into this smiling silly grad!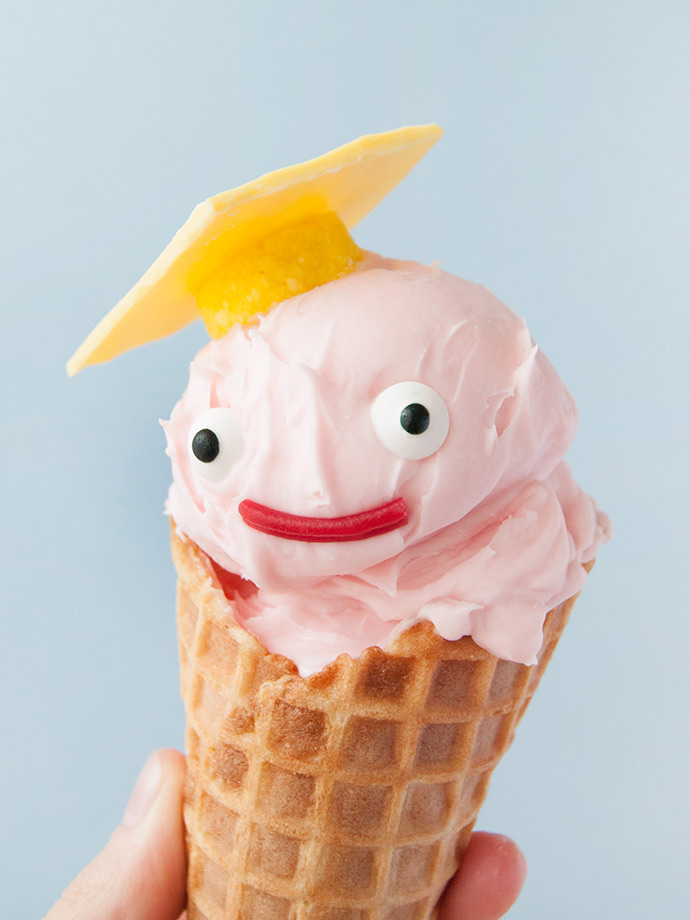 Ice cream
Ice cream cone
Two eyeball sprinkles
Shoelace licorice
Licorice all-sorts
Candy melts (to match all-sorts)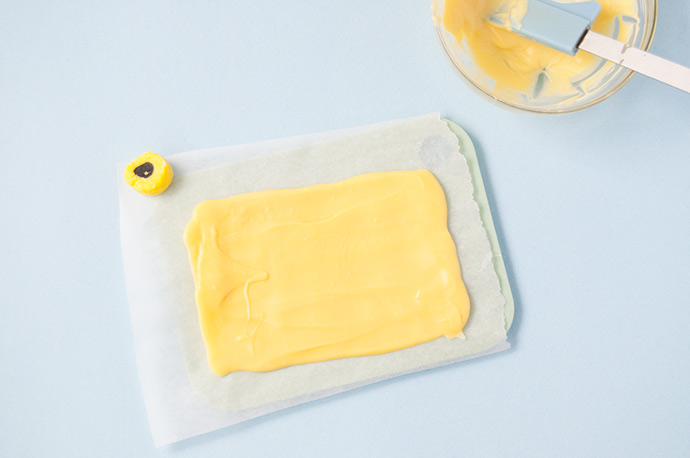 Step 1
Begin by warming the candy melts in the microwave, 30 seconds at a time and stirring in between, until it's smooth and melted completely. Spread a thin layer of the candy melts onto a piece of parchment paper on a plate, keeping it as smooth as possible. Place in the fridge to harden.
Note: We used a yellow licorice all-sort (and matching yellow candy melts) for the grad cap here, but you can use whatever candy you have on hand! Almost anything works as the base of the cap: gumdrops, peanut butter cups, or jujubes are perfect! Whatever candy you choose, make sure you have matching colored candy melts to go along with it.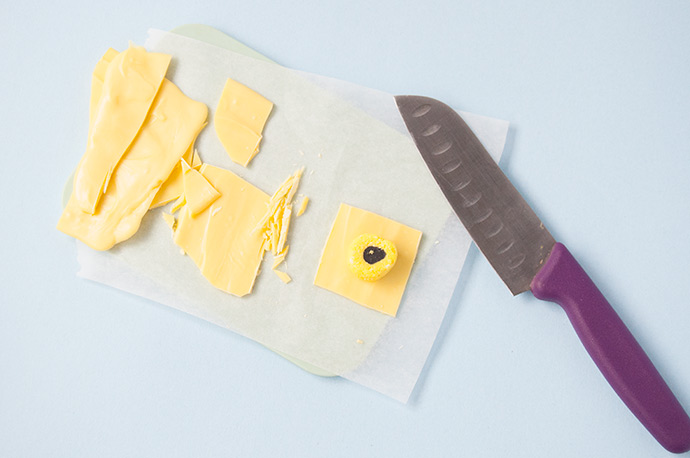 Step 2
Once the candy melt has hardened, use a knife to carefully cut it into a square that's about twice as wide as your licorice all-sort. Warm up any leftover candy melt in the microwave again and apply a small dab onto one side of the all-sort and stick this to the center of the candy melt square. Let harden in the fridge for a few minutes.
Step 3
Gather your other candies so you have them handy before you start scooping ice cream. We used the eyeball-shaped sprinkles here, but plain round ones work too! Similarly, the mouth can be made of nearly any candy you have on hand, even a round one for a surprised looking grad!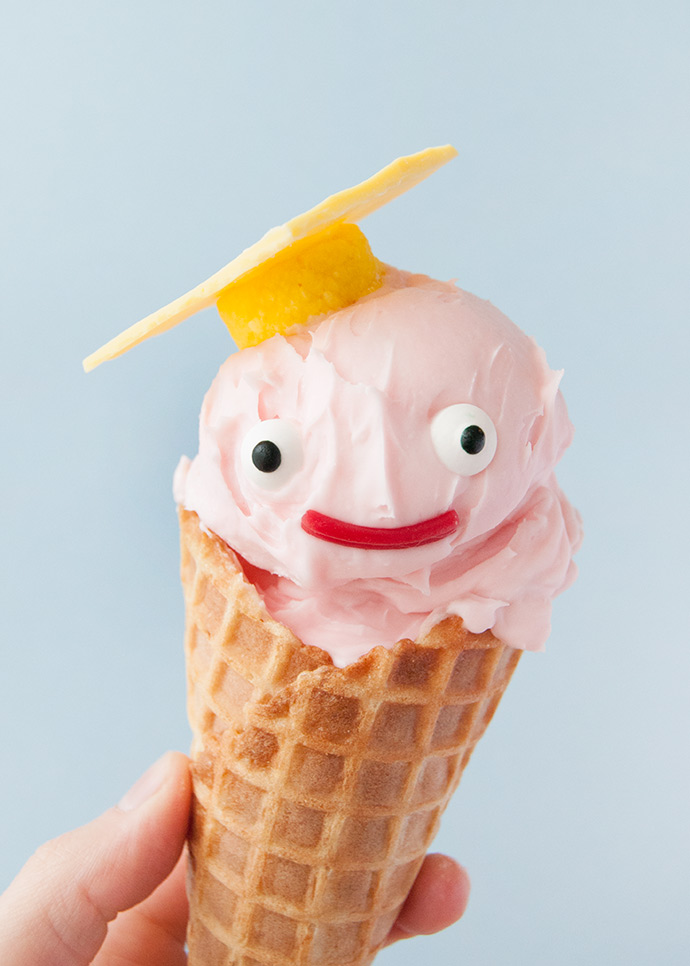 Step 4
Scoop your ice cream into your cone – we used strawberry. Stick the grad cap onto the top of the ice cream, like you would a cherry. Place the two eyes and mouth on the front and voila! You've got a silly little graduate ice cream ready to go!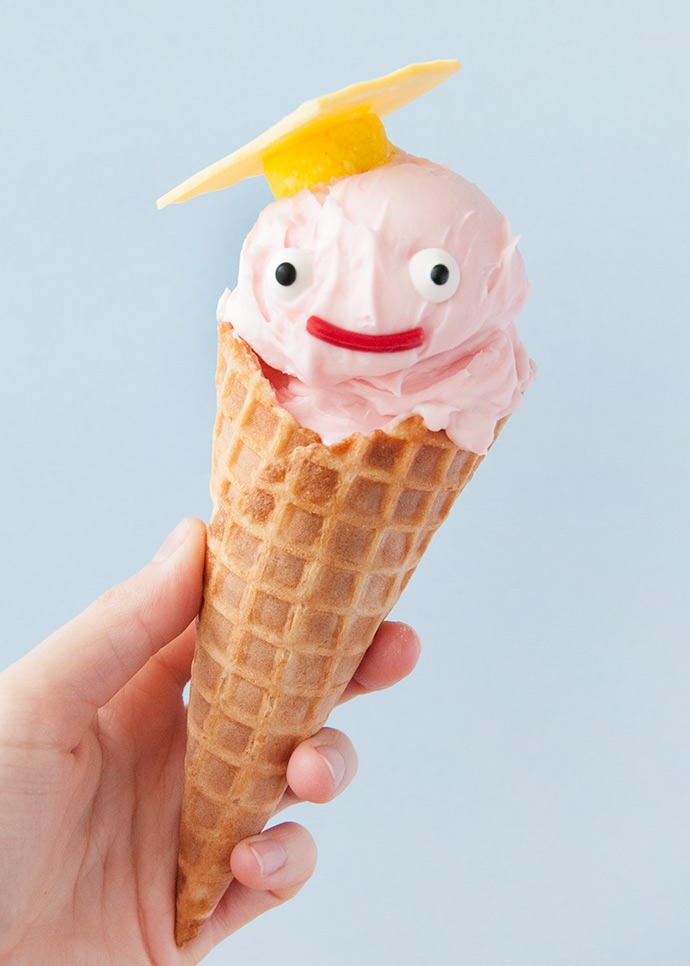 If the grads in your house are fudgsicle fans, you could do the same idea on those too – just take a look at these funny-faced fudgiscles in the blog archives!