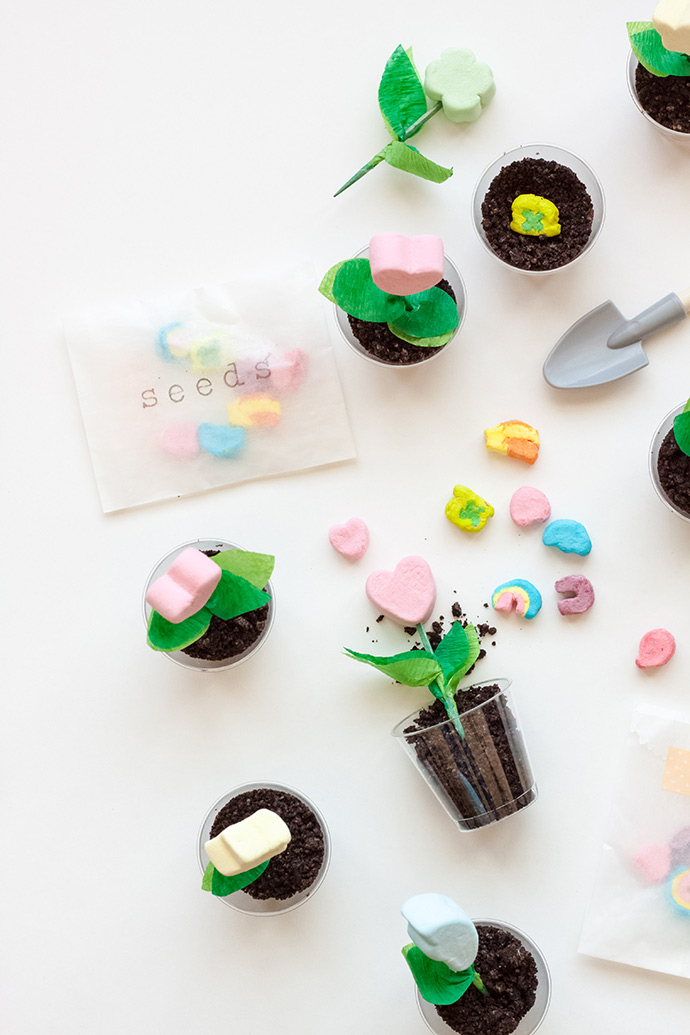 Although Christmas is my absolute favorite holiday, St. Patrick's Day is quickly becoming my favorite for crafting! What could be better than all the colors of the rainbow, cute little leprechauns, and Lucky Charms cereal? I actually seem to have a little obsession with Lucky Charms (I think it's the colorful marshmallows), and as soon as I saw the larger jet-puffed version in stores, I just knew they needed to be incorporated in a project! That's when I realized that you could "plant" the little cereal marshmallows in Oreo dirt, and when the kids wake up on St. Patrick's Day, they will see that their Leprechaun garden has grown into full-blown (edible) flowers! This could be a really fun and magical activity that could become a family tradition. My kids used to make Leprechaun traps at their preschool, and every March they were so excited to see the mess and gold chocolate coins that "Lenny" left behind. I can imagine how exciting it would be to see that Lenny sprinkled his magic on these seeds, and helped this little garden grow as well!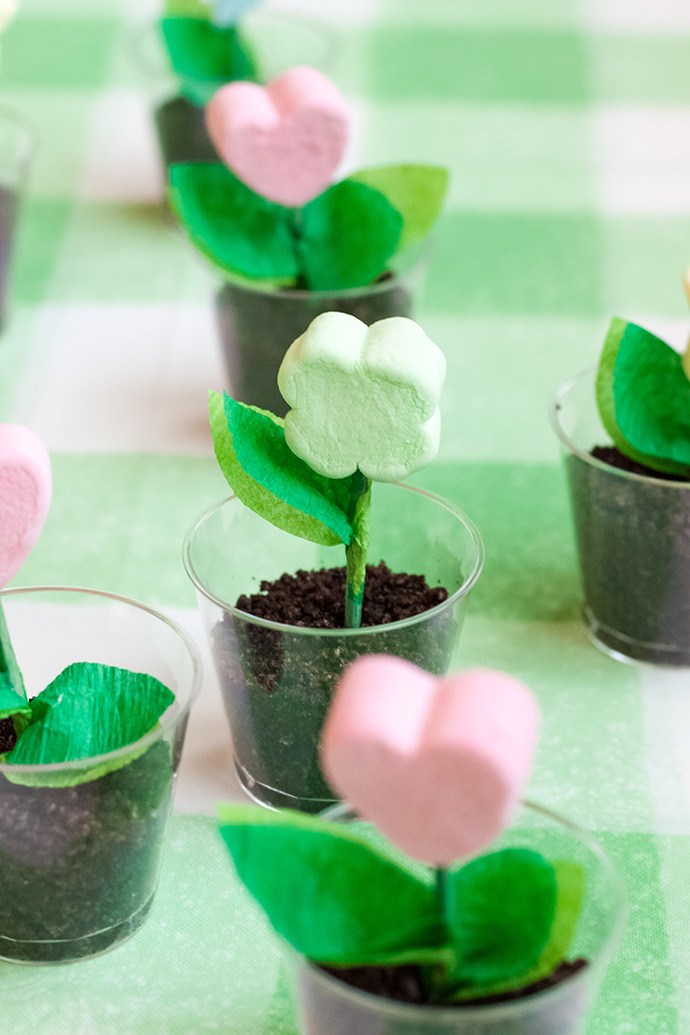 If you are looking for a few more cute ideas using Lucky Charms for St. Patrick's Day, these cereal treats were made as valentines, but could easily be used for St. Paddy's too! Try making these adorable, giant Lucky Charms Barrettes, or make some rainbow party cups to hold your St. Patrick's Day treats.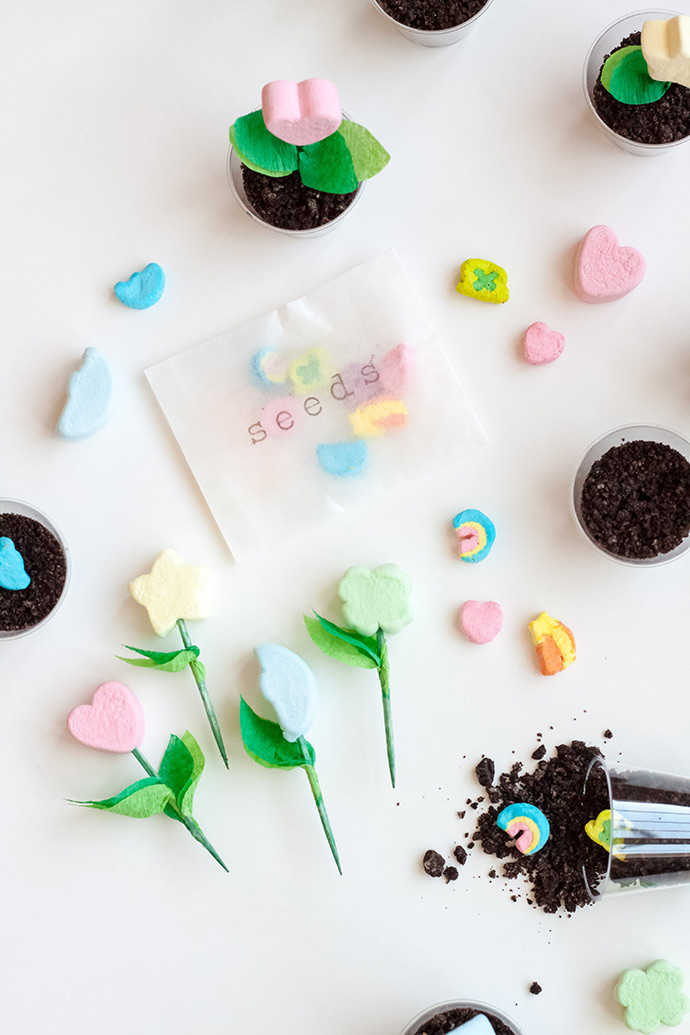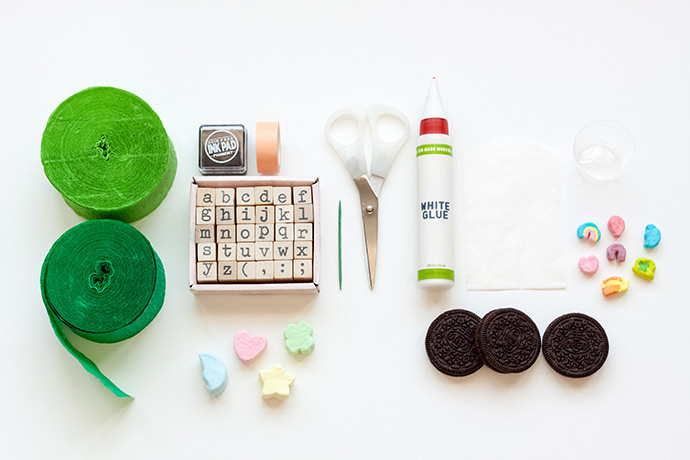 Lucky Charms cereal
Alphabet stamps
Ink pad
Washi tape
Plastic shot glasses
Oreo cookies
Plastic bag or food chopper
Green toothpicks
Green streamers (2 shades)
Scissors
Glue
Leprechaun magic!
Step 1
Use your alphabet stamps and ink pad to write "SEEDS" on each glassine bag. Fill the bag with Lucky Charms marshmallows from the cereal. Fold the top down in the back, and seal it with Washi tape.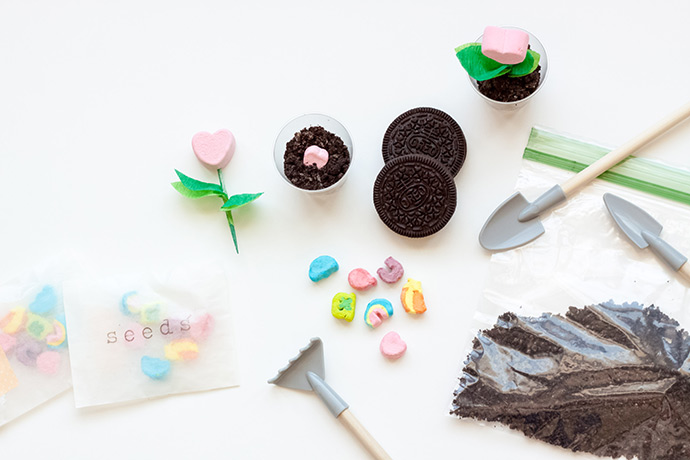 Step 2
Crush Oreo cookies in a bag or food chopper, and place this Oreo "dirt" in your plastic shot glasses. Allow kids to plant the marshmallow "seeds" in each glass.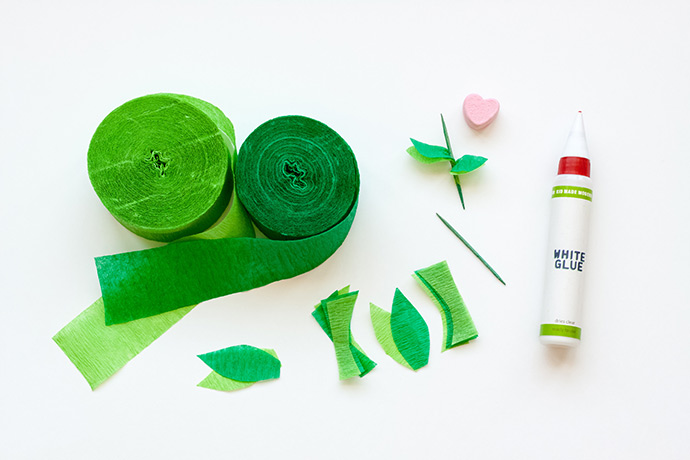 Step 3
Cut two inch long, by one inch wide leaves out of green streamers, and glue them to your toothpicks. Allow to dry. Add a jet-puffed Lucky Charms marshmallow to the top as a flower.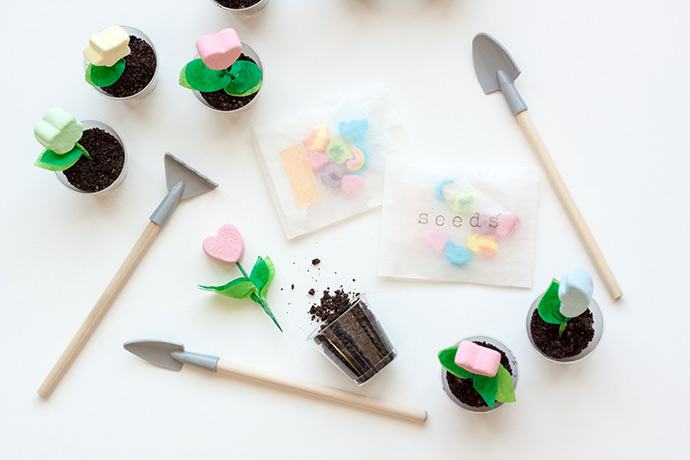 Step 4
Before kids wake up on St. Patrick's Day, place the marshmallow flowers in the shot glass planters, so they can see that their seeds bloomed (most likely with the help of some Leprechaun magic)! Now they have an edible garden for a fun St. Paddy's Day treat!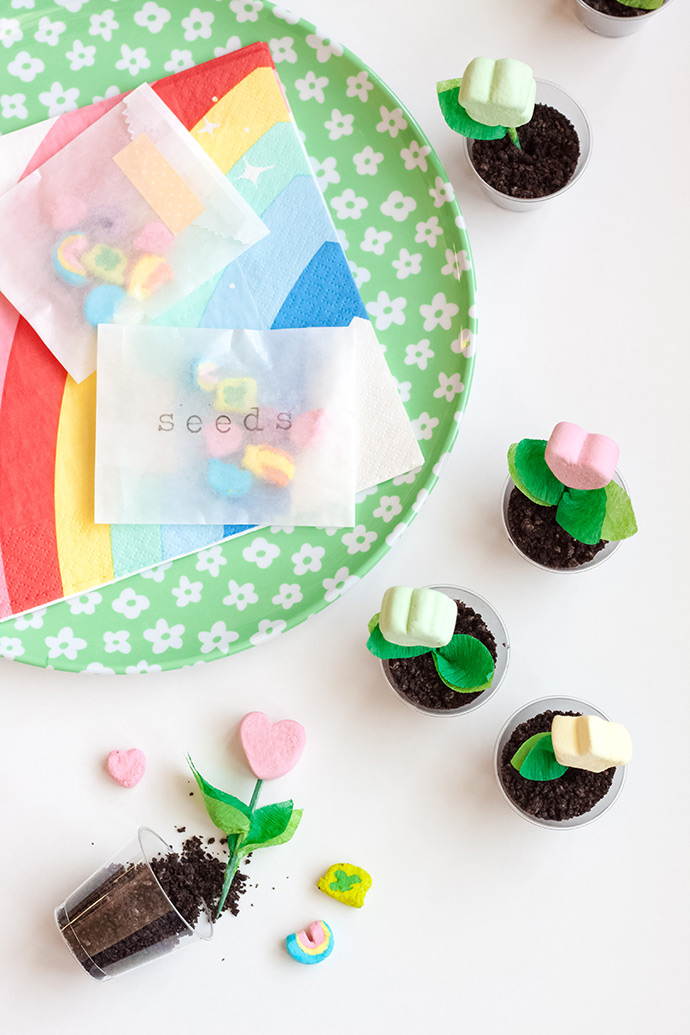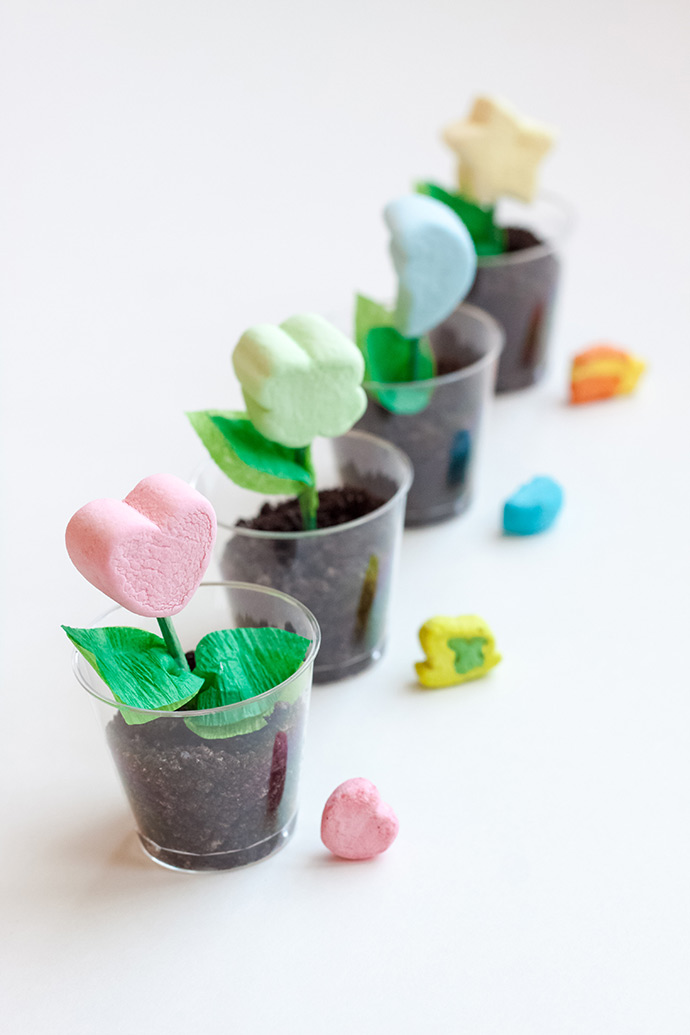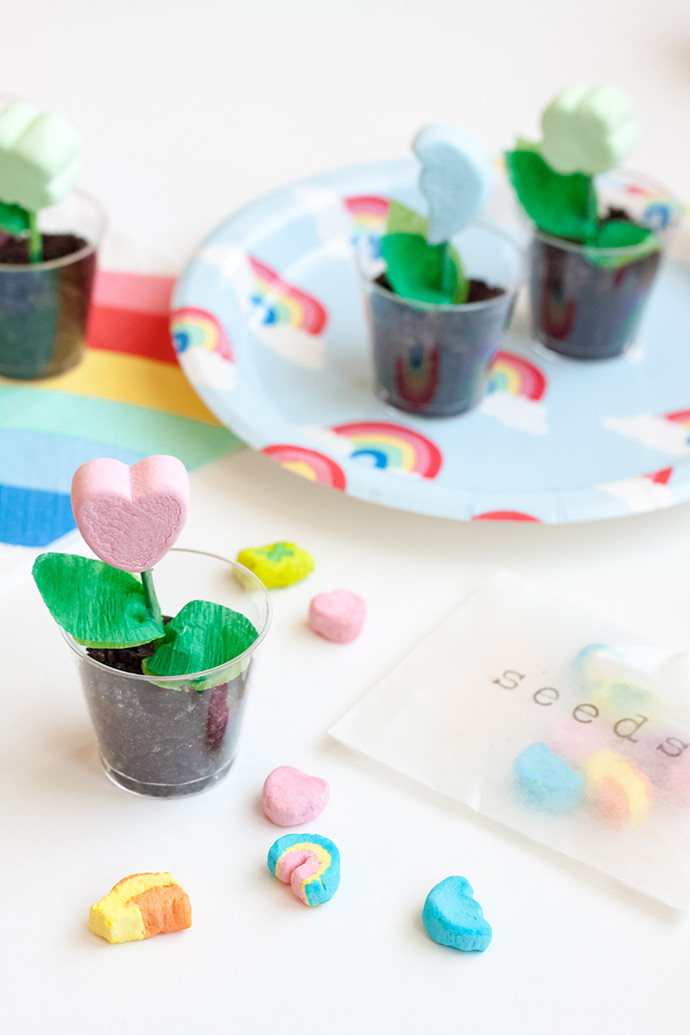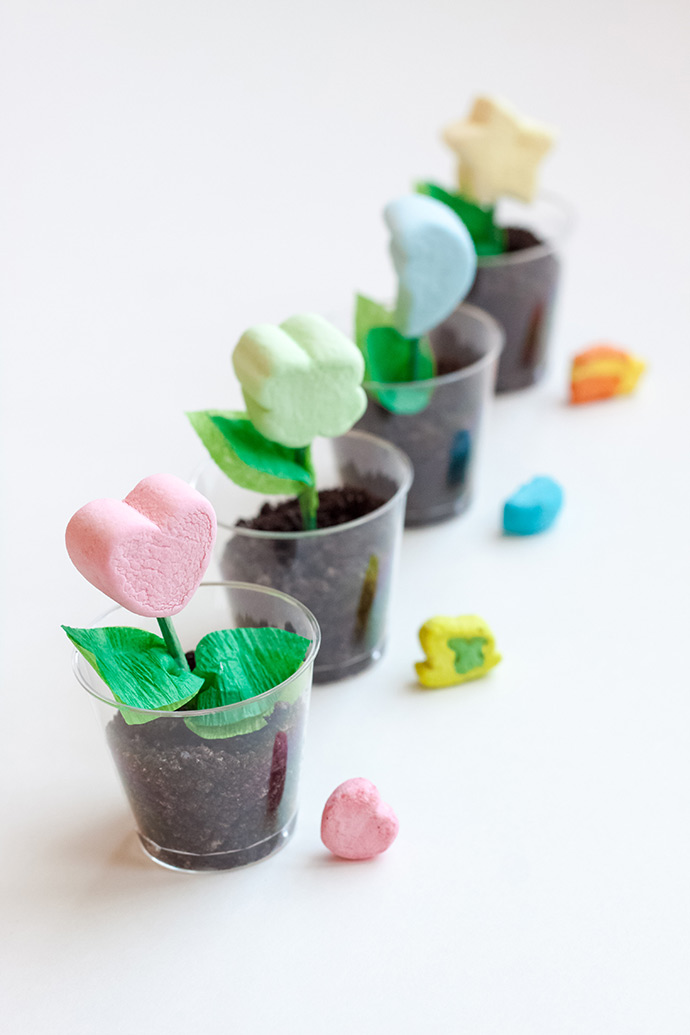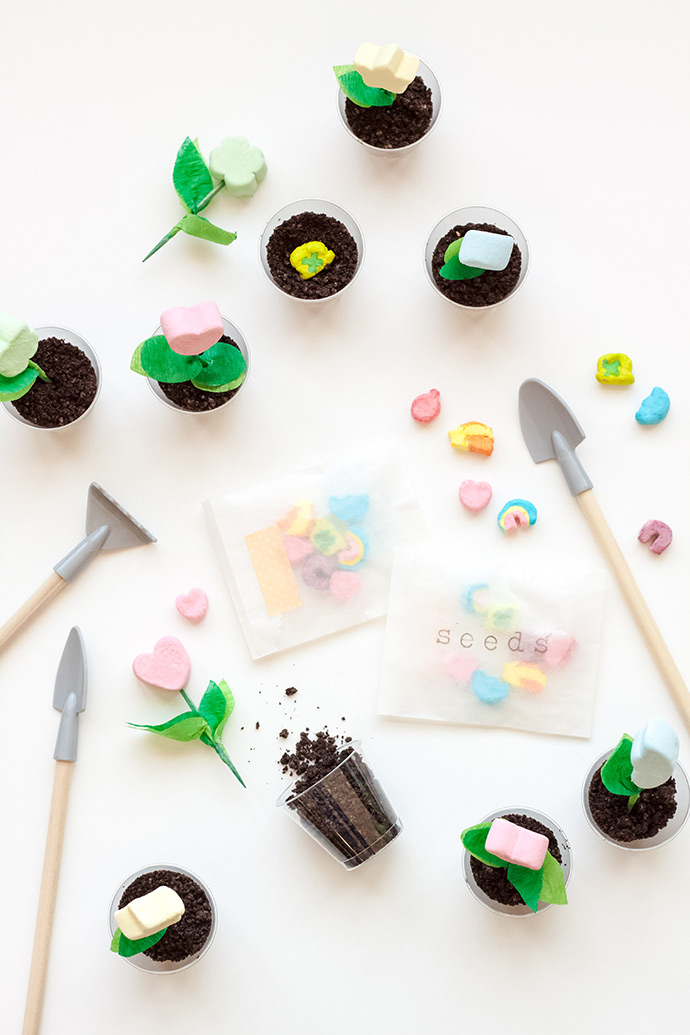 Happy gardening, and Happy St. Patrick's Day!