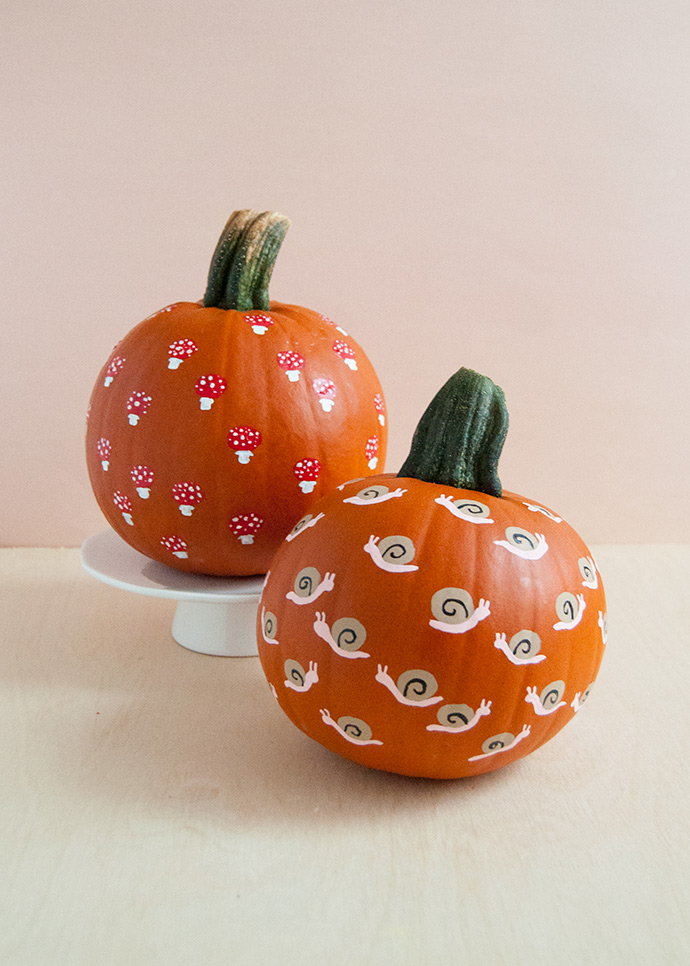 It's been a few years since we shared a new fingerprint art pumpkin project for Halloween, so I'm really excited about these ones today! You might be familiar with a few of the variations we've made over the years: pumpkins, pineapples & cacti, cats, and ghosts, skulls, & eyes – this time, I thought a woodland nature theme would be fun. I've been loving that toadstools seem to be all the rage again, so of course, I had to feature some on these pumpkins. The snails are such cuties and the beetles are only a little bit creepy-crawly. Altogether I think they make a really fun grouping perfect for your stoop this Halloween! Little kids will love this no-carve pumpkin option, and older kids or adults can help by adding the smaller details on after.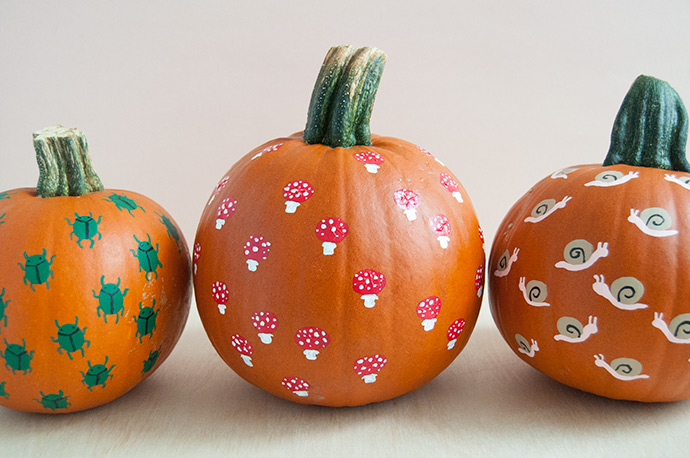 Pumpkins
Acrylic paint
Paintbrushes (fine tip)
Scrap cardboard or paper
Permanent markers (optional)
For the toadstool pumpkins:
Apply a blob of red paint onto your scrap cardboard. Dip your child's finger or thumb into the paint and do a few test stamps on the scrap paper to get the hang of how much paint you want on the finger/thumb for a nice impression. Stamp red dots, with the finger/thumb stamping sideways, all over the pumpkin. Dont' forget to leave room for the stems! Let the red dots dry completely and then use white paint to paint on a small white stem and several white polka dots onto each toadstool.
For the beetle pumpkins:
Apply some dark green (or any color!) paint onto your scrap paper. Dip your finger/thumb into the paint and stamp vertical ovals all over the pumpkin. You could also switch up the direction so that it looks like the beetles are crawling in different directions! Use a fine tip paintbrush to paint on antenna and legs in the same color as the beetle's body. Once dry completely, use black paint and a fine paintbrush to make eyes and a wing detail on the beetle. If these details are too tricky for your little ones, you can try this with permanent markers instead!
For the snail pumpkins:
Apply beige (or whatever color you prefer for the shell) onto the scrap cardboard. Stamp beige ovals all over the pumpkin, horizontally. Let dry and use a paintbrush to add contrasting snail bodies onto each oval. Make the snails face different directions! Use a very fine tip brush to make the two snail eyes. Once the snail shell is dry, use another fine brush to apply a swirl pattern in contrasting paint.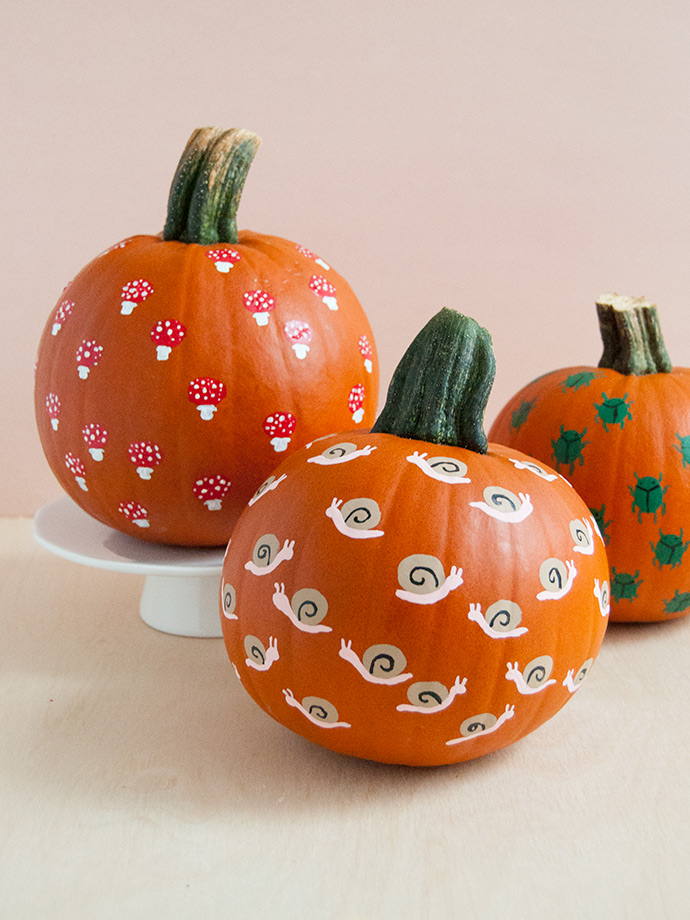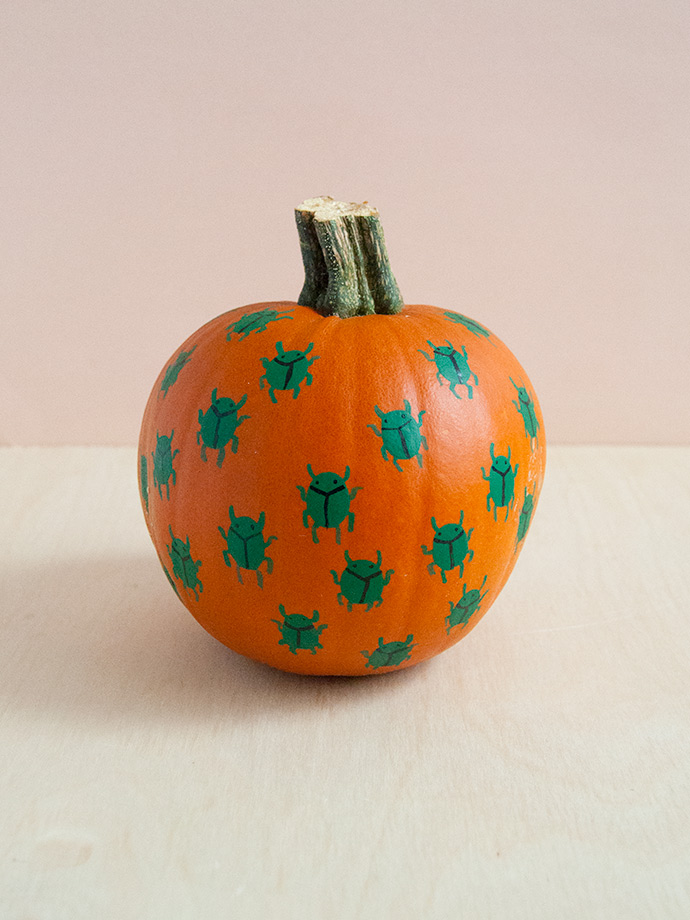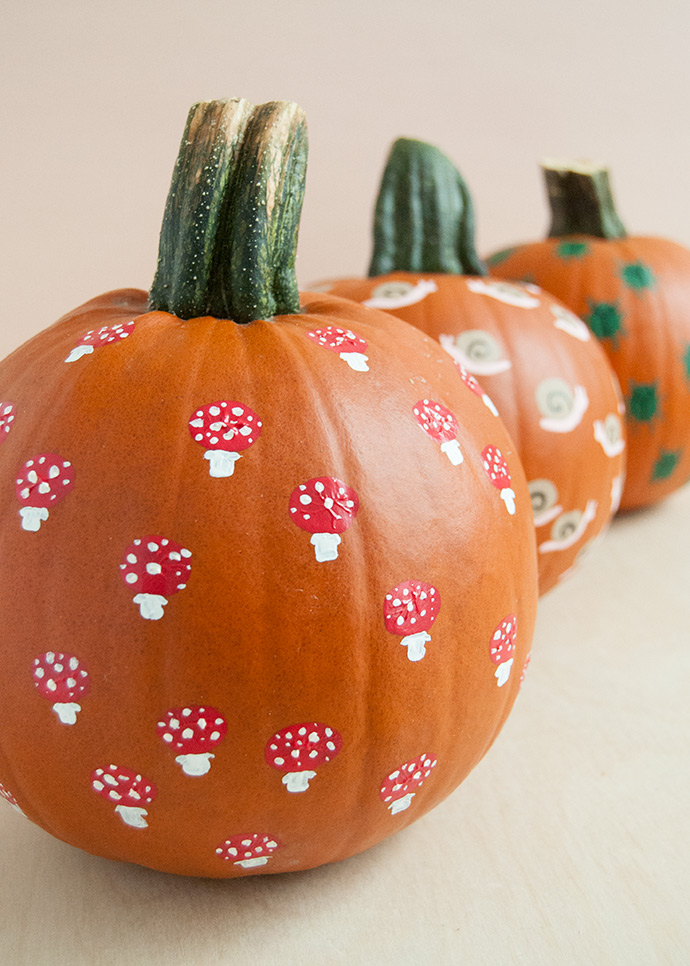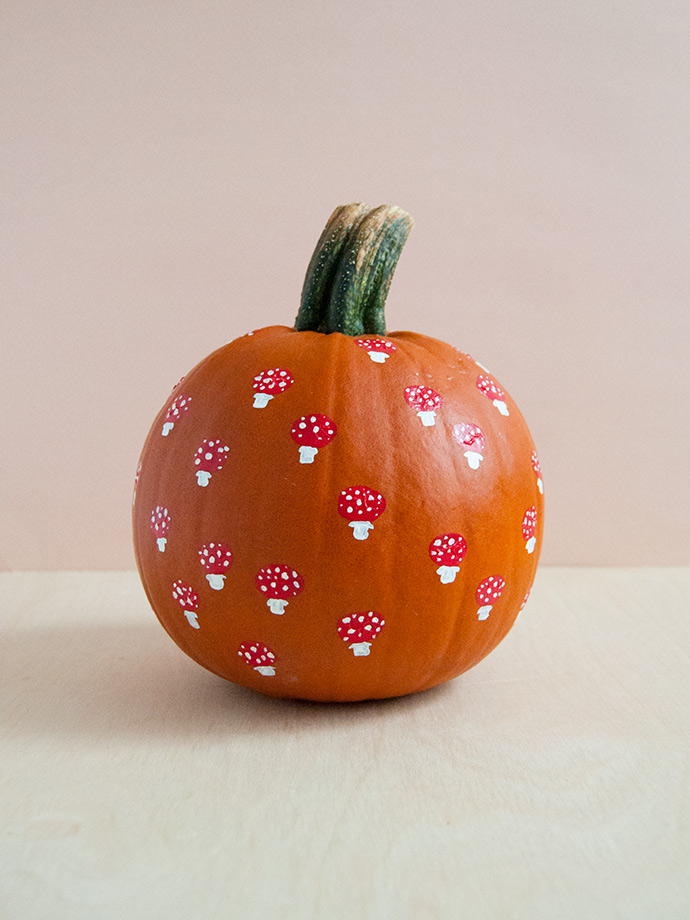 Happy Halloween crafting!