This post is sponsored by Nellie's Free Range Eggs.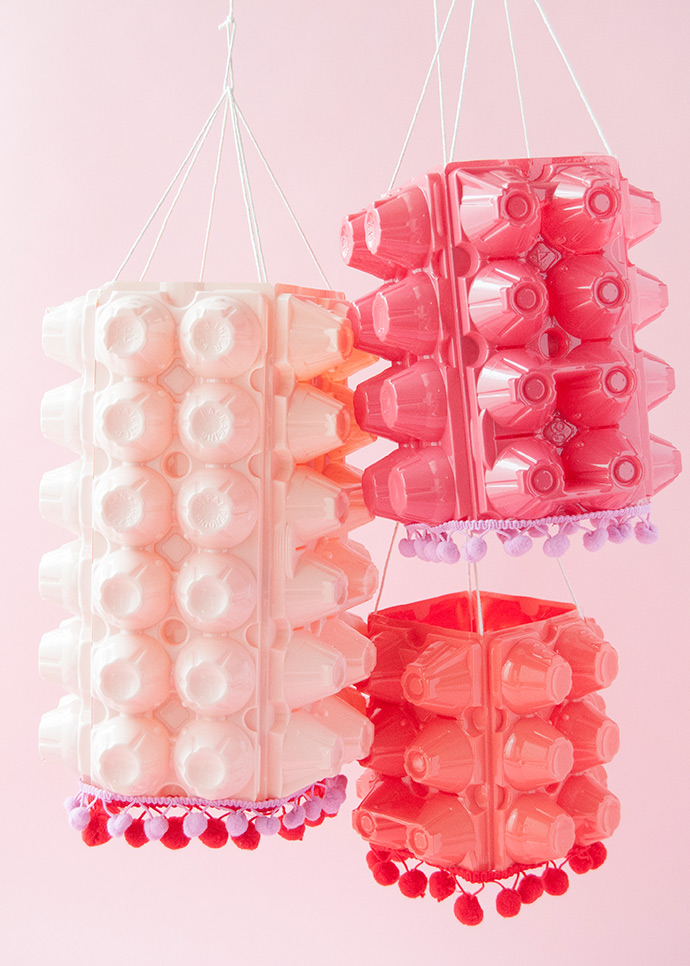 Two of our very favorite things are being combined for this colorful craft today: crafting with recyclable materials and making lanterns!! A quick look through the blog archives immediately shows our longtime love of making lanterns in all shapes and sizes, so we're thrilled to be working with Nellie's Free Range Eggs on these upcycled geometric lanterns, perfect for summer!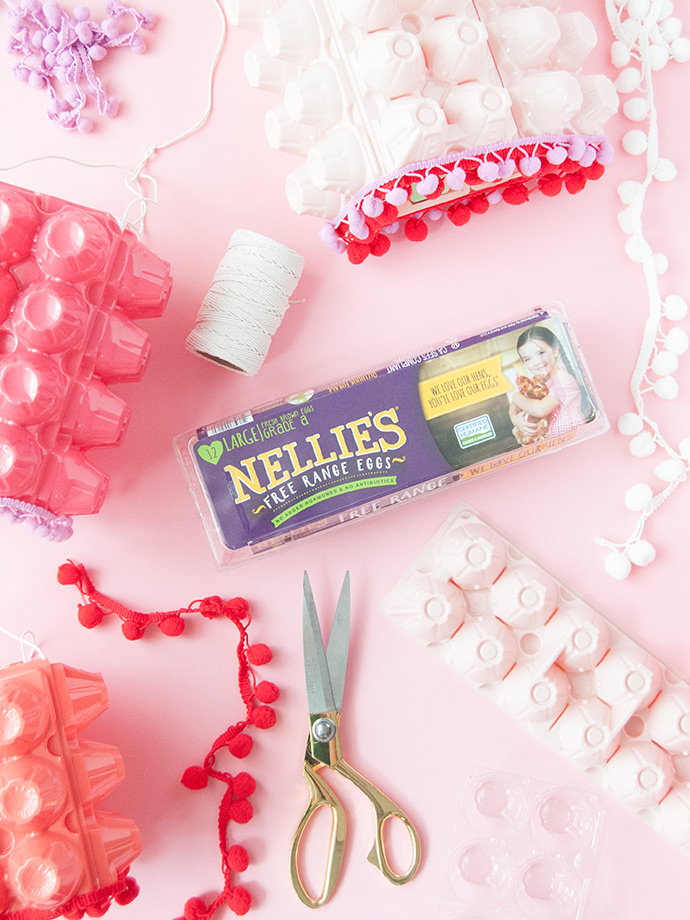 If you're like us, you're already daydreaming about summer barbecues and pool parties that are coming up quickly. We love these lanterns for both inside and outside, during both the day and night. We keep these bright and festive using shades of pink, but you can of course pick whichever colors best suit your occasion. You can even add small battery-operated flashlights inside to illuminate them for nighttime parties!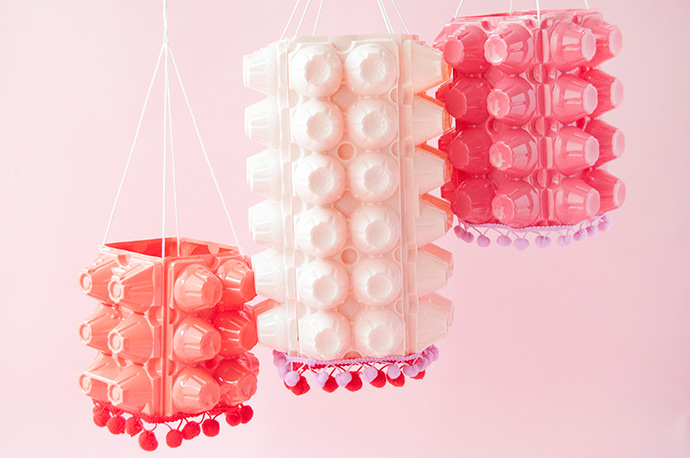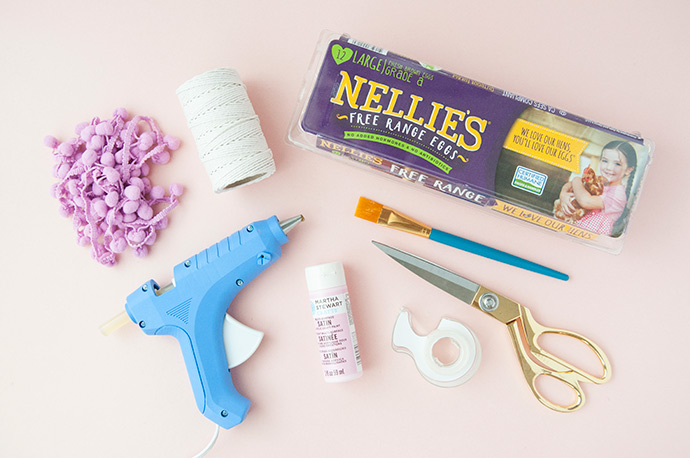 Empty Nellie's Free Range egg cartons
Scissors
Paint
Paintbrush
String
Pom pom trim (or other decorative trim)
Clear tape
Hot glue gun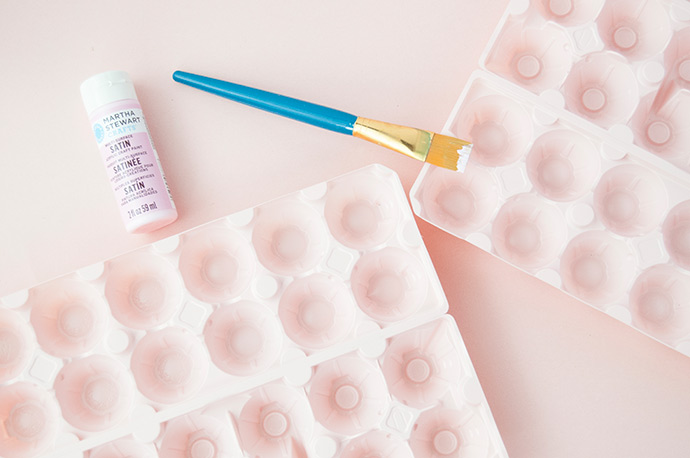 Step 1
Begin by cutting the flat lid segment off of the egg carton and recycle or save for another craft. Leave the remaining two segments attached at the hinge and apply acrylic paint onto the inside of the carton. Make sure to use an acrylic paint that adheres to plastic and let dry completely, applying as many coats as needed until covered.
Repeat this on as many egg cartons as needed. For a four-sided lantern, you'll need two hinged pieces. For the larger five-sided lantern shown, we added one extra panel.
You can also choose to customize the size of the lantern by trimming egg compartments off before painting. Mix and match sizes of lanterns as desired.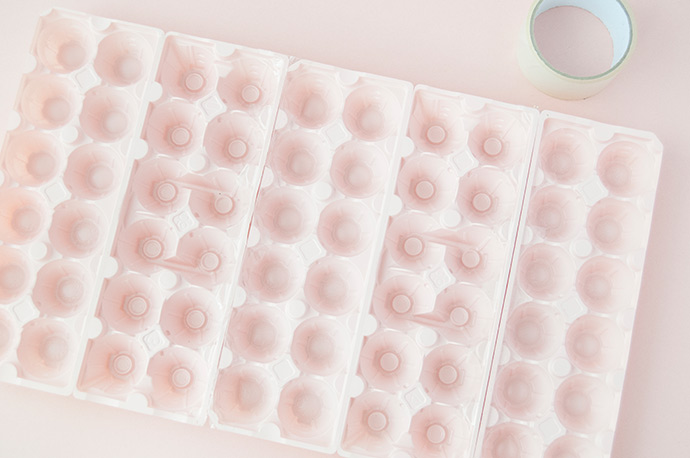 Step 2
Once the paint is completely dry, lay out the segments side by side on your work surface. Use clear tape (packing tape works well here) to attach the neighboring cartons together to form an almost invisible hinge that can only be seen on the inside of the lantern. Use scissors to snip the tape as needed and press onto the egg carton to make sure the hinge is securely attached.
Once all the cartons are attached side by side, connect the two ends together, forming a tube. Again apply the tape to form the last hinge on the inside of the lantern.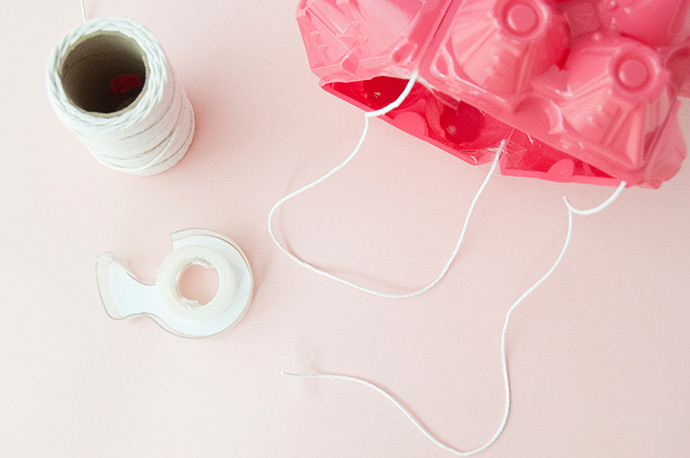 Step 3
Cut two pieces of string of equal length, about 10 inches long. Tape one end of the first string into the inside of the top edge of the lantern, right in the hinge. Tape the other end of that same string into the hinge directly opposite the first. Repeat this with the second piece of string, taping to the opposite hinges, so that the lantern now has two loops along the top that cross. Cut a third piece of string (as long as needed to hang your lantern) and tie a loop in one end around where the other two strings cross. This will allow the lantern to hang completely evenly without fussy tying and retying of knots.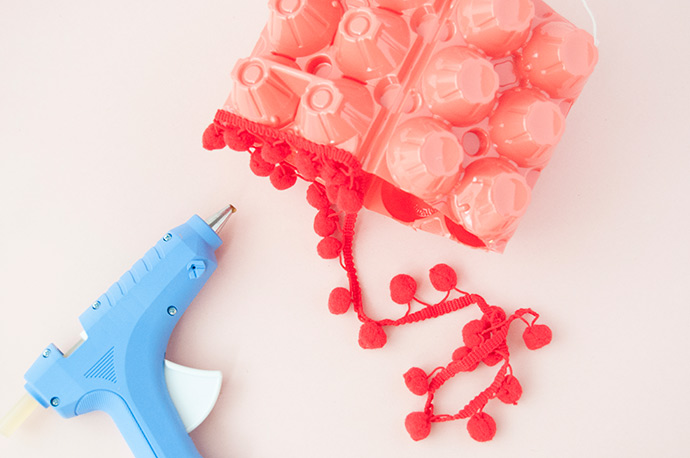 Step 4
Finally, with your hot glue gun on the low-heat setting, apply a line of glue along the bottom edge of the lantern. Press the trim into the glue to secure, covering the entire bottom edge. Add additional trim or tassels if desired.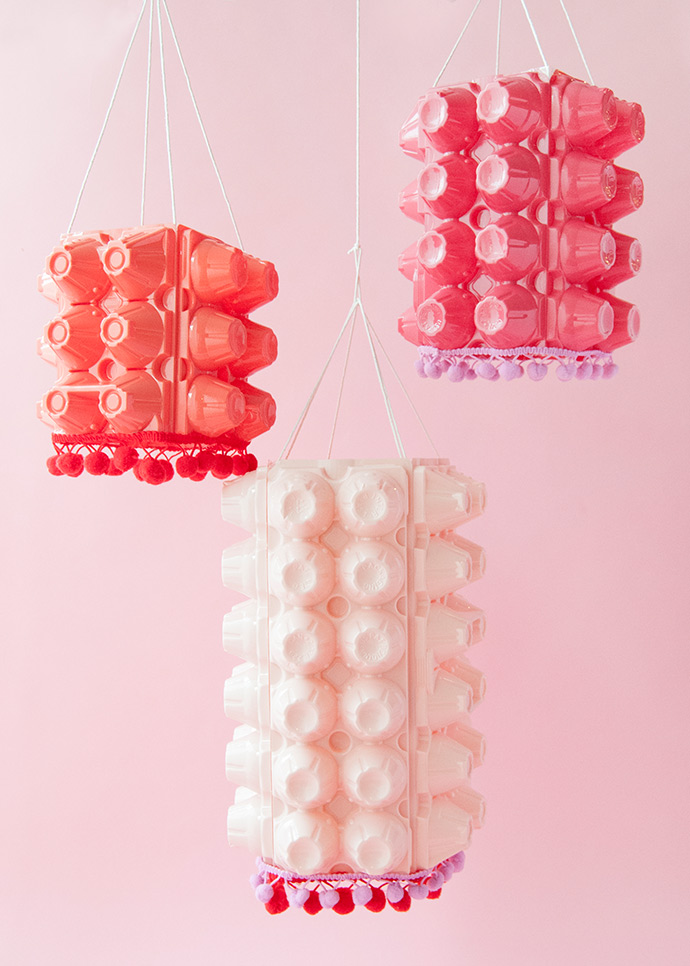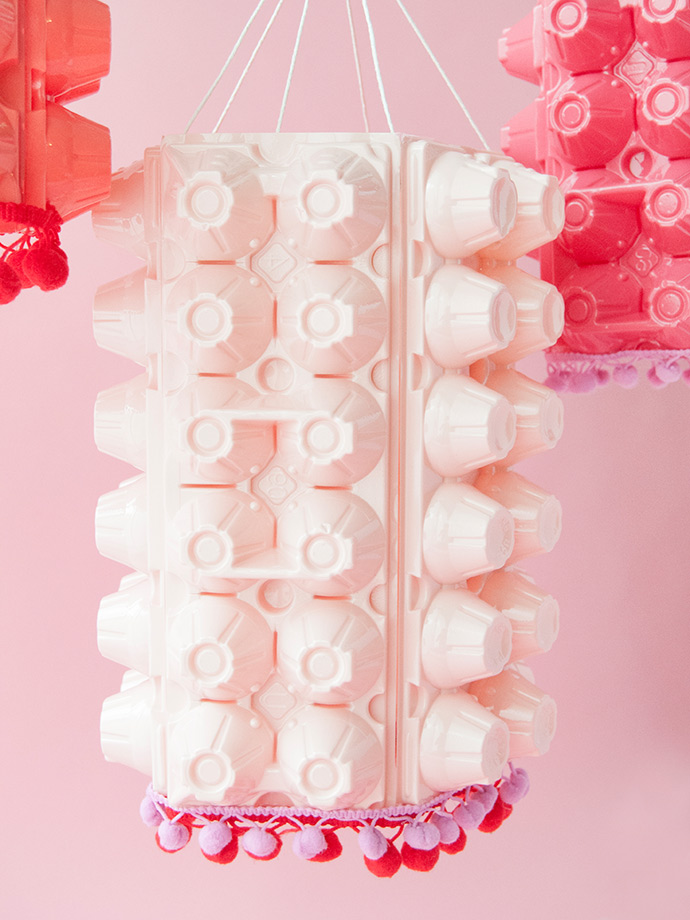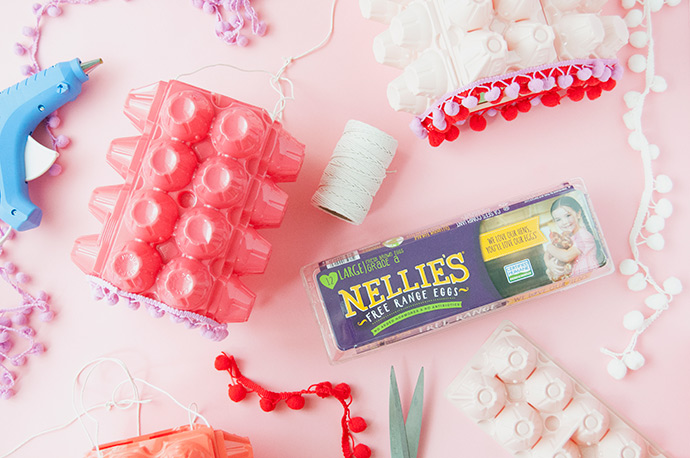 In case you missed it, we also used Nellie's Free Range egg cartons to make an upcycled floral garland! As we mentioned there, plastic egg cartons are often thought to be less environmentally responsible than the molded paper fiber ones, but in fact Nellie's cartons are made of 100% post-consumer recycled plastic and have half the carbon footprint of traditional fiber cartons.
Not only that, but Nellie's was the first egg producer in the world to receive the Certified Humane seal for kind and ethical treatment of animals. That means their farmers treat all their hens like friends! Read more about Nellie's standards of humane farm animal care here.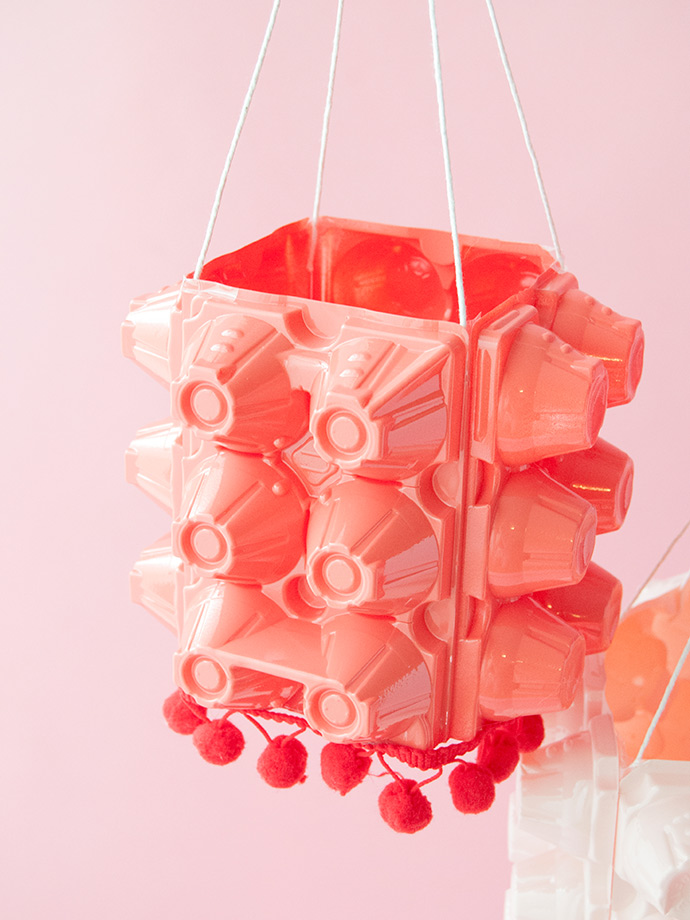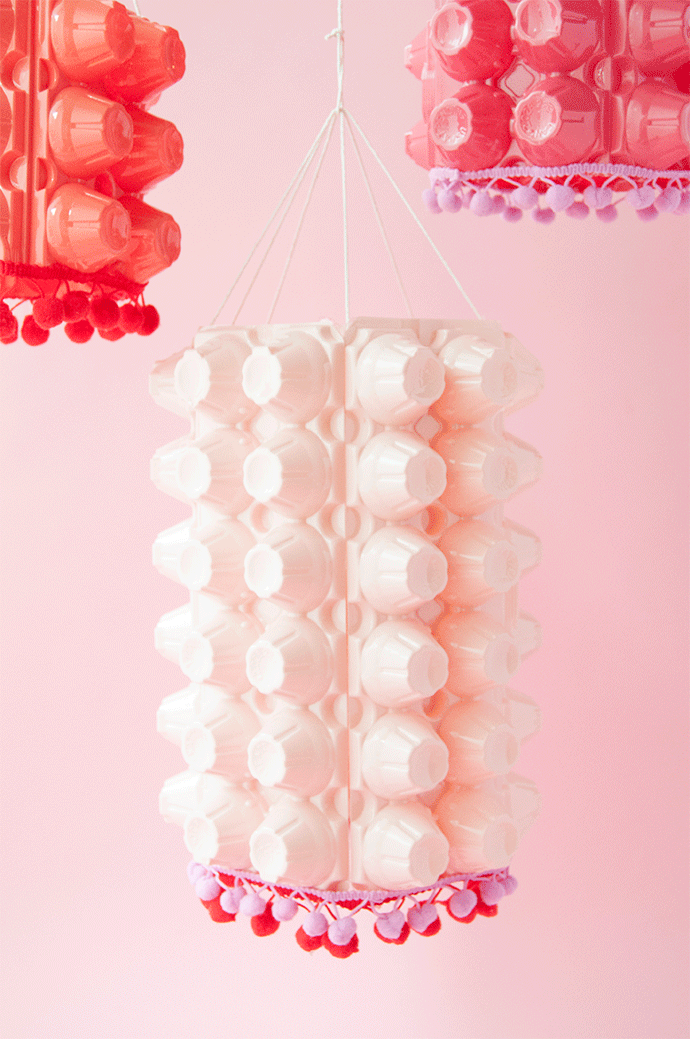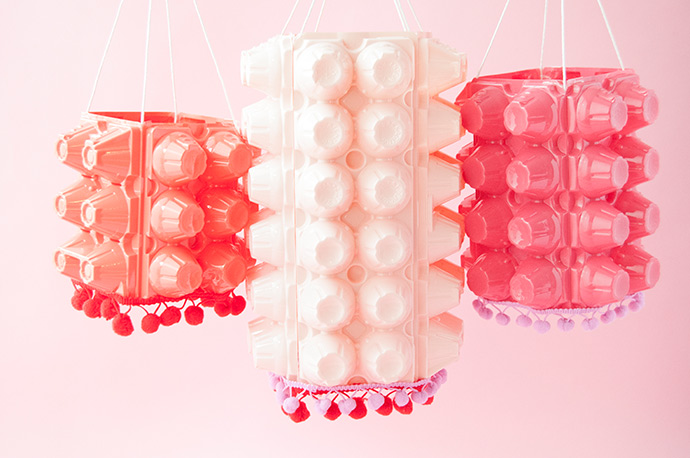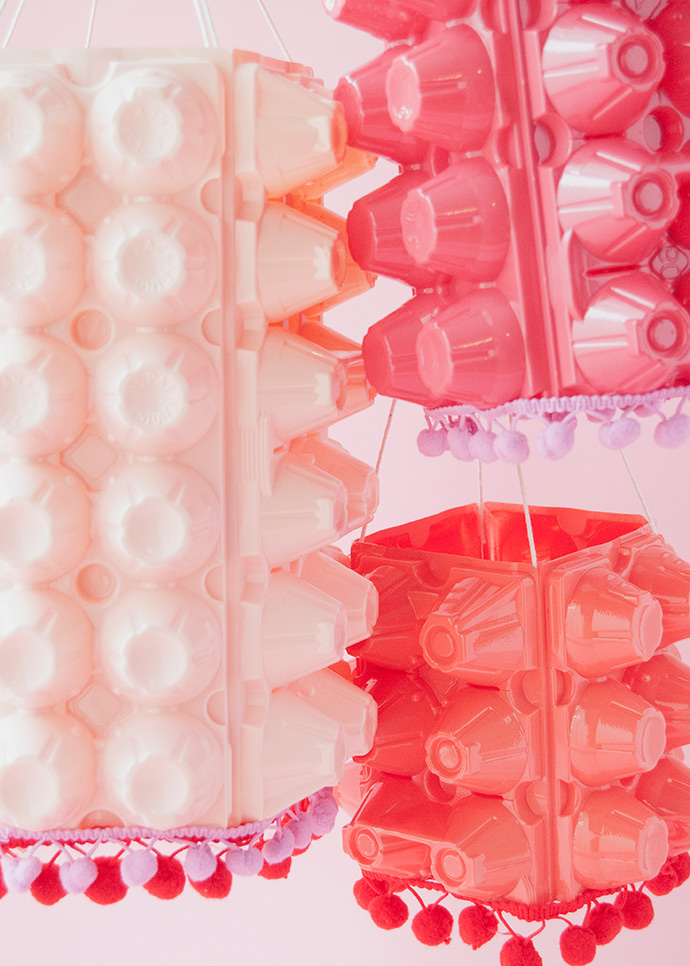 Happy crafting!