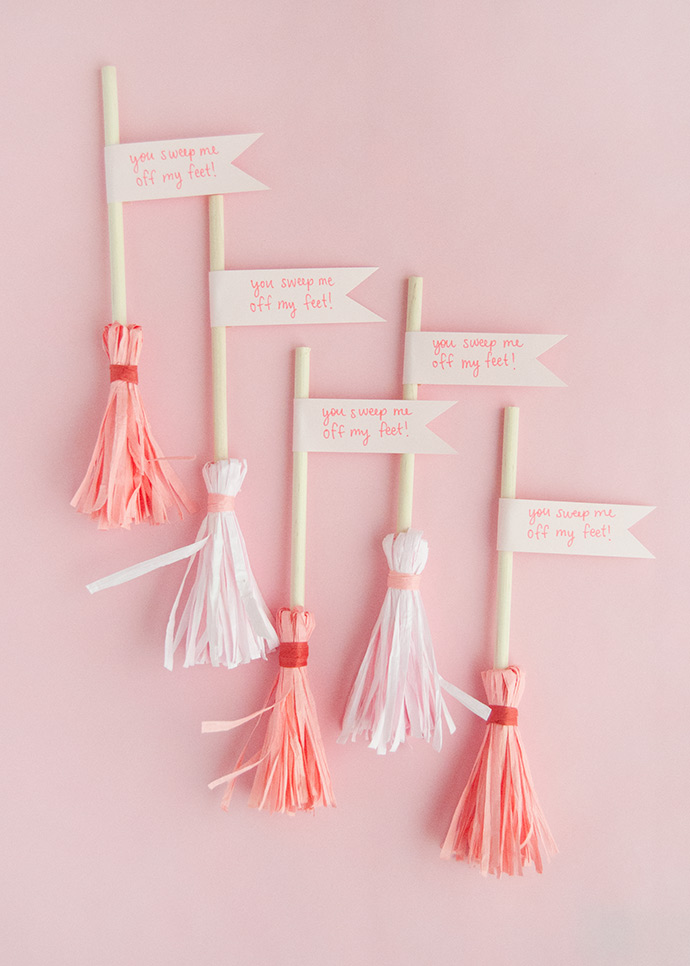 I don't know if being around the house more than usual these days has got me thinking of silly Valentine puns featuring househould items, but I just couldn't resist! Last week I made mini oven valentines and the week before, Abby shared her adorable washing machine valentine treat bags. Pretty soon we'll need a miniature storage locker to store all of these Valentine's Day appliances! I actually was trying to think of a way to make a mini vacuum so I could use the phrase "Valentine's Day would suck without you!" but I couldn't come up with a simple method, so these pink brooms will have to do instead! If you've ever made a tassel before, these mini broom Valentines will come together in no time with some colorful raffia and some wooden dowel.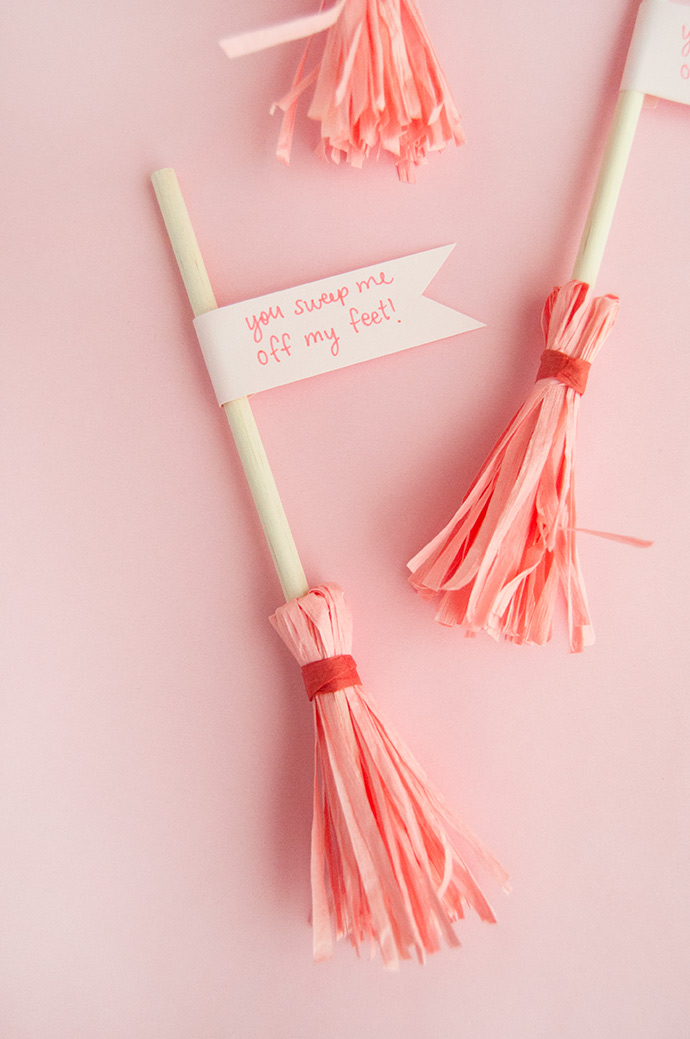 Mini wooden dowels
Raffia (or string, yarn, etc)
White glue
Scissors
Cardstock
Pen
Old gift card or piece of scrap cardboard
Step 1
Wrap raffia around the longer length of an old gift card (or cut a piece of scrap cardboard down to approximately that size) as if you're making a tassel. There isn't an exact science to the number of rotations you'll need – this will vary depending on your raffia, string, or yarn. Once there looks to be enough raffia wrapped on the card to make a nice tassel, cut the tail from the spool.
Step 2
Cut another piece of raffia about 5″ long. Carefully slide the wrapped raffia off of the card, holding it together so it doesn't all unravel. Place this wound raffia on top of the 5″ piece and gently tie the ends around the wound raffia, forming a tassel. Don't tie it too tight yet though!
Step 3
Take your mini dowel and slide one end into the top of the tassel so that it fits snugly into the spot where you just tied it. Squeeze in a small dab of white glue and then pull the raffia ends tight to secure the knot, and tie a second knot on top.
Step 4
Cut a piece of raffia in a contrasting color and tie on top of the first knot to emphasize the look of a broom.
Step 5
Use scissors to cut the loops of raffia at the bottom of the tassel and trim as needed.
Step 6
On a piece of paper, write "you sweep me off my feet". Cut into a little slip and glue the end around the broom handle.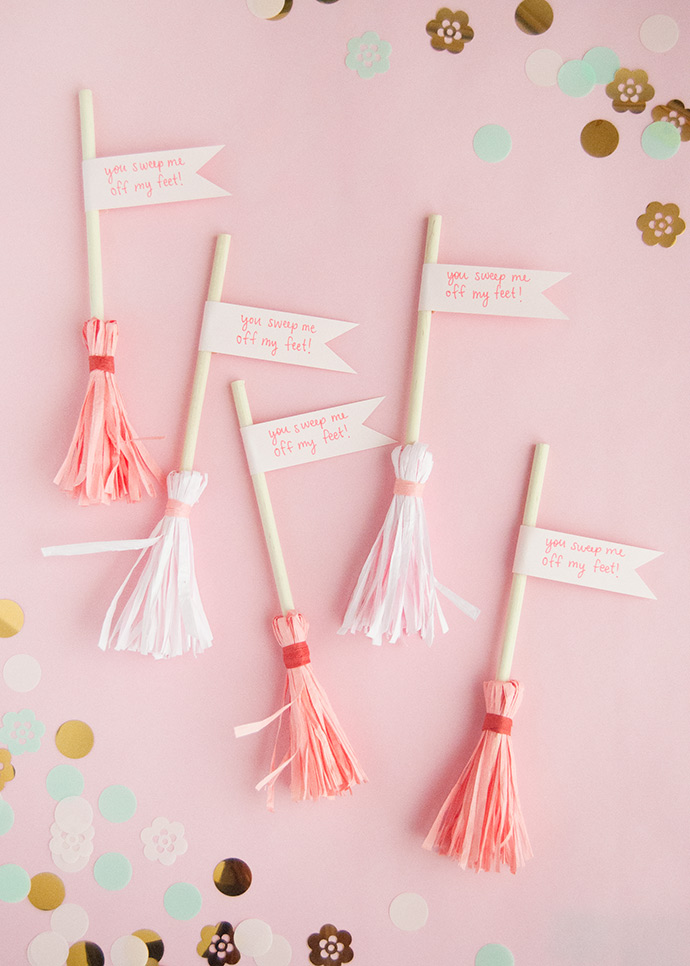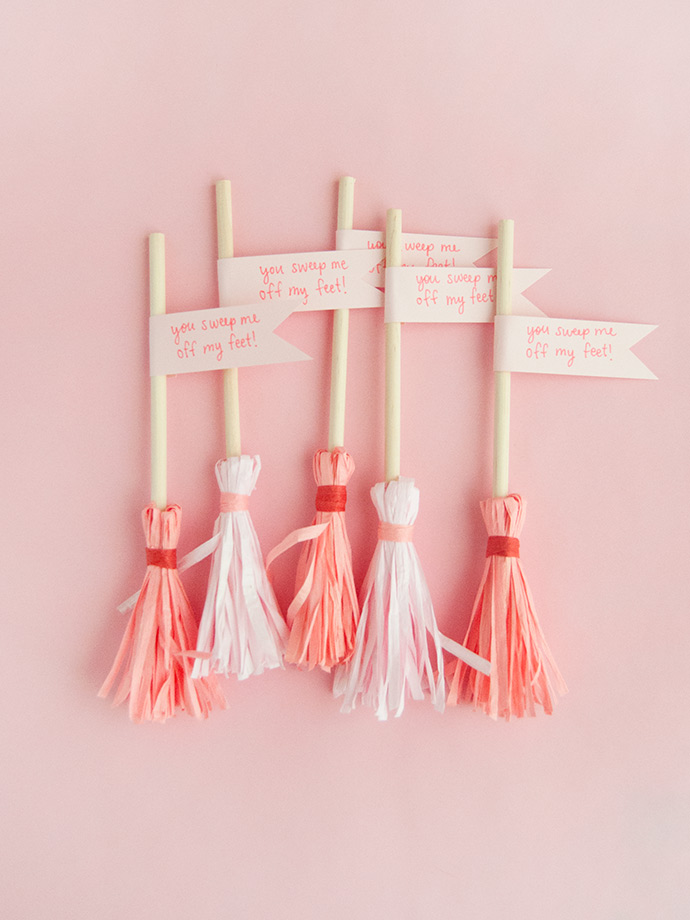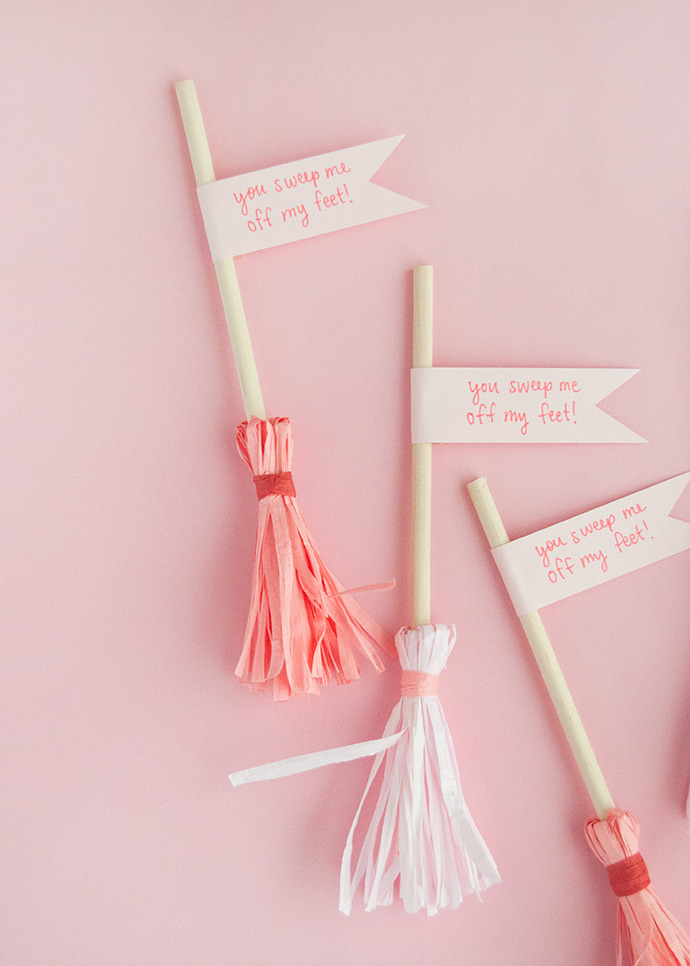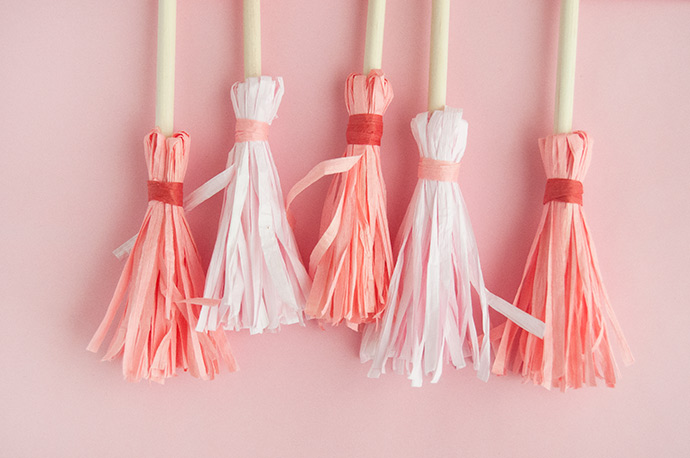 Happy Valentine's Day!