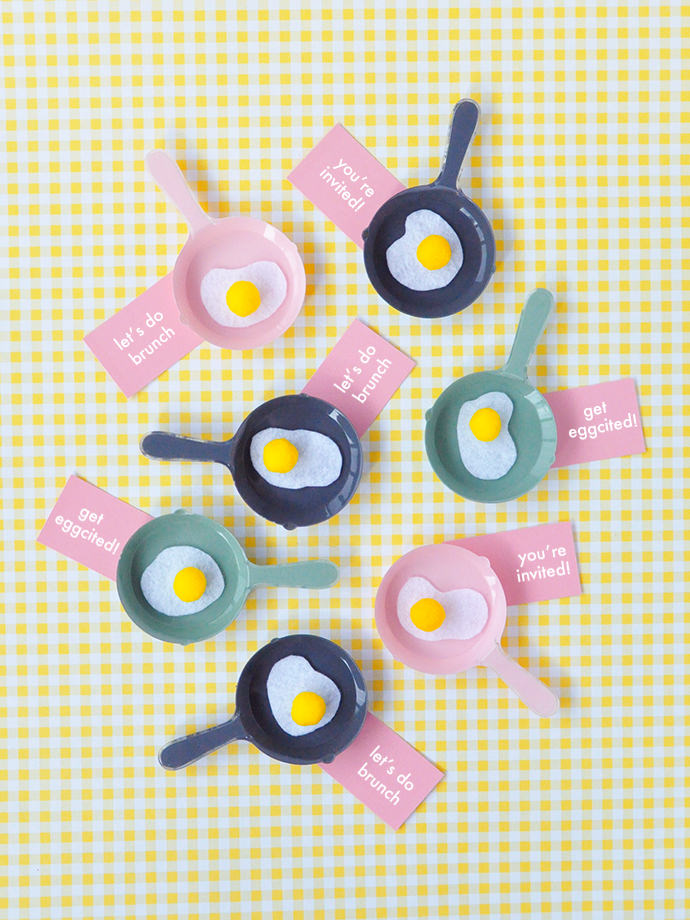 Who else gets super eggcited for brunch? We'll take any excuse to chow down on pancakes, cinnamon rolls, fruit salad, and fried eggs all in one meal. Today we're making these adorable mini fried eggs using these small frying pan shaped appetizer plates we found – so cute, right? Once we saw those mini frying pans, there was no way we could leave without them. Not only are these invitations cute for a brunch gathering, but kids can use them as invitations for their next sleepover party too! Keep reading to see how you can make your very own!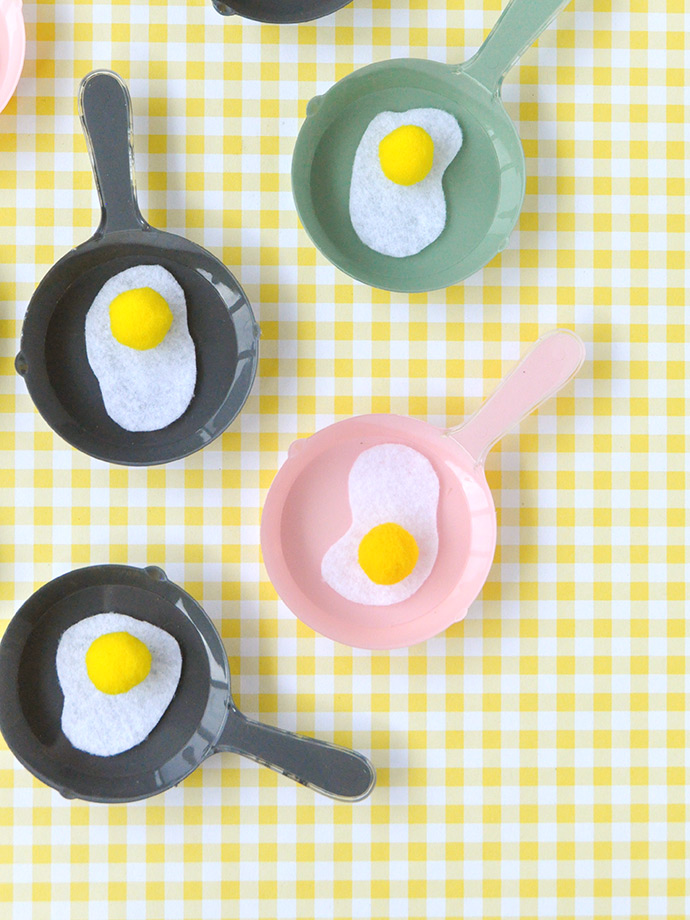 Paintbrush
White felt
Yellow pompoms
Scissors
Hot glue gun
Paper tags, ribbon, markers, etc
Step 1
Apply paint to the back of the clear plastic frying pans. This may take a couple coats to cover the clear plastic, so do a light coat and let dry before applying more paint. We used three colors for our frying pans, but you could do a whole rainbow of them if you wanted! Let dry completely.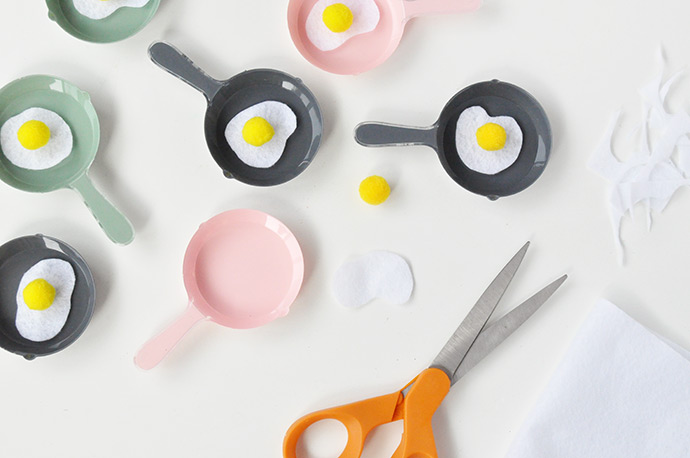 Step 3
Cut white felt into fried egg shaped blobs that fit into the frying pan. Use hot glue to attach them in and then attach a yellow pom pom on top.
Step 4
Write your brunch / party details onto a paper tag. Cut a piece of ribbon or string and tie the tag to the frying pan. Voila!
If you wanted to avoid the tag, you could instead trace the bottom of the frying pan onto a piece of cardstock. Cut out the circle and write all your details on there. Use glue to attach the note to the bottom of the frying pan, details facing out.
Repeat and make as many invitations as you need! Make a few extras (without the note) and turn them into a playful garland, or arrange them on your dining table. Or how about fried egg place cards?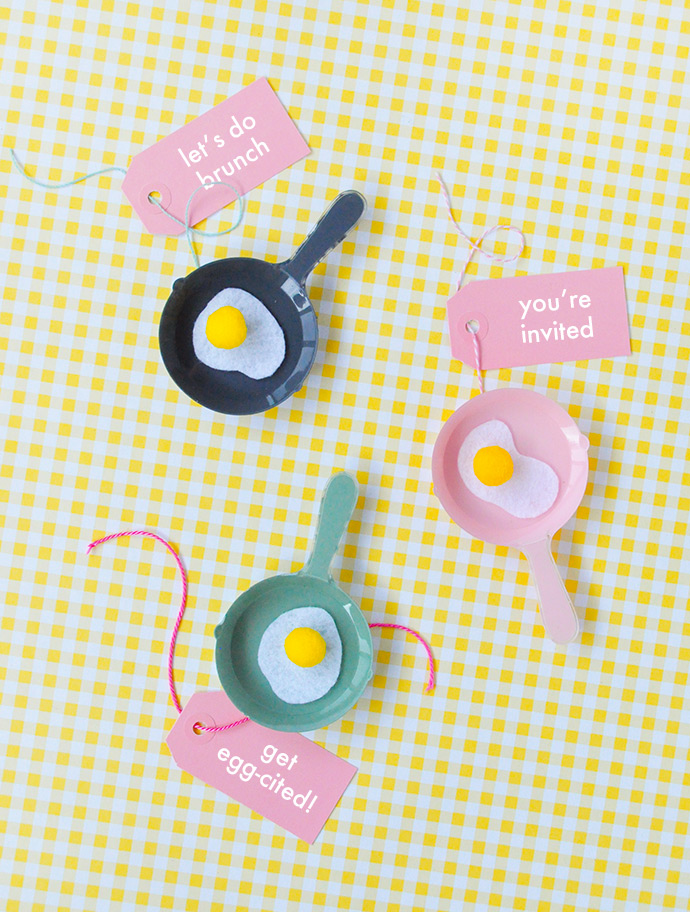 You could even do a similar project for a potluck instead of a brunch – instead of the mini frying pans, get a set of plastic toy kitchen pots and pans from the dollar store and paint those instead! You could even mix and match pots, pans, toy food, mini utensils … just paint them up, write your details on a note and attach them!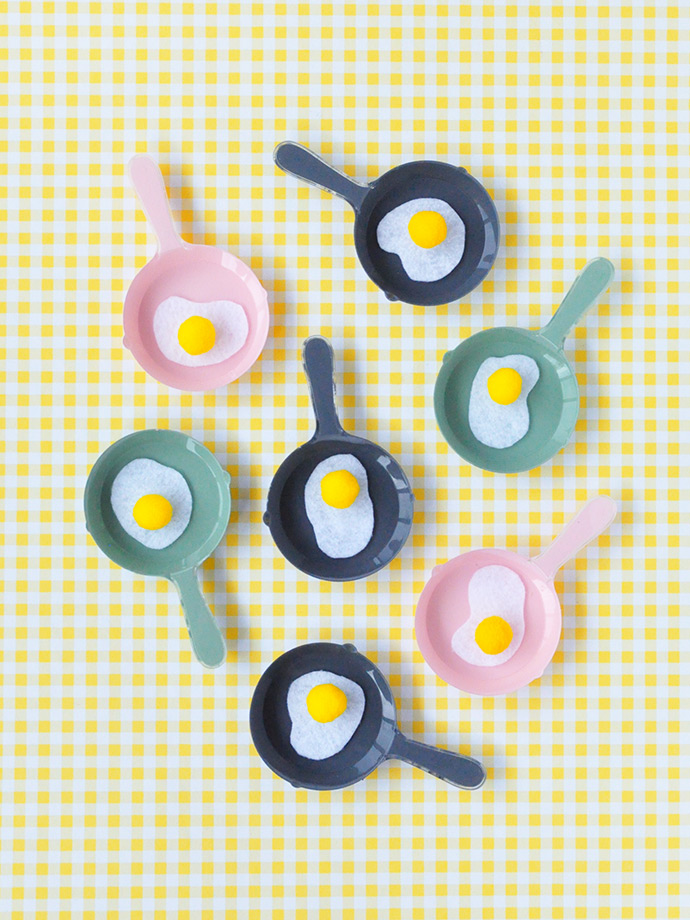 Want even more DIY and recipe ideas for your next brunch gathering? You don't want to miss these adorable pool party inspired eggs (talk about making hard-boiled eggs fun!), the perfect recipe for mixed berry yogurt parfaits, use ping pong balls and paint to make even more sunnyside up eggs to decorate your brunch table, and use even more fruits and berries to make these tasty homemade ice cubes!
Happy crafting!!