Currently, I am guessing that our Easter "gatherings" may look a little different this year, and one of the best ways to get through trying times is with a sense of humor. These bubblegum blowing Easter eggs are playful and add a little whimsy to any celebration – big or small! This little craft may not even require a trip to the store, if you already have some plastic eggs, a little paint, and some pink water balloons. I made some Bubblegum Skull Cupcake Toppers for Halloween one year, to balance creepy and cute. Although Easter is already pretty sweet, I was inspired to recreate the bubblegum idea with eggs. Add a face, fill them up with Easter treats, and close the egg on the end of a water balloon "bubble", and you have a bubblegum-blowing egg!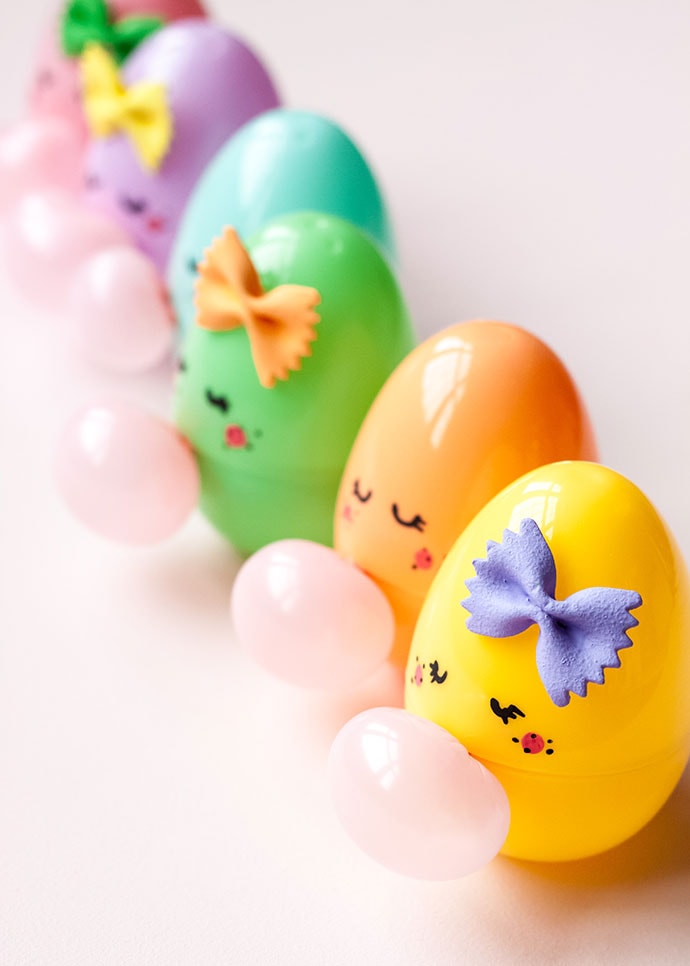 If you are looking for some more fun egg ideas, look no further! Try these joke Easter eggs, pool party eggs, this Georgia peach egg, or some Mod Podge fruit eggs! I also love these sunny side up eggs, veggie stamped Easter decorations, rainbow Easter egg place settings, and this floral garland made from egg cartons. You'll also need some glitter egg cups to hold all of your beautiful creations!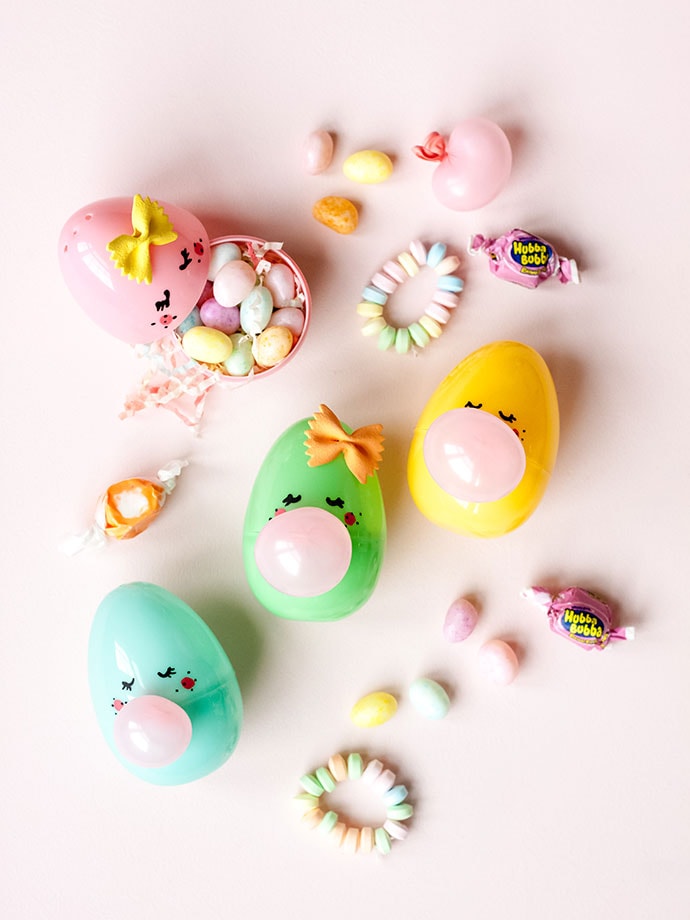 We're all looking for good ways to continue celebrating in our homes, so it might be fun to invite your kids to a baking party with these whisk invitations. Try these darling ideas for decorating Easter cupcakes, and put together some brunch citrus baskets for a little snack break.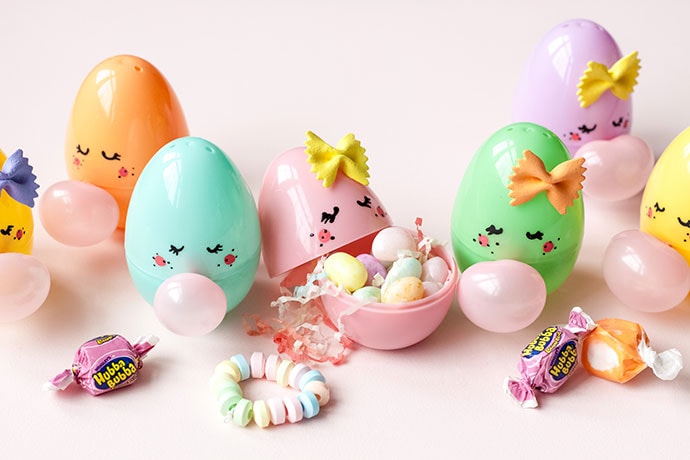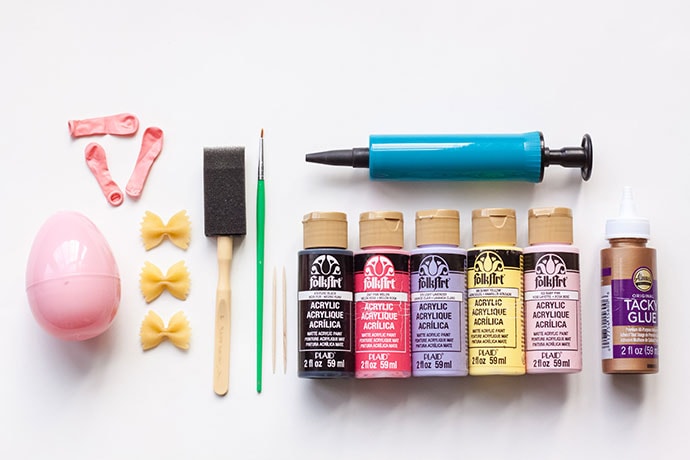 Large Easter eggs (preferably with a flat bottom, so they stand up)
Small paintbrush
Toothpicks
Folk Art acrylic paint (black, pink melon, and bow colors of your choice)
Pink water balloons
Balloon pump
Egg filler (Easter grass, candy, treats, temporary tattoos, etc.)
Bowtie pasta
Sponge brush
Tacky glue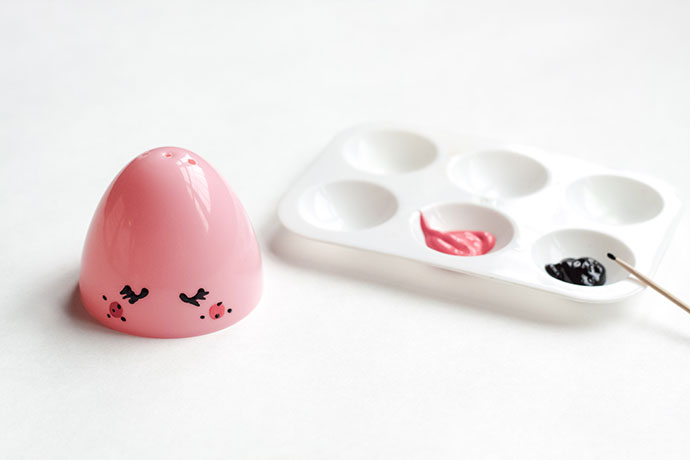 Step 1
Consider the crack in the egg to be the location for a mouth, and use that as a guide for the placement of eyes. Use a toothpick to paint short, wide "u" shapes for eyes. Add two to three lashes on each end. Below the eyes, and out to each side a bit, use a paintbrush to add two small circle cheeks in "pink melon". After the cheeks have dried, add some black dots (freckles) on and around the cheeks using a toothpick. Allow to dry.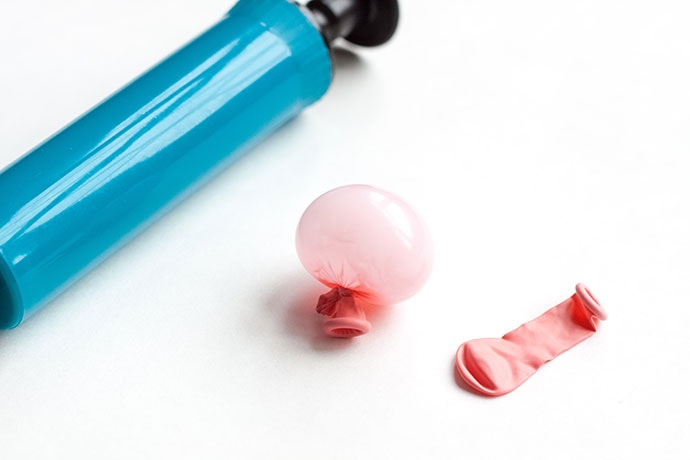 Step 2
Use a balloon pump to blow up a pink water balloon. Leave enough room to pinch a bit of the balloon at the top (called the "drip point" if you Google the anatomy of a balloon), and tie the pinched (drip point) end together with the lip and a bit of the neck. This will eliminate that darker spot in the middle of the balloon! Set aside.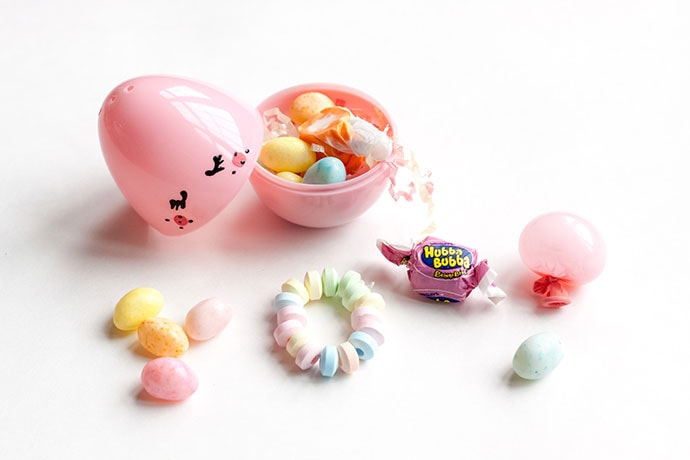 Step 3
Fill your Easter egg with goodies, such as grass, candy and treats, tattoos, small toys, etc.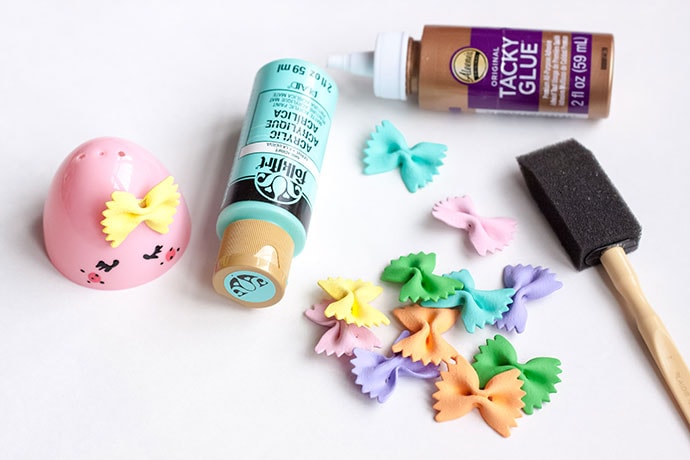 Step 4
Paint bowtie pasta noodles in the colors of your choice, and use tacky glue to attach them to the head, either in the middle, or to the side. You may want to leave some eggs plain. Allow to dry.
Step 5
Place the tied part of your balloon in the crack of the egg where the mouth should be located (under and between the eyes). Close the egg with the tied balloon piece pinched between the two pieces. It should look like your egg is blowing a bubblegum bubble.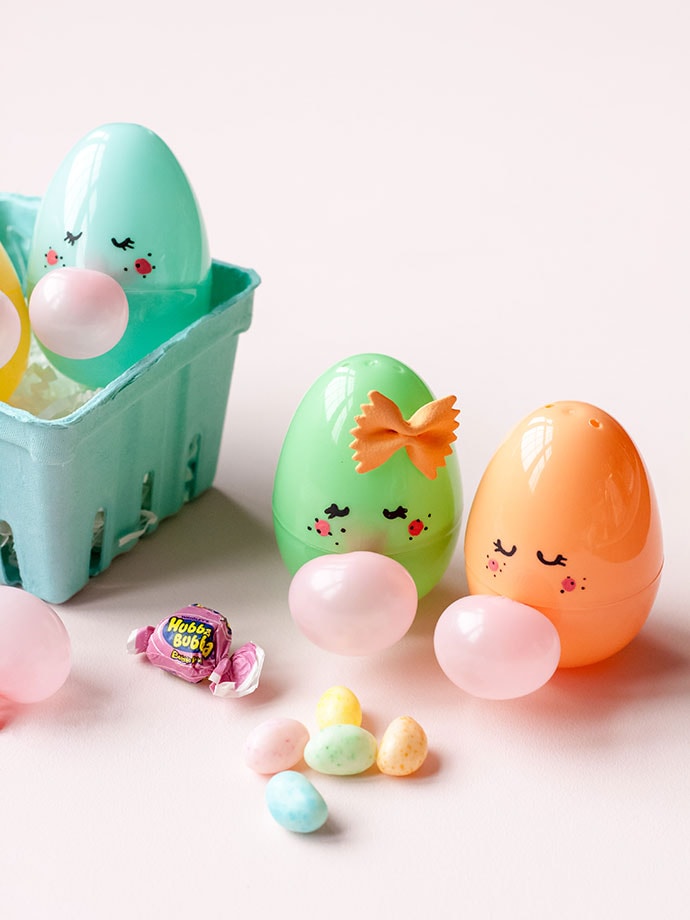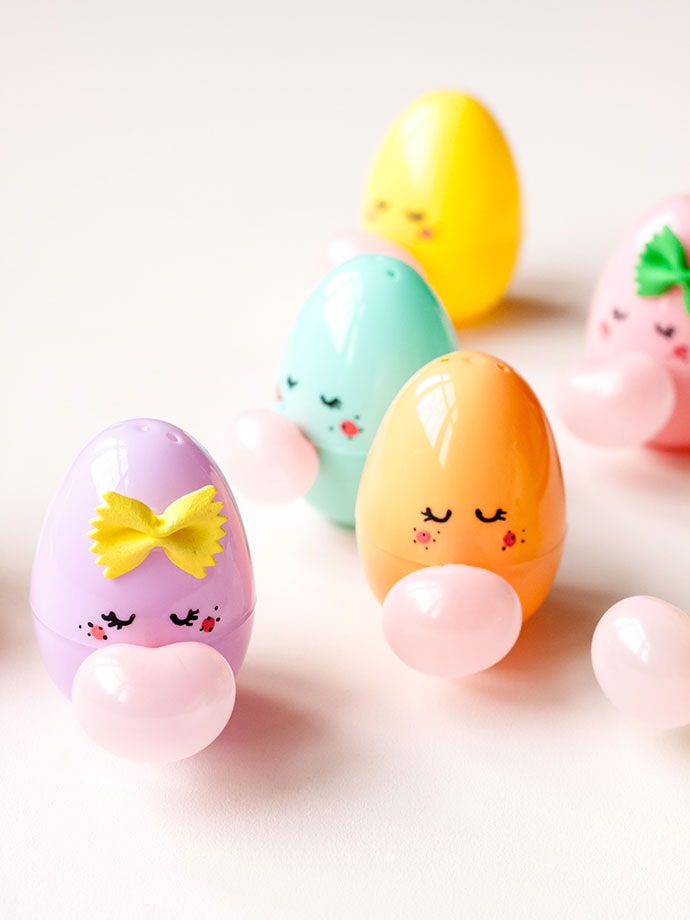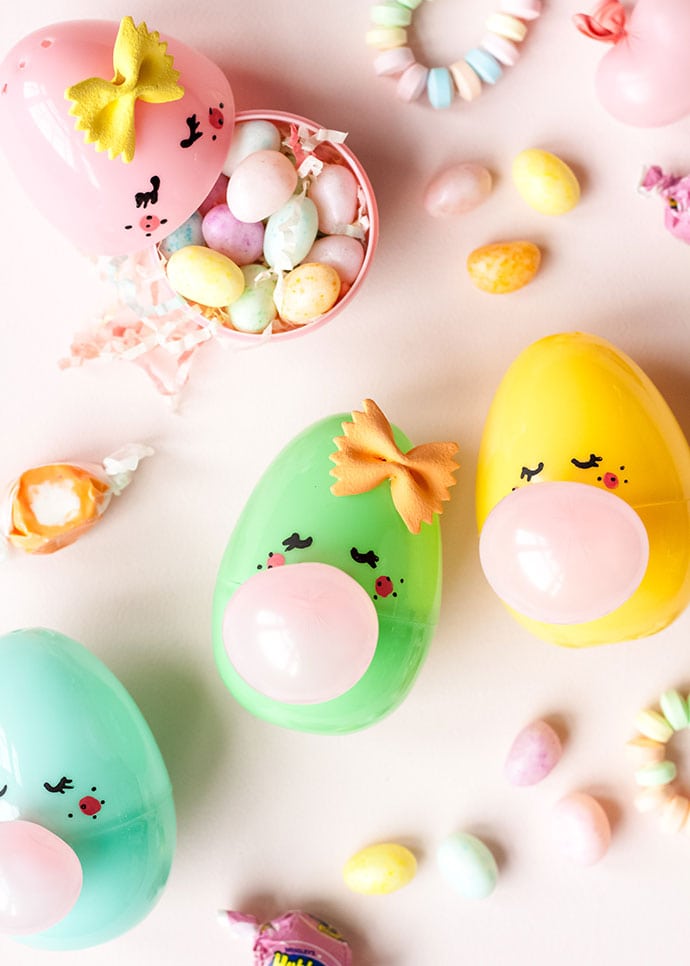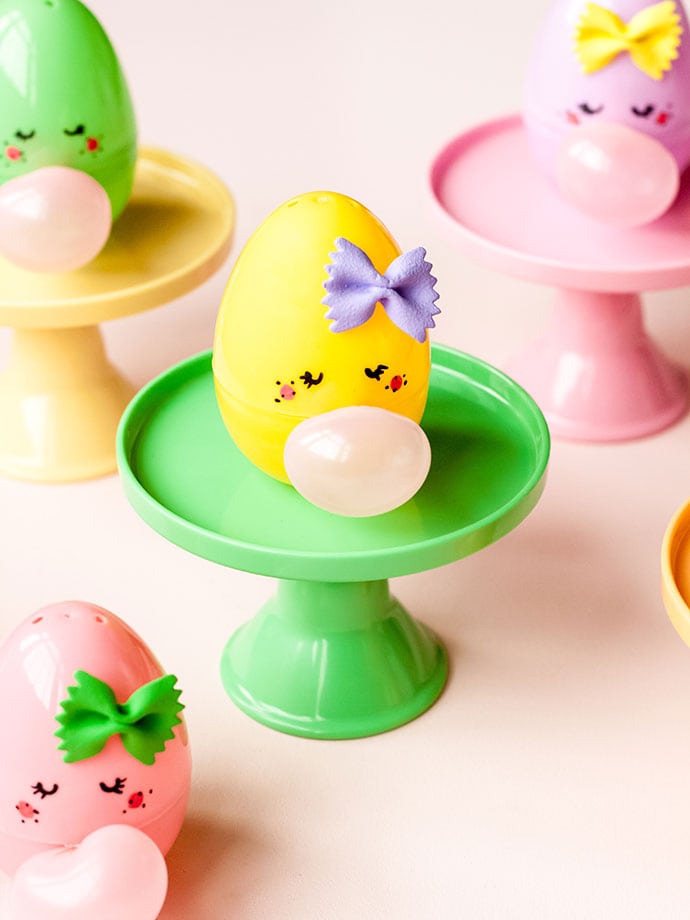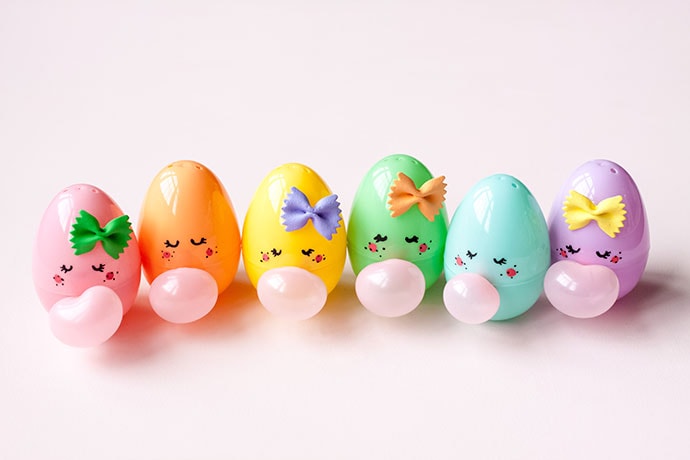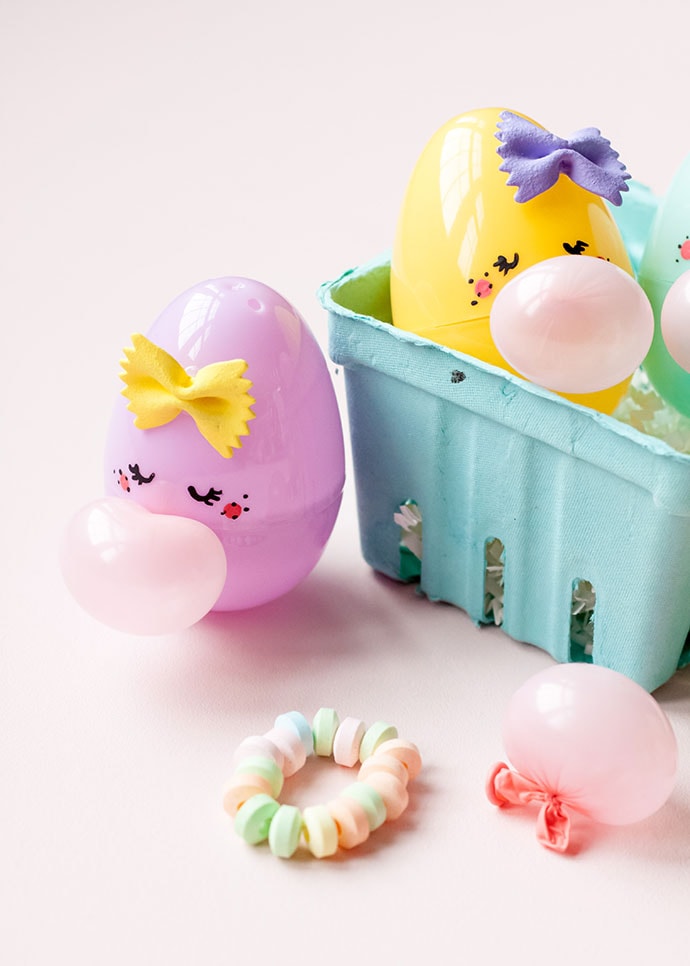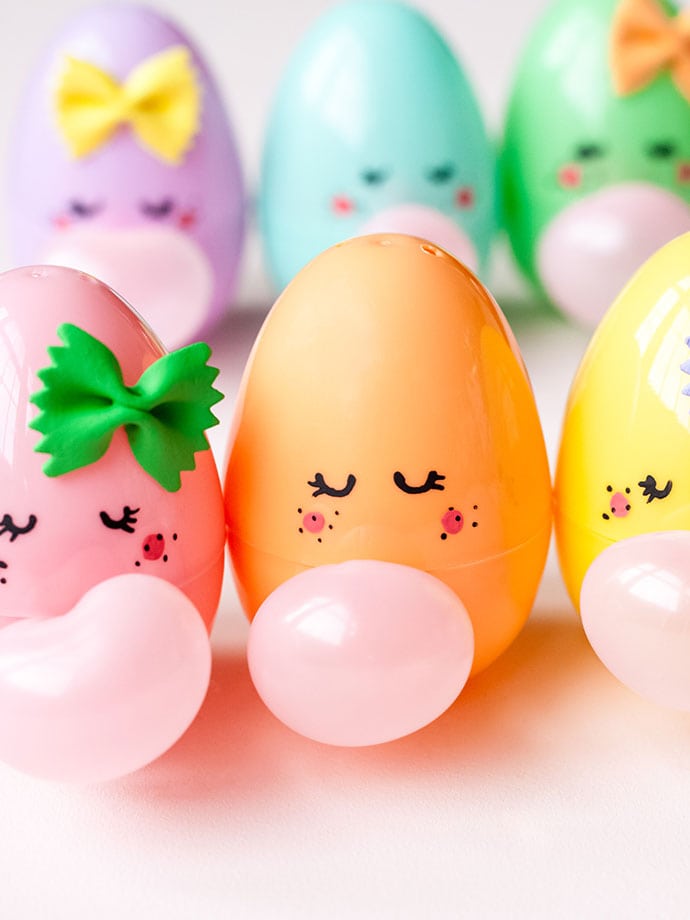 Now, your eggs are ready to play hide-and-seek! Happy Easter!