Classic jack-o-lanterns are great, but no-carve pumpkins have a special place in our hearts. Whether it's paint, decoupage, glitter, or leaves there are lots of fun ways to decorate pumpkins without actually cutting into them! Not only is it a fun way to add some color to your Halloween decor, they'll also last so much longer.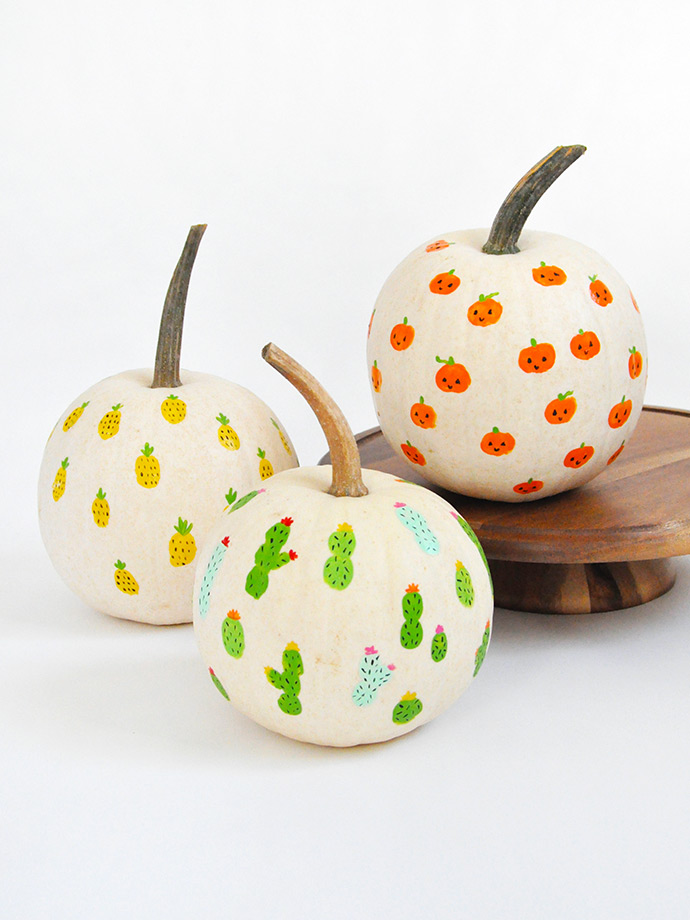 DIY Fingerprint Art Pumpkins
If you have little ones that aren't quite old enough to carve or decorate pumpkins on their own yet, these thumbprint pumpkins are a great option. We used white pumpkins for this technique because they're the perfect blank canvas.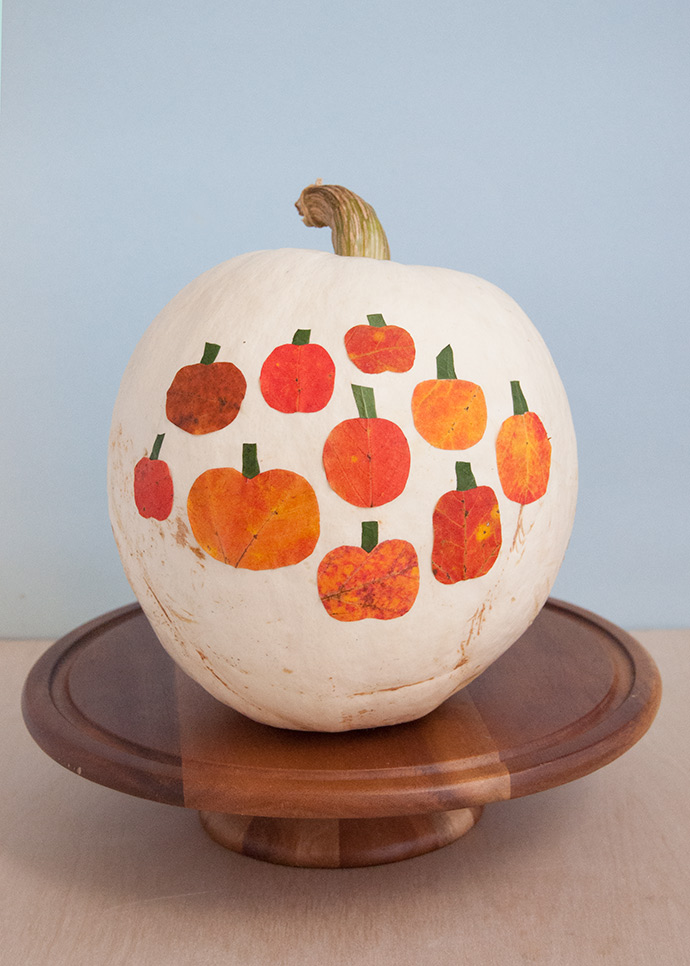 Leaf Art Pumpkins
Collect orange leaves from your yard while they're still soft and freshly fallen and then with just a pair of scissors and a glue stick, create a mini pumpkin patch on your pumpkins!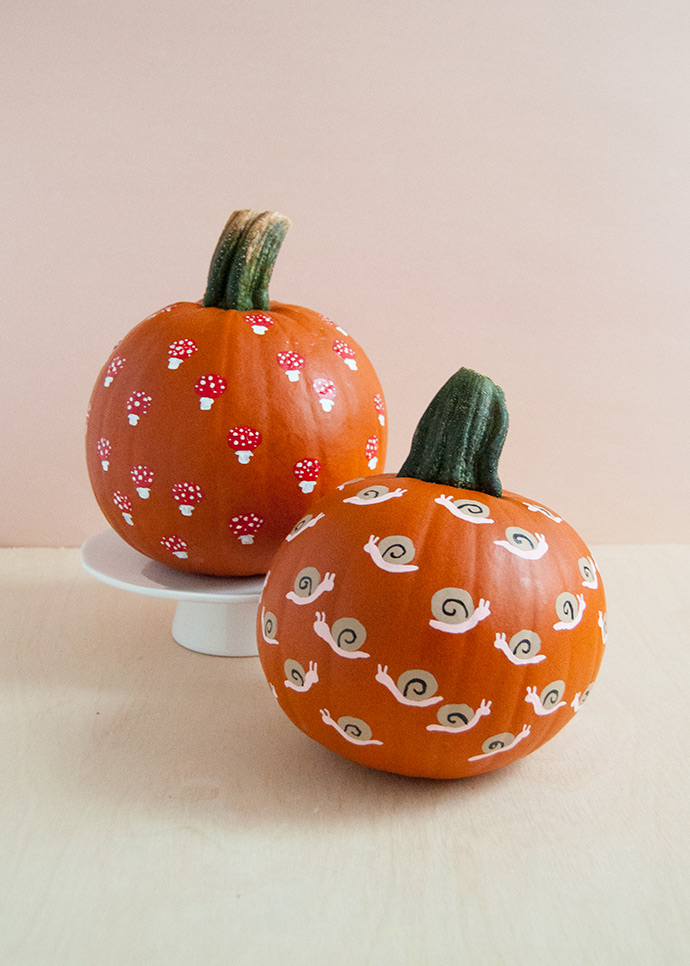 Nature-Inspired Fingerprint Art Pumpkins
We love fingerprint art pumpkins, and these ones feature a fun woodland nature theme. They make a really fun grouping perfect for your stoop this Halloween! Little kids will love this no-carve pumpkin option, and older kids or adults can help by adding the smaller details on after.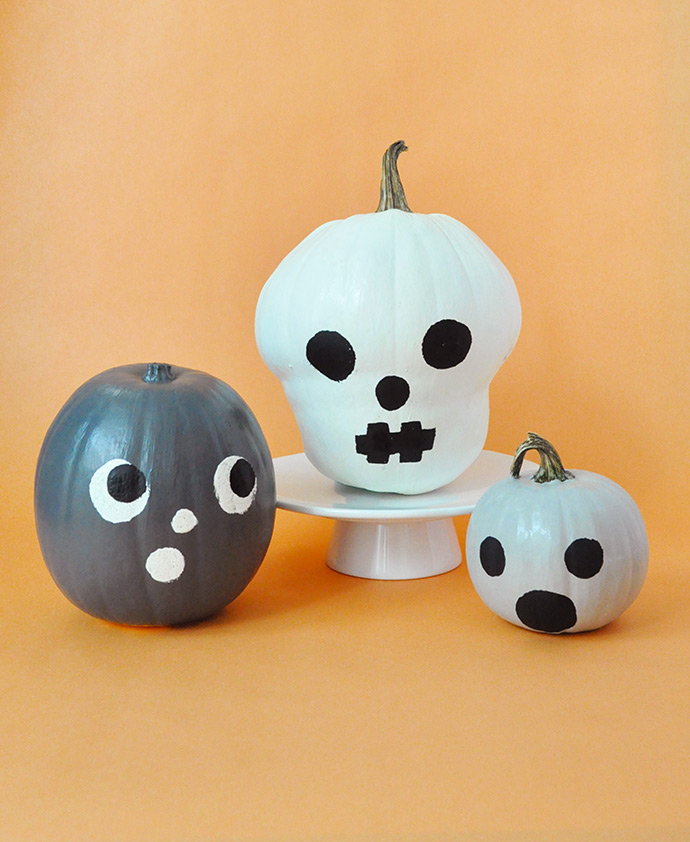 Glow-in-the-Dark Painted Pumpkins
Are you afraid of the dark? These painted glow-in-the-dark pumpkins are here to help! In the daytime they look just like cute spooky painted pumpkins, but once night falls their glow-in-the-dark faces will appear!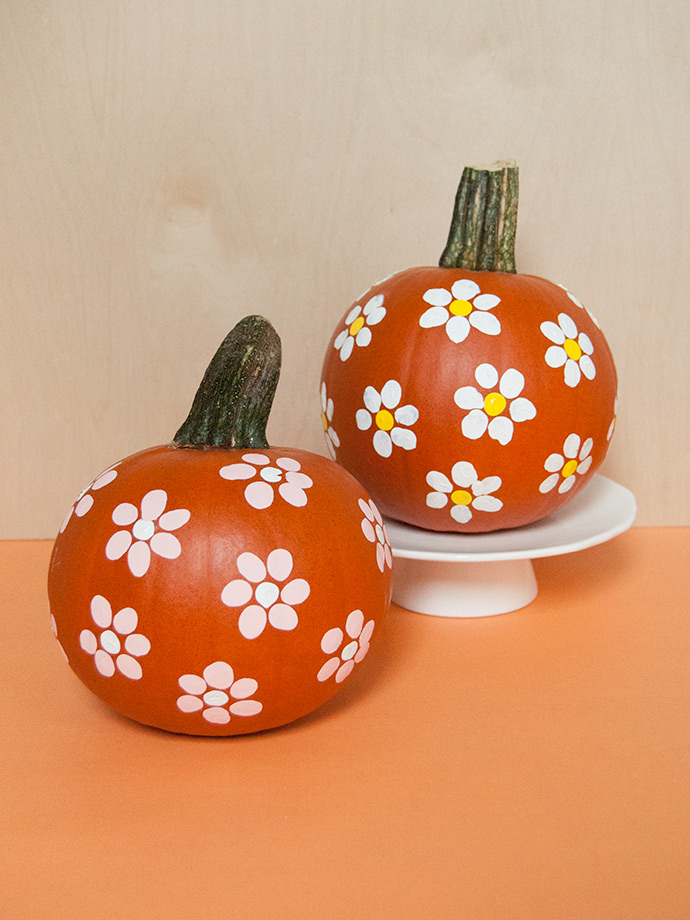 Fingerprint Art Floral Pumpkins
Of all the fingerprint art pumpkins we've shared, these ones may just be the simplest of them all. Using just two paint colors and no need for a paintbrush or marker, these are super quick and simple, and fun for kids of almost all ages to do even at the last minute.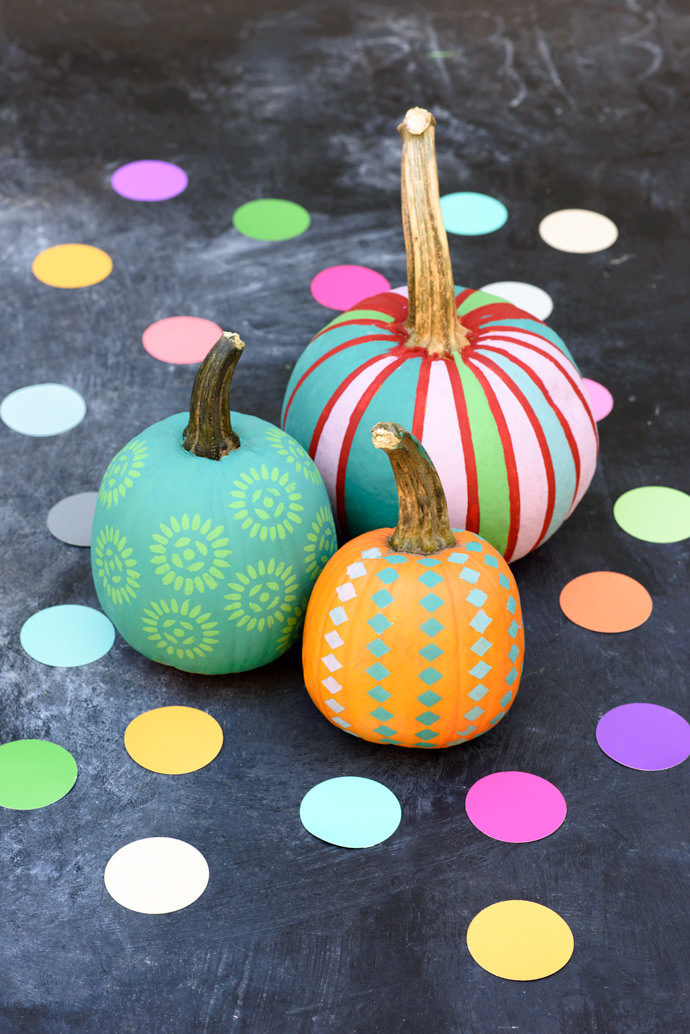 Stenciled Pumpkins
Peel-and-stick stencils make clean, precise designs a snap even on round pumpkins!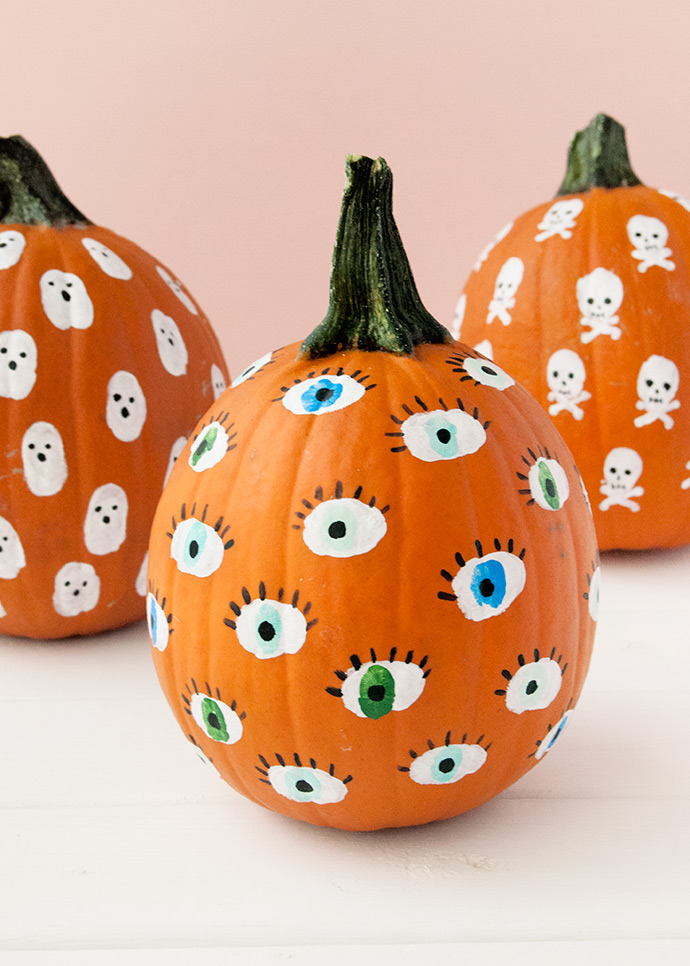 Painted Fingerprint Pumpkins for Kids
Even more fingerprint art pumpkins! All three of these designs have something in common – they all start with plain orange pumpkins and white fingerprints.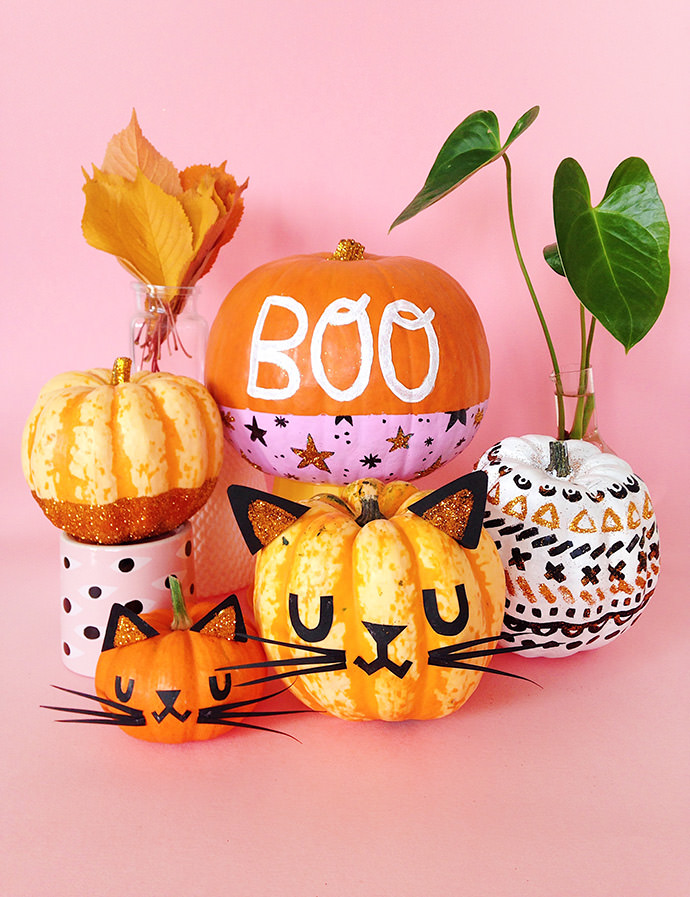 No Carve Glitter Pumpkins
Skip the gore and double-down on the glam this Halloween! These glitzy painted pumpkins bring the beautiful golden colors of autumn inside with the help of golden glitter.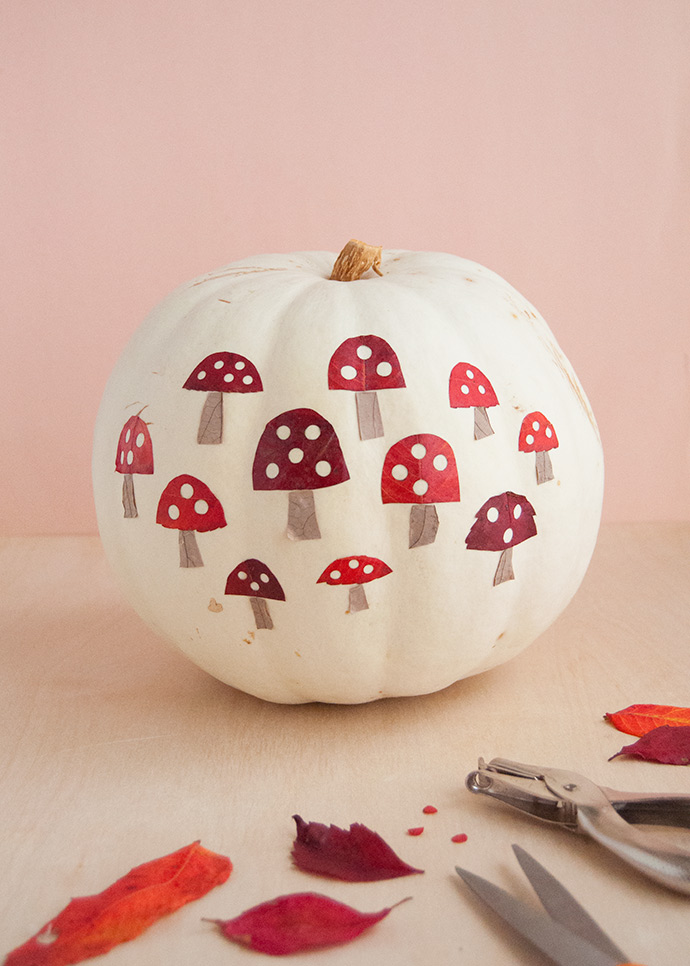 Mushroom Leaf Art Pumpkin
These simple leaf toadstools are so quick to make and use a hole punch to make the white polka dots.
Painted Party Pumpkins
Give pumpkins a coat of bright paint and make paper party hats ins contrasting colors. These pumpkins are ready to party!